Okay, so yes, we're moms, but we don't want to look like moms, right? And Thanksgiving, which is typically spent among family and friends, is no exception. So how do we keep from resembling an overstuffed turkey while looking fabulous and feeling comfortable the whole day? Here are some ideas to keep in mind as you plan your outfit for Thanksgiving day.
Let's talk about pants. We all wear them. The key is finding ones that give. My suggestion is leggings, for they are the most giving of them all. But let's be honest.....all leggings are not created equal. It is important to find ones with low-to-no sheen, a wide waistband to prevent muffin top, and that are thick enough to keep from cropping up at the ankle or sagging down at the crotch. That's a lot to expect from one pair of pants, but never fear! I have found the holy grail of leggings and they are a staple for your cold-weather wardrobe.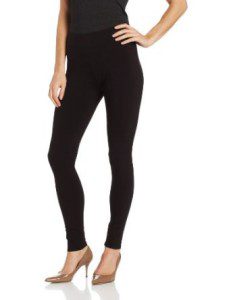 You can find them on Nordstrom's website, Amazon.com, or even your local department store for between $25-$30. Yes, they are pricier than your average leggings, but yes, they are worth it. They will last longer, you will wear them more often, and you will look good while feeling great in them.
The next key piece for your Thanksgiving Day outfit is a sweater that is long enough to cover your bottom but still figure-flattering, which usually means a waterfall-style cardigan that hits around mid-thigh. Right now, all the style rage is faux or vegan suede pieces and there is no better way to mix this in your wardrobe than on your top half. Here are a few examples to mull over.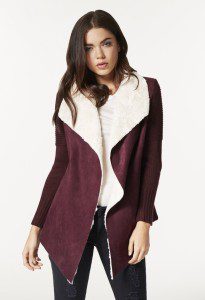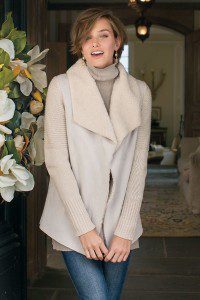 Now on to shirts......You are going to want to remember to make sure any shirt you put underneath is only as long as the back of the sweater.  No tails on Turkey Day (or any other day) please! Any comfy tee with a little stretch will do, but think thin here.....choosing a shirt that is form fitting will help you keep from looking frumpy under the layers of the sweater. But if you are going for all out comfort (no judgement here!),  a Piko-style top like this one would be a great option and give you that pop of Fall color.
Moving on to my favorite part.....a statement necklace to pull your outfit all together. Lately, I have been very drawn to pieces with a natural element to them.....agate, druzy, tusk, wooden beads, leather, etc. I especially adore the ones that mix the rustic elements with shiny metals, making it a little more dressy and a lot more versatile. I have a few necklaces of my own in rotation that I never seem to get tired of, but here are some of my new faves!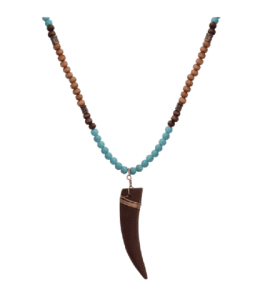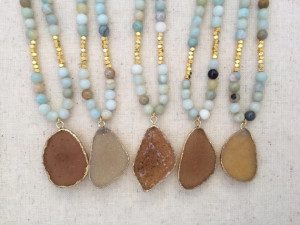 And to wrap up your outfit, add a sleek pair of tall boots of course! My absolute favorites are made by Frye, and while these suckers can be super pricey, they are also a classic that you'll wear again and again with jeans, dresses, and leggings alike.
But if you can't quite stomach that kind of investment right now, and still want to get a versatile pair of boots that look great, consider the Penny boot by Sam Edelman. The cognac color pair perfectly with black, brown or grey and they dress as well up as they do down.
So, now take a look at the complete outfit and tell me I don't look Thanksgiving-ready!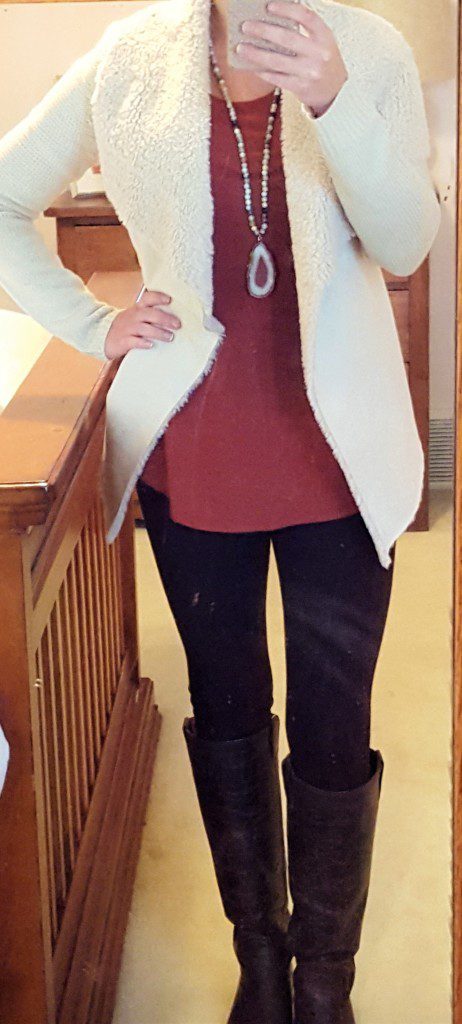 My leggings will make sure I have plenty of room post-feast, my sweater will keep me comfy and warm as I watch the kids play with their cousins outside, and my necklace will help me look all pulled together (hopefully)!
If you are looking for some of these pieces, but don't have time order online before the big day, check out TJ Maxx, Marshalls, and even Stein-Mart. It may take you some digging, but the discounts will be worth it! Good luck and Happy Thanksgiving, mommas!