What if it took you years to become a parent – years that included a variety of medical procedures, paperwork, tapping into your life savings, and regular disappointments – only to find that after all of that you have to adopt your own child?
When you're a teenager and young adult, all you hear is to not have sex or you'll get pregnant. The fear of God is instilled upon you. And then the time comes when you're married (in my case), and very much not a younger adult, and you want to be pregnant and it's not as easy as your parents, teachers, and religious guides warned. In my case, it was complicated for a variety of reasons, but one being that I didn't have a partner who produces sperm.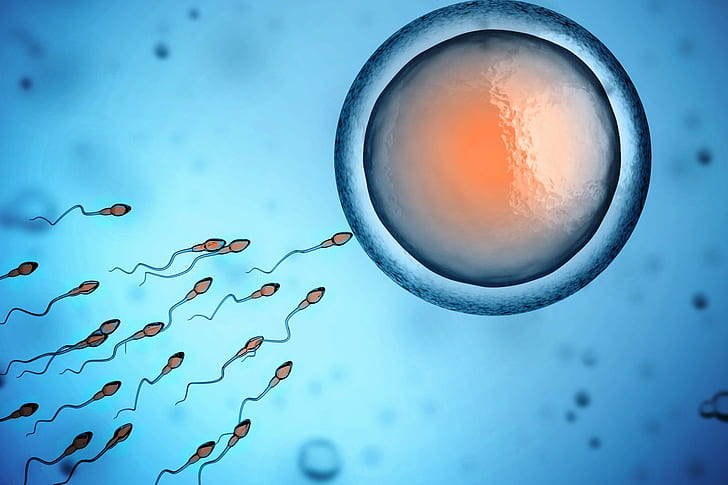 My wife and I decided to try to build our family through reproductive assistance. We wanted to use my egg and a donor's sperm, and I would carry the pregnancy. The first step was to choose a sperm donor, which involved finding a sperm bank of our liking (read: that would serve LGBTQ clients) and then searching their catalogues for the perfect donor based on medical histories, physical features, and personality tests.
Once that decision was made, it was time for a lot of medical appointments with a reproductive specialist to monitor my hormone levels, get ultrasounds of my uterus and ovaries, and take stimulatory drugs to ensure that I ovulate. But first, my wife and I had to be cleared by a psychologist to ensure that we were ready to be parents, and ready to welcome a child into the world through reproductive assistance. (We passed with flying colors. Phew.) Then we had to sign so many forms. It was like buying a house. Consent to this, consent to that. I'm glad they take medical and legal precautions, but wow, our wrists were sore.
Quickly into the IUI (intra-uterine insemination) process, it was clear that my body didn't like the drugs. On many occasions, I'd experience the shakes, borderline migraines, and gastrointestinal distress. I locked myself in a Kroger bathroom once, in my work bathroom regularly, and I even had to stop 6 separate times during a 2-hour drive to hug the toilet at highway rest stops on my way to visit my ill mother. One of those stops included a quick nap on a picnic table. It was simply glorious!
A few IUIs later and no viable pregnancy, my reproductive specialist suggested IVF (in-vitro fertilization). Anything to not be that sick!
My wife and I thought that all of those doctor appointments, out-of-pocket expenses (most employers and insurers don't offer comprehensive infertility coverage), and terrible side effects were bad… but we had no idea what was to come. I was back to the doctor even more regularly – often daily appointments before 8am to have my blood drawn and have transvaginal ultrasounds. While the medicines didn't make me as sick, there were so many of them. Everything from pills to injections – room temp and refrigerated – multiple times daily. The cost of IVF is also uncertain and staggering; it all depends on how things go during the process.
It was draining, but we were determined. We dreamed of our future family, how we would raise a child, the amazing extended family they'd have, the things of the world that we would show him or her. We talked about the names the child would give to each of us: one of us would be "mom", the other "mama".
Fast forward a few years, and our daughter was born. My wife oversaw the emergency C-section, and was the first person to hold our baby. She was the one who changed her first diapers (I actually don't think I changed a diaper until she was a month old). My wife's mother was the one who delivered my much-needed Wendy's cheeseburger with fries after delivery. My wife signed the birth certificate where we scratched out "Father" on the forms. (This was advised by the amazing hospital staff who had experience with same-sex parent couples.) Clearly, my wife was the parent of our baby.
Being the responsible people who we strive to be, we decided it was time to hire someone to draw up our wills and power of attorney documents. Different states have different laws, and in our situation, we are legally married with a lot of protections, but our attorney recommended something called Second Parent Adoption which allows a second parent to adopt a child without the first (or I'd rather say "other") parent losing any rights. This is historically reserved for step parents to adopt their step children; same sex couples get nestled in here. My wife adopting her own child would protect all of us in "all situations" and all countries.
We were prepared for this – sort of – because we had learned of friends in similar circumstances going through these formalities. But the last thing you're thinking of when you are trying to conceive, doing late night feedings, and paying medical bills is that you're going to have to adopt your own child.
Our attorney made things simple. After all, she's a pro: she works with LGTBQ clientele almost exclusively. She even promised a hearing where we'd dress up and get a photo with the judge looking all fancy and familial. There were so many papers to fill out, supportive documentation to provide (think birth certificates, bank account information, the name of your best friend in kindergarten). Then the Covid-19 pandemic happened, and everything came a screeching halt. We waited, and waited. Finally, the judge set a court date, and it was via Zoom. (The most pricey Zoom in which we've ever participated.) I can't make this up! No photo, nothing fancy. Masked up, we hit the Starbucks drive-thru on the way to our lawyer's office. Many years, many needles, many forms, and many bills later, we were officially a legal family of three.
I'm not here to offer suggestions on how to change the law. I simply want to shed light on the complicated process for same sex couples to 1) become parents in the first place and 2) get complete legal parental rights over their children. It gives testament to just how much these children are wanted and cherished.
Who ever thought you'd have to adopt your own child?!