Not taking a beach trip this year? No budget for a destination vacation? That's no reason that you or your family can't enjoy a few days of rest and relaxation. We're here to help! From AirBnB's to upscale hotels, there's an option to enjoy a fun staycation for every budget. Let's learn about Canopy by Hilton!
Not your typical chain
Lots of people avoid chain hotels, but we're here to tell you that the newest Hilton Hotel downtown is like a fun boutique hotel, but with all the perks of hotel points and rewards. Located in a prime location, Canopy by Hilton is right across the street from the Redbird's stadium and the line of horse drawn carriages on Union Avenue.
Because safety is a top concern of Hilton, you won't get access to your room until check in. Your keycard will give you access to all the rooms in the floors above. From suites to singles, there's room options for all size families. Don't fret about finding parking downtown either — you can simply pull up and a valet attendant will park your car in their own private, secure underground parking lot.
Rooms with Style
When you enter your hotel room, you'll instantly feel like you're on vacation! The suites have a lounging area with couches and comfy chairs and the beds are wide and soft. A large screen TV welcomes visitors with custom messages, making everyone feel welcome! There's a coffee cart for mom-fuel and a large walk-in shower (with a lock!) so you can shower in peace while the rest of the family hangs out.
Sometimes large families want to book hotels but can't because of the limited beds offered, but Canopy by Hilton has connecting room options! Huge game changer for those that have more than 4 people in their family or want to bring friends along. Adults in one room, kids in another; it's like an overnight date night for the adults and the kids get to be alone to hang out and watch their own movies. Canopy also offers all streaming services & free Wifi.
More perks
Besides the rooms to relax and rejuvenate, Canopy by Hilton offers even more perks to those staying overnight. Ready to explore the city? Then hop on one of the complimentary bicycles and take a ride down to the riverfront (only a few blocks away) or head more towards the Edge District to visit local breweries and restaurants.
Don't feel like sweating on a bike? Then simply hop on the trolley and take a ride. You can choose to do the touristy Beale Street stop or keep riding down South Main into the arts district for art galleries, boutique shopping, and good local eats.
Work off your stress or keep up your usual fitness routine using the Canopy by Hilton's free workout studio, complete with free weights, cardio machines, and more. Use your keycard to easily access.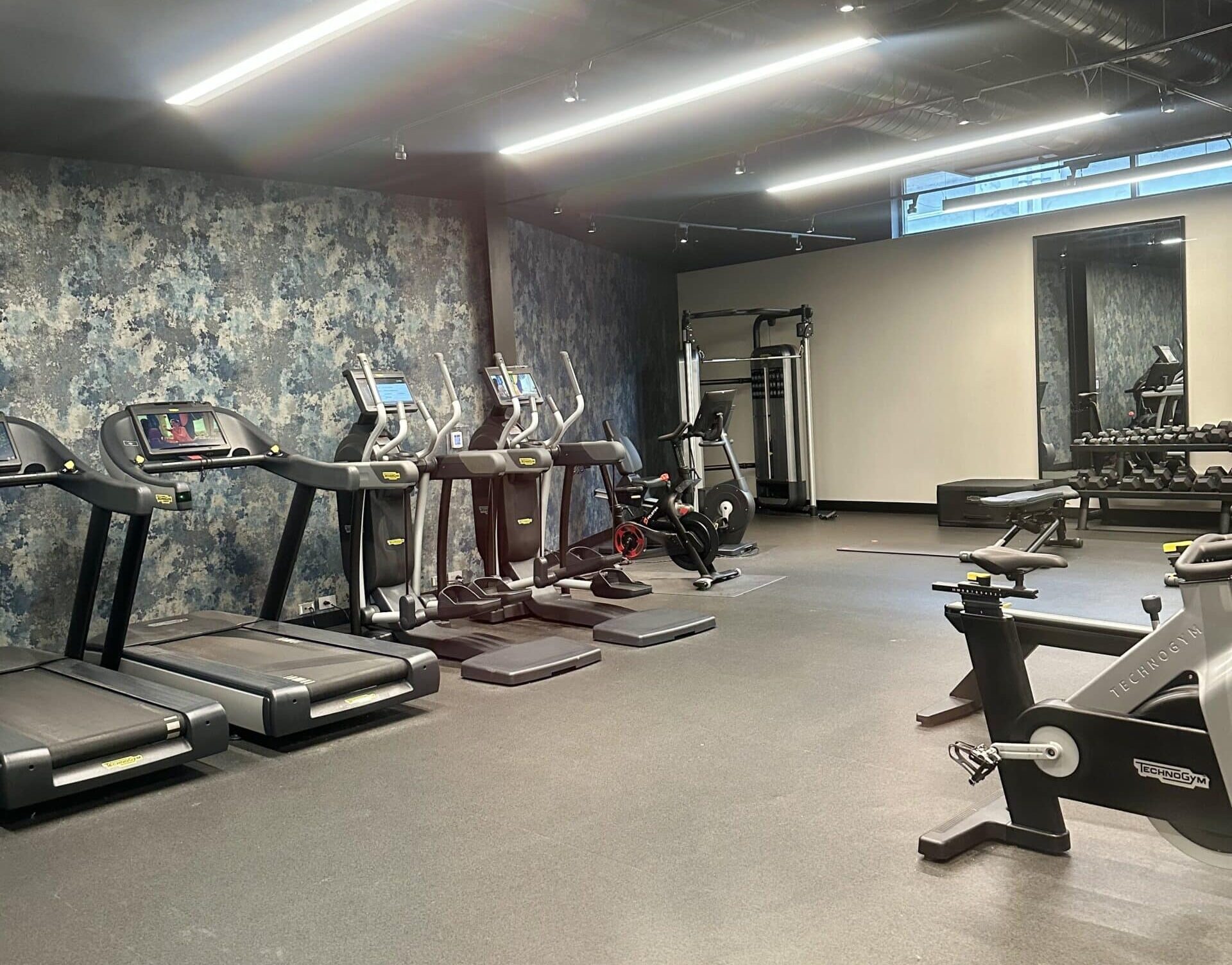 Food on Site
Maybe you really do want a true staycation and don't feel like leaving the Canopy by Hilton property. Then look no further than their very own restaurant — Curfew. Offering an indoor/outdoor open bar, Curfew bartenders can whip up any drink you'd desire. In fact, they're known for their craft cocktails! They also offer local beer on tap and a variety of wines. In addition to the bar atmosphere, they offer a full menu of amazing appetizers and entrees. We highly suggest trying the deviled eggs and the BBQ shrimp.
Breakfast is equally delicious. Come down from your room as you are and enjoy hot waffles, omelets, or frittatas. Celebrity Chef Fabio Viviani brings his passion for hospitality to all his dishes. There's lots of seating options, from outdoor tables on their patio to intimate couches in their main dining area.
Really don't want to leave your room? That's not a problem because Canopy By Hilton has ROOM SERVICE. All the praise hands.
Curfew is open daily M-Th from 7am until 10pm, F&S until 11pm, and Sun until 9pm. You can also pre-order lunch through their website and have it waiting for you to pick up or enjoy on site.

Canopy by Hilton, Memphis Downtown Beale Street
164 Union Avenue
Memphis, TN 38103
Call 901-479-1001 to book or click here to visit their website and make reservations online. There's also a link on their Facebook page to book rooms as well.