If you live in Memphis, chances are pretty high that you've been to at least one Memphis Grizz basketball game.
And if you've been paying any attention lately, you may have heard that our point guard, Ja Morant, just got announced as a 2022 NBA All-Star starter. When I moved here in 2015, it was a no brainer to be a Grizz fan. I grew up playing basketball, and while my basketball skills are laughable, I appreciate the athleticism, mental fitness, and game-play found in a hooper.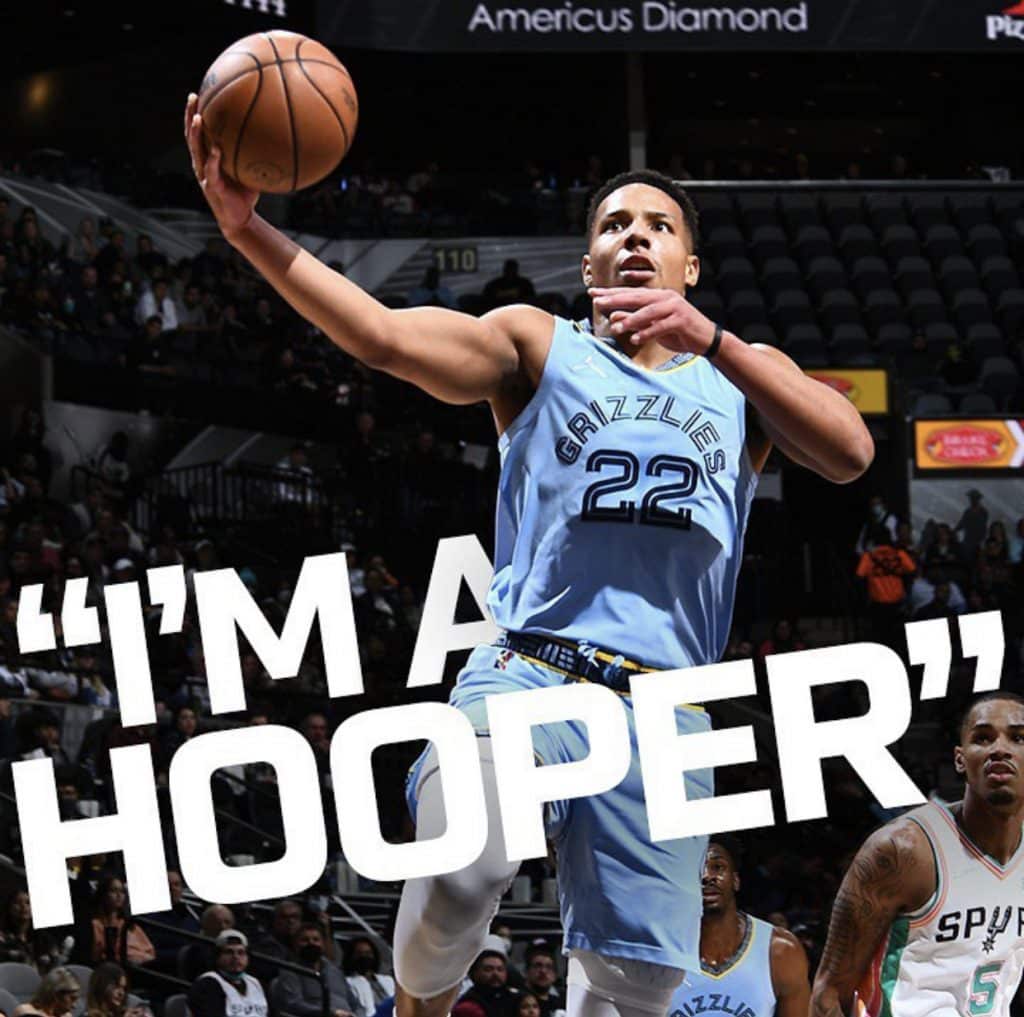 Luckily for me, Memphis is a basketball town. We know the players names, we lose our minds when we see pictures of Mike Conley, his bloodshot eye and his superhero face mask, we gave ZBo our first franchise jersey retirement ceremony, and we all know the words to "Whoop That Trick" – and those are all past players. We have had front row seats to some of the best players the NBA has seen, and the majority of them are under 26 years old. This current Grizzlies team is playing like a team, and I think they genuinely enjoy each other's company and play like it too.
Lately, I have found that I get energized when I watch the team play. I have found myself wanting to emulate them in my daily life, especially as I fumble my way through motherhood.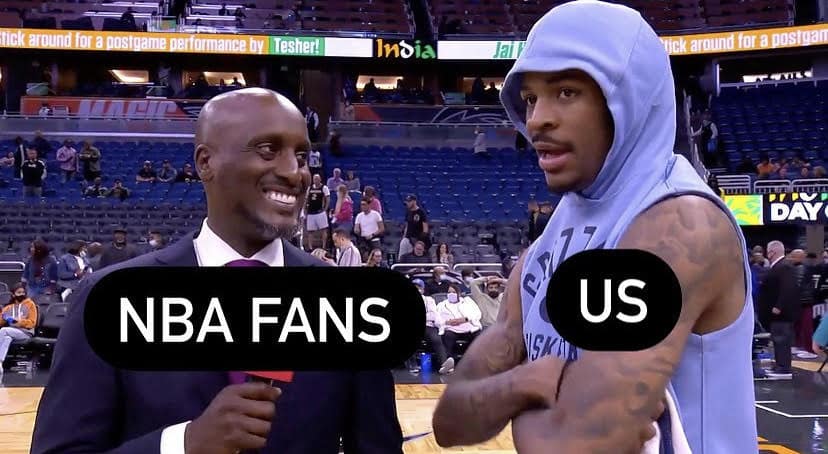 So here are some ways I want to channel the way the current Memphis Grizz squad:
I want to be "Dark Mode" Ma like "Dark Mode" Ja.
After the Memphis Grizzlies lost in the first round of the playoffs last year, Ja Morant went into a season he affectionately calls the "dark mode". He spent the offseason working hard – out of the limelight, without attention – literally out of sight, "in the dark". You're seeing this focused work pay off this year, and when asked about it, Ja frequently credits the the work he puts in "that people don't see". I want to mom this way too. I want to work on myself outside of the attention of others, outside of the squares on my Instagram page. When it's just me against me, I can push myself to be the best "me", and that will spill over into being the best mom I can be too.
I want to be a mom that is confident and bold like Ja.
Ja refused to dap a kid in an opposing team's jersey and he told Drew Hill of the Daily Memphian that he deserved a spot on the NBA All Star starter team because he "earned [it and] worked for [it]". Morant knows what he's worth, knows the work he has put in, and has every right to expect the respect he deserves. When was the last time I expected the respect I deserve as a mother? How much of motherhood has been ingrained in us to do it humbly, selflessly, and without praise? What if we showed up in our confident and bold selves, mothering with pride because we have done the work, we have shown up, we have the right to confidently mother?
I want to block out the haters like Jaren Jackson Jr blocks opponents' shots.
JJJ has been averaging blocks per game that is making him a true contender for Defensive Player of the Year, and it's been really fun to watch. While this body the Good Lord gave me will never afford me the type of athleticism to block any kind of shot on the court, the He did give me the mental and emotional capacity to recognize those in the arena with me. I can block out the critics who really have no skin in my game of motherhood. I am grateful to my tribe of mama friends near and far who affirm me and hold me accountable. I used to care about what those outside thought (or said, or wrote) about motherhood. But the older I get, the more I'm finding power in saying "no thanks" to the things that don't affirm or hold me accountable. No one has time for that, and the game clock is ticking, ya know?
I want to be comfortable in my "bench" and "backup" moments like Tyus Jones.
Not gonna lie, it's hard for me to be second sometimes. I can only imagine how hard it could be for a player like Tyus to put in as much work and practice as other players, and still have to sit on the bench and wait to get called up to play in a game. But there is a purposeful calmness and positional acceptance to Jones that has kept the team performing and playing good basketball that I am learning from. There have been many times where I am not the "go-to" parent because of my work schedule, my energy, my capacity, my child's preference. I have to take a seat on the bench because someone else is being the point guard in my daughter's life. I could take that personally and it could make me feel defeated and discouraged. Or I could channel my inner 21 and know that my partner and village are my teammates, and that we need each other to win this game of parenthood.
I told y'all I love the Memphis Grizz. Don't think I can make them my personification of motherhood? Says who?
If you want to get on board with being a Grizz Mom, start by taking the family to a game. Here are some fun ones to put on your radar :
JANUARY 18 : Lunar New Year (lucky red envelopes)

FEBRUARY 10 : HBCU Recognition night

MARCH 11 : Women's night

MARCH 20 : Hoops for St. Jude night

APRIL 4 : Fan Appreciation night
And make sure you join the Grizz Kidz Club!
For tickets, click HERE