If you close your eyes and concentrate long enough, you can almost smell the corn dogs and funnel cakes at the Mid-South Fair. You can almost hear the screams of joy when a ride takes you higher and faster than expected. You remember your sticky hands from eating cotton candy and getting licked by the goats in the livestock area. You smile as you remember winning a goldfish in a ziplock gallon bag, holding it tightly all the way home.
Ahhhh, the memories of the Mid-South Fair. Now that you're the parent, you know how important it is to instill these same memories in your own kids, since childhood isn't complete without a fair experience!

A Guide to taking your family to the Mid-South Fair:
September 21 through October 1, 2023
Landers Center
4560 Venture Dr, Southaven MS 38671
Until August 31st — early bird sale
Adults: $5.00
Children (age 5-12) and senior (age 60+) $5.00
September 1-20
September 21-October 1
September 26 Kid's Day
$2.00 ride tickets for kids
PARKING
prior to 6pm on weekdays and prior to 4pm on weekends, FREE
$5 per car during other times; cash only
DAYS & TIMES
Thursday, September 21 / 4:00pm
Friday, September 22 / 4:00pm
Sat. and Sun. September 23 and 24 / 12:00pm
Mon. and Tues. Sept 25 and 26 / 4:00pm
Wednesday, September 27 / 10:00am
Thurs. and Fri. September 28 and 29 / 4:00 pm
Saturday, September 30 / 12:00 pm
Sunday, October 1 / 12:00 pm
Times are subject to change, so be sure to double check their website before going
PRO-MOM TIPS : What to Bring and What to Buy
Outside food is not permitted, but Fair Food is the best food so if you went just for the food we'd understand.
There is an open air pavilion with air conditioned bathrooms, but most of the restrooms are port-a-potties, so make sure you pack your own TP and wipes just in case.
In the interest of public safety, Landers Center has implemented a clear bag policy that limits the size and types of types of bags that may be brought into the venue. The fastest way to enter is to not bring a bag at all.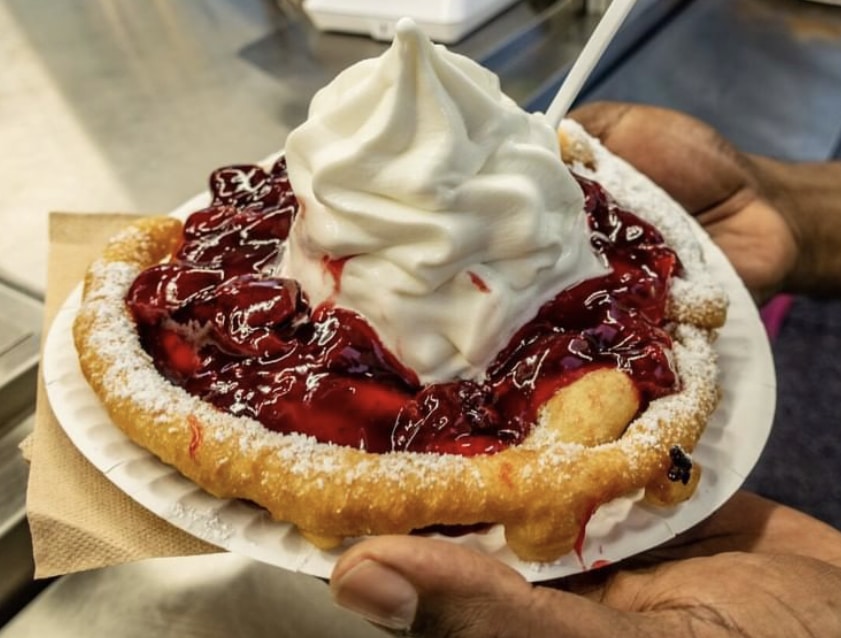 FAIR FOOD : The Real Reason We All Go To the Fair
Let's all just admit it right now: the rides are exciting, the animals entertaining, the games are fun… but none of those things compares to FAIR FOOD. Yep. Dare I say, the *real reason* we all pretty much go every year is to chow down on all the iconic yummy-ness only the fair can provide.
Here's a list of 5 MUST EATS when you're at the Mid-South Fair:
Pronto Pups Footlong Corn Dogs
Funnel Cakes (with or without large amounts of toppings!)
Chicken Tenders & Spiral Cut Fries
Fair Lemonade
Turkey legs
GAMES GALORE : Winner Winner Chicken Dinner
While rides might not be for everyone (or maybe your child is too tiny yet), games are! And The Mid-South Fair has games galore! There are games where you can win a giant stuffed animal, games where you can win a goldfish, and games where you win bragging rights. Whatever is at stake, there are games for all ages and talents.
Here's 5 MUST TRY games when you're at the Mid-South Fair:
Skee Ball
Lucky Ducky
Bust a Balloon
Basketball free throw
Ring Toss (win the live goldfish!)
FAIR RIDES : A Thrill of a Lifetime
Growing up, I LOVED going to the Mid-South Fair and riding all the rides. And I have loved getting to ride with my kids and watch them ride and discover what their favorite rides are. My 10 yo LOVES the gravitron.  My daughter loves the Ferris Wheel! Whatever is your's or your child's favorite, there are rides for all ages and adventure levels!
Here are 5 MUST TRY rides while you're at the fair:
Ferris Wheel
Gravitron
Swing ride
Roller Coaster
Merry-Go-Round
PETTING ZOO : The Softer Side of the Fair
While most people might think The Mid-South Fair is about the food and thrills, there's a whole other side to the fair: the animals! Every year there's a giant petting zoo for kids of all ages to enjoy interacting with goats, pigs, and even a camel! There are sharks and stingrays look at and pig races to cheer on. Check back here for the schedule of daily attractions!
COMMUNITY INVOLVEMENT : Even More Ways to Enjoy the Fair
Many don't know that there's more to the fair than just the exhibits. Since 1856, The Mid-South Fair has been a way to bring the community together and for decades they've been achieving their goal.
Here are more ways to enjoy or participate in the fair:
Student Art Contest (Kindergarten through 12th grade)
Mid-South Fair (Beauty) Pageant
Youth Talent Contest & Show
SpokesKid 2023 (Contest on who will emcee the Youth Talent Contest)
Click here to learn more.
CONCERTS :  Live Music & More
It's wouldn't really be a fair in Memphis if there wasn't live music! Every year The Mid-South Fair offers an unbeatable lineup of local and national artists that enhance your fair experience even more! These talented musicians are the icing on the cake to a fabulous week at the Lander's Center.
Here is the complete music lineup:
Thursday, Sept. 21: Lauren Watkins at 6:45 p.m. and Brian Kelley at 7:45 p.m. presented by 99.7 The Wolf.

Friday, Sept. 22: Grand Theft Auto

Saturday, Sept. 23: Chinese Connection Dub Embassy at 7 p.m. and Pokey Bear at 8:30 p.m.

Sunday, Sept. 24: Latin musicians perform throughout the day, including Brazeros Musical De Durango, Los Caminantes De Humberto Nabarro, Sonora Tropicana, Los Del Zello Oficial, Alianza Juvenil, Los Galvan De Gto and Alegria Rivereña.

Tuesday, Sept. 26: Reagan Strange at 5:15 p.m., Visible Worship Collective at 5:45 p.m. and Cochren & Co at 7 p.m.

Wednesday, Sept. 27: JR Moore at 7 p.m. and Scotty McCreery at 8 p.m. presented by 99.7 The Wolf.

Thursday, Sept. 28: Charvey at 5:45 p.m.

Friday, Sept. 29: Soundbox at 6 p.m., The Persians at 7:15 p.m. and StopGap Solution at 8:30 p.m.

Saturday, Sept. 30: DJ Saint at 4 p.m., Bassventura at 5 p.m., DJ Marcat at 6 p.m., Jayy Snow at 7 p.m. and Glow Party at 8 p.m.

Sunday, Oct. 1: Gospel musicians perform throughout the day, including LaTocha, Damon Little, Otis Kemp, Darrel Petties, Hallelujah Highlights Memphis, Julian Cross, Priscilla Bowden, Shawn Xavier Jones & The Company and more presented by 95.7 Hallelujah FM.
What is your favorite part of the Mid-South Fair? Can't wait to see you there!