There are so many moms hiding in plain sight with chronic illness. They are cheering at the sporting events, volunteering for the PTA, and grocery shopping with two toddlers in tow, all while fighting a battle with their own bodies.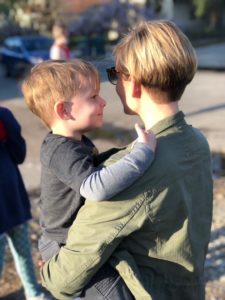 To the moms out there with an invisible illness, I salute you, and I SEE you.
I see you walking hand-in-hand with the shadow of your former self, hoping it will lead you back to who you used to be…
I see the missed social engagements and the friends who were once by your side.
I see you trying to fit together the pieces of a puzzle when half of them are broken.
I see the loneliness in your eyes even when you are surrounded by a room full of people.
I see a world that keeps spinning and a life that keeps passing you by.
My story and my battle are not rare. Just in my small circle, my life is surrounded by women suffering. Every day they look in a shattered mirror and see the fragmented pieces of themselves. They start each day wondering which parts of their body will work today. That's what chronic illness does. It takes away your ability to be whole, to feel complete.
Chronic illness is a lot like grief. It is impossible to fully understand it until you go through it yourself. I never "got" it until it was me. I watched my mom suffer my entire life and never understood her. I just knew I didn't want to be her. She spent most of her time in bed dreaming about who she wanted to be and all the things she wanted to do. She never became that person or did any of those things. Instead, she died alone in her bed one night, invisible to those who saw her everyday.
My biggest fear is that my illness will become my identity. I pray that it's not who I am, but only a small chapter of a much bigger story. I pray to be whole again and do all the things I once did. But for me, it's also important that I find peace in this place of brokenness. I have to find a new normal while still working toward healing.
Chronic illness is the face of both of these photos. I encouraged my husband to document the bad days, so one day I would be able to look back on how far I've come. In a world full of picture perfect Instagram stories, people don't get to see the true struggle and our most vulnerable moments. I never want to forget where I have been. It's also important to remember that just because someone looks like they have it together doesn't mean that they didn't start their day by picking themselves up off the floor.