It's the most wonderful time of the year. Fall is officially here!
The mornings are getting chillier, mamas are busting out their CrockPots, and your social media feeds are filled with cute pictures of families decked out in their best flannel at local pumpkin patches. And the best part? It's baking season. Grocery stores across the country are stocking their shelves with pumpkin spice everything — coffee, bread, cereal, cookies, rum, SPAM (yes, really) ... You name it, they've doused it in nutmeg, cinnamon, cloves, and ginger. (And I'm not complaining, except about the SPAM. That's uncalled for.)
If Fall had a flavor, it would undoubtedly be pumpkin. This year, fill your home with autumnal aromas by making these 10 pumpkin recipes.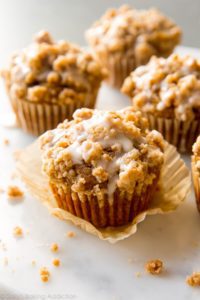 This is a recipe I make every Fall without fail. These super soft pumpkin crumb cake muffins from Sally's Baking Addiction are topped with pumpkin spice crumbs and finished with sweet maple icing. And let me tell you, that crunchy, sweet, scrumptious topping? I could eat that on its own with a spoon. (Not that that's happened ... Never ... ) They're at they're best warm and fresh out of the oven, but they also taste great after sitting for a while.
Nothing says Fall like a big pot of chili, especially when pumpkin is a star ingredient! This pumpkin recipe hails from my go-to resource for easy, delicious, healthy recipes — Skinnytaste. This turkey pumpkin chili is the perfect Fall dish made with ground turkey, tomatoes, canned pumpkin, white beans, and spinach. It's hearty, healthy, and comforting — perfect for this time of year. This recipe is tasty and makes plenty so there's enough for leftovers to pack for lunch. It freezes beautifully, so you can stock up for the winter or make half if you're cooking for two.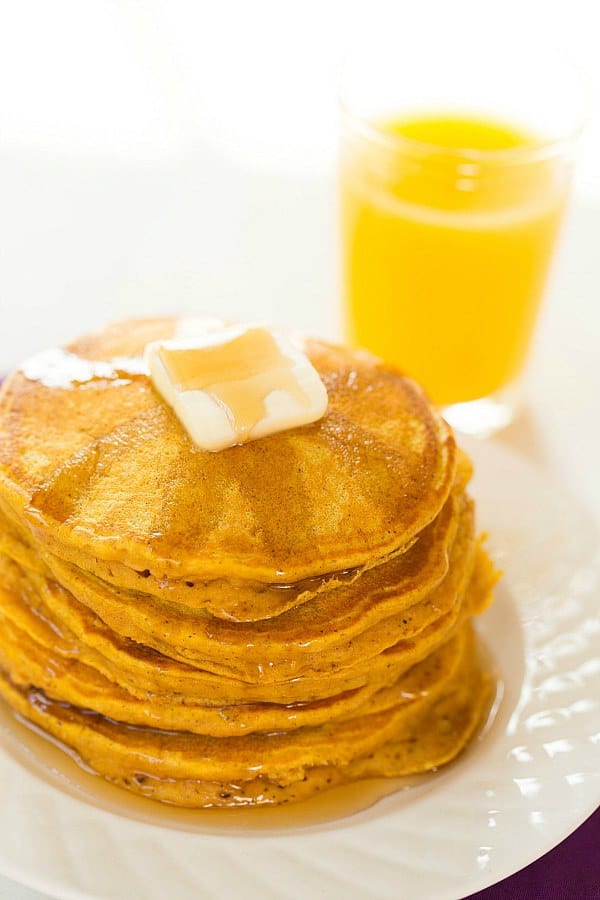 Pumpkin pancakes. Pumpkin pancakes. Pumpkin pancakes. Can you say that 10 times fast? All joking aside, there may not be a thing more comforting or seasonally appropriate than a big batch of warm, fluffy pumpkin pancakes. Like most flapjack recipes, this one from the Brown Eyed Baker is simple and can be thrown together in less than 10 minutes. Even better, you're likely to have everything you need in your pantry. The pumpkin flavor is prominent without taking away from the buttery, maple goodness.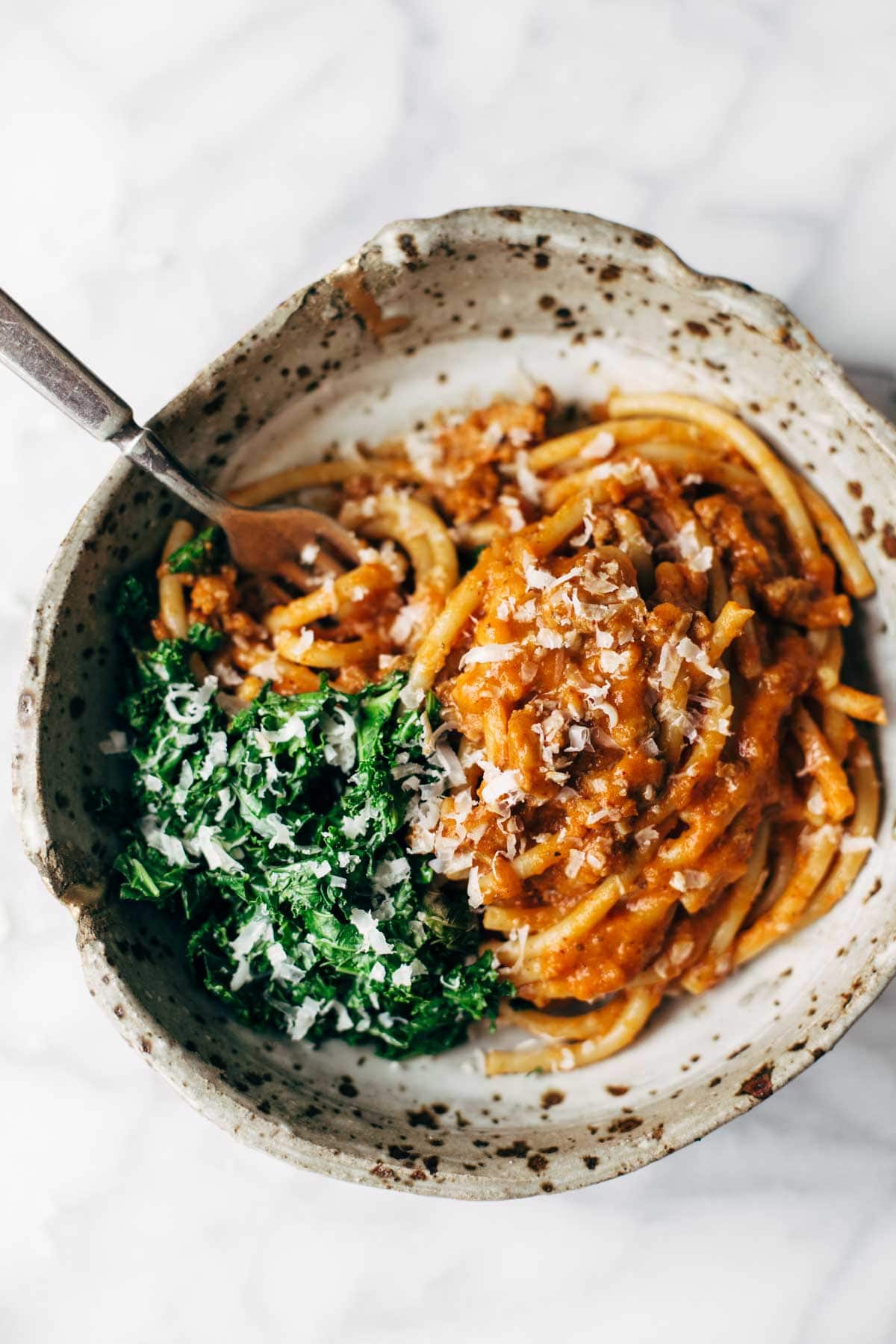 It always seems to take people off guard when pumpkin is used in a savory dish rather than something sweet like cakes, muffins, pies, or breads. But you want to know a secret? Pumpkin is a vegetable. I know, the horror! But this is actually a good thing because pumpkin — both canned and fresh — is easy enough to hide in a dish like this spaghetti from Pinch of Yum. Sure, you may not sell them on the kale, but that just means more garlicky, green goodness for you. And I know what you're thinking. Pumpkin and tomato together in one sauce? I was doubtful, too, but don't let the weirdness get to you. The pumpkin adds a creaminess without all the fat and dairy of having to use milk or heavy cream. And the taste? Talk about comforting.
Just six pantry staples, 30 minutes, and one pot are standing between you and the easiest, most delicious homemade pumpkin butter. Yes, thanks to Teigahn from Half Baked Harvest, it's that simple. This spread is thick, creamy, sweet, and spiced perfectly with warm autumn spices. As the blog suggests, "try spreading this on your morning toast with a little butter. Stir it into you coffee with a touch of whole milk and make a latte. Or use it in place of pumpkin puree in your favorite baked pumpkin recipes." There are so many fun options with this spread. I highly recommend making it throughout October, November, and December, as it'll keep in the fridge for up to a month and makes for wonderful, cost-effective, homemade gifts for friends and family during the holidays. And the best part? If you opt to slow cook this all day over making it in half an hour on the stovetop, your house is going to smell like a pumpkin spice candle. Talk about cozy.
The name of this pumpkin recipe is a mouthful, but not nearly as much as the the huge bite you'll take out of this Fall spin on classic banana bread. And the best part is that this recipe was created by one of our own local Memphis mamas — Melissa from Treats with a Twist. This bread is super moist, springy, rich, and flavorful. A delicious gluten free banana bread batter is swirled with a pumpkin cheesecake batter, marrying your favorite comfort foods without being too overpowering. This is the kind of recipe you'll want to make over and over again for your own family to enjoy and to share with the people you love. (And I dare say it would pair perfectly with the pumpkin butter above.)
Now, this may sound blasphemous, but this recipe calls for fresh pumpkin; not canned. But trust me, it's the right move. This roasted pumpkin soup from Simply Quinoa is perfect for Fall with its hints of chili, lime, and coconut, it's flavorful and unique. Plus, it's naturally gluten-free and vegan, too! The original recipe called for canned pumpkin and sauteed onions, but since we're in the midst of Fall and approaching Thanksgiving, sugar pumpkins are plentiful in the grocery store. And it's definitely worth the added effort of roasting a fresh gourd with some onions and carrots. The best part of all? Everything is blended up in a blender, so the clean up is a dream come true.
It's pumpkin season, which means it's also the season of the infamous PSL, or pumpkin spice latte. This is easily the most popular drink at your local Starbucks, especially this time of year. It has a wide cult following, and people look forward to PSL season every year (which seems to keep coming earlier and earlier with each trip around the sun). But a grande PSL from Starbucks can set you back about $5, and if you hit up the drive-thru multiple times a week, those can really start to add up. So, why not make your own from home? Bon Appétit is here to help. Follow their recipe to hop on the bandwagon, all while saving a few bucks in the long run.
Now, we couldn't do a post about pumpkin recipes to make without including at least one pumpkin pie recommendation. And let me tell you, this ain't your grandma's pumpkin pie (although I'm sure that's delicious, too). This version from How Sweet Eats combines the classic nostalgia of the traditional pumpkin pie everyone looks forward to every Thanksgiving with just enough excitement to feel like a revelation. And the best part is that this recipe calls for a pre-made pie crust. If you're like me, what scares me away from making homemade pies is fooling with the ice water and butter and ensuring that the crust doesn't get soggy. This is a fancy dish that's sure to impress without requiring an absurd amount of prep work. (But, if you are into making your own pie completely from scratch — crust and all — Bon Appétit has a great pumpkin recipe for a similar pie with a chocolate crust. Divine.)
My sister-in-law first introduced me to this dip, and it has quickly become my go-to dish to bring to Fall get-togethers. And the best part is that the recipe is included with the Muirhead Pecan Pumpkin Butter you buy at the store. I was hesitant to believe the hype over this dip. I mean, pumpkin butter, cream cheese, pecans, green onions, and bacon? That's a strange combination. But believe me when I say that it works. If you made a batch of the homemade pumpkin butter listed above, feel free to use that and just add some pecans, but the jarred version is delicious and easy enough to dump in. Locally, the Williams-Sonoma outlet on Spottswood Ave. in East Memphis keeps it in stock during the Fall. Best served with sturdy, crunchy crackers or pita chips.