When I was a kid, I loved Halloween. The costumes, the candy, running around outside in the fall air; it was a magical holiday. Then I grew up. And Halloween became sexy costumes for the women and foolish costumes for the men. It was awful and predictable.
And then I became a parent, and Halloween was going to be fun again! But our oldest son, Cooper, was born with a previously undiagnosed chromosome abnormality. So, while Halloween is still more fun than putting on a sexy cat costume and going to a party, it comes with its challenges.
For starters, Cooper is 7 but is nonverbal. So he can't actually say "trick-or-treat." This may not seem like that big of a deal, but the people giving out candy often really want to hear those cute kids in costumes actually say "trick-or-treat." For the last couple of Halloweens, I printed out some cute cards that explained the situation. It seemed much easier to have a cute explanation ready to go than to explain it over and over again, house after house.
Cute, right?
In addition to not talking, Cooper also uses a wheelchair. This, honestly, is the most difficult part of Halloween. You'd be surprised how un-wheelchair friendly the majority of life is. Our house, for example, has stairs to get to every entrance. We have to leave Cooper's wheelchair in the garage and carry him up the stairs to our kitchen. Private residences, for obvious reasons, don't have to be handicap friendly, and 364 out of 365 days of the year this isn't a big deal. But on Halloween night, when your child literally can't get to the door to trick-or-treat, this is an issue. We walk our younger son to every house he wants to go to, but usually only take Cooper to every third house or so. He weighs more than forty pounds and has to be carried. It can be challenging.
And finally, Cooper has sensory issues. He's not the biggest fan of touching things; if you hand him something, he will take it from you, but will promptly throw it down. Also, he HATES having his head messed with (haircuts are a challenge). The vast majority of costumes for children have either something that needs to be held and/or a hat or headpiece. So for the last two years, I've let my younger son choose his costume, then have found something that went with it. Last year, Semmes was a T-Rex and Cooper was the raptor trainer from Jurassic World. I got him a vest and ordered a Jurassic World ID card from Etsy. This year, Semmes is a wolf, Cooper is going to be the woodcutter, and my newborn is going to be Little Red Riding hood. As the woodcutter, he's going to wear khakis, a grey shirt, and a buffalo plaid vest. We are considering getting him a little plastic axe to hang from his wheelchair, since he definitely won't hold it.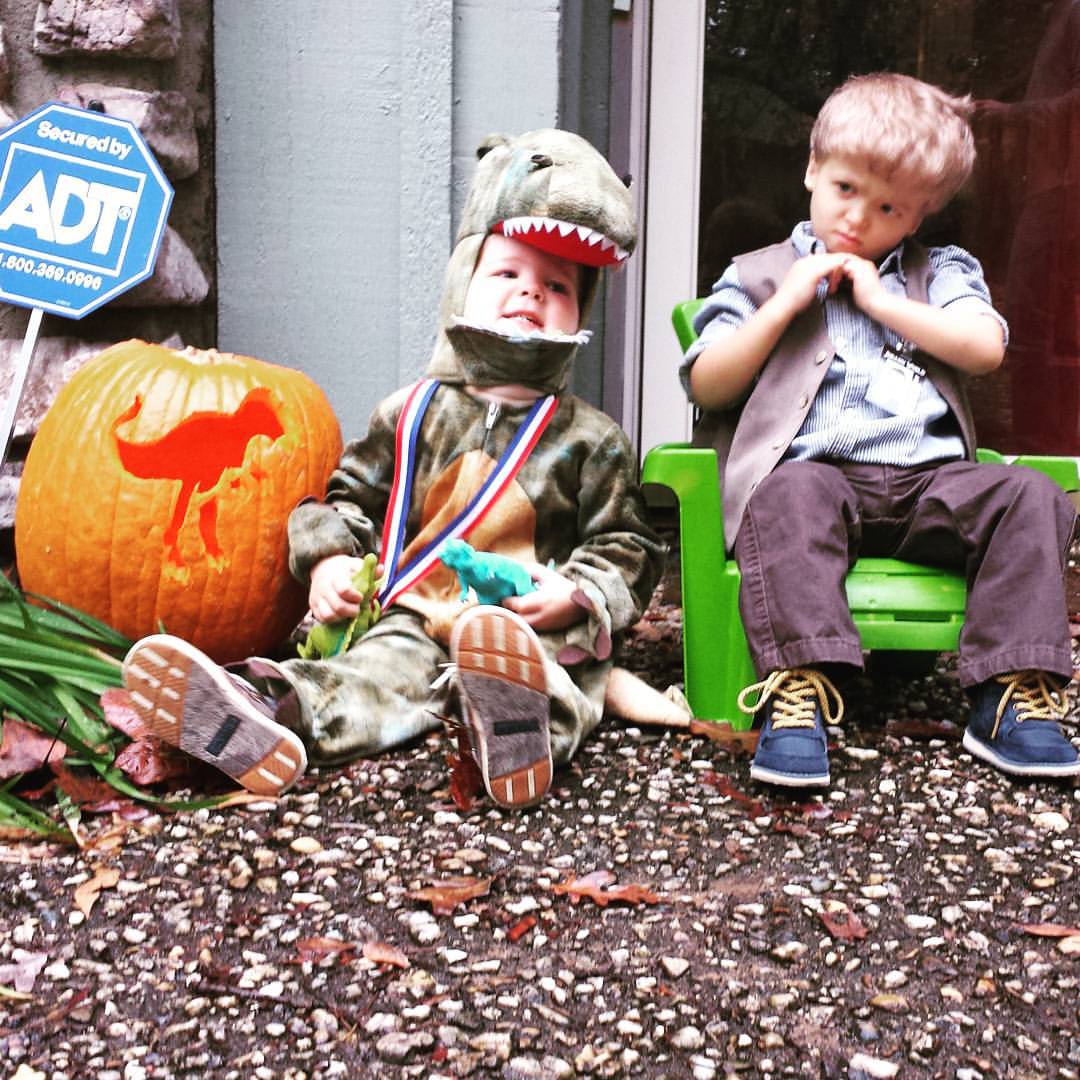 Look, this post isn't meant to be a guilt trip, but more of an opportunity to share a glimpse of some of the challenges we face so that in the midst of the chaos that comes with Halloween, others can be more mindful. For some kids - and their parents - Halloween is a huge challenge. And these are Cooper's challenges. Some kids will have different issues, some more obvious than others. So when you're out trick-or-treating with your kids or at home passing out candy, just remember that there are some kids that do it a little differently. I'll be honest, I'm a little jealous of how simple Halloween is for the majority of parents. It's yet, another one of those random, less thought about, challenges that comes with being a special needs mom.
SaveSave