Sometimes when you move to a new city, it takes awhile to learn all the awesome places the locals go. You can peruse blogs, look up restaurant lists, follow foodies on Instagram, but really, the best places you discover are by word of mouth.
Several years ago, a mom friend of mine mentioned they were eating lunch at the Waffle Shop. I corrected her and said, "Do you mean Waffle House?" She shook her head nope. She really did mean Waffle Shop. Hhhmmm. I was intrigued. Even more so when she continued telling me it's in the basement of a church and only open during Lent. Say what? A hidden, pop-up restaurant in a foodie city? Sign me up!
Where exactly is the Waffle Shop?
The Waffle Shop is located in, basically, the basement of Calvary Episcopal Church in downtown Memphis. It's a bit confusing to find, but once you do, it's like you entered an exclusive club entrance! Park off of N B.B. King (the church is actually on N 2nd Street) in the back parking lot and enter under the awning. Or, you can park for free at St. Mary's Cathedral on Poplar across from LeBonheur and take the shuttle that runs every ten minutes to Calvary. Head down the hall and follow your nose and sounds of laughter. You won't be able to  miss it. (There will be people there greeting you and telling your where to go. The church itself is old and can be confusing!)
What exactly is the Waffle Shop?
The Waffle Shop is like a 50's diner. They offer a limited menu of items, but it's these items that drive people back again and again all Lent long, year after year. Besides their homemade waffles, the shop is known for their chicken hash, chicken salad plate, shrimp mousse, and their Boston cream pie. Other staples of the shop are their Friday-only fish pudding (Don't knock it until you try it. Sounds awful, tastes delish.), and their very weird looking tomato aspic (again, it really is very tasty!). These are some of the same recipes that they've been making since 1928! Completely volunteer run, everything is made in-house and completely homemade from scratch.
Lenten Preaching Series
This year also marks the 100th anniversary of the Lenten Preaching Series. All are invited to attend in-person to hear this year's 18 dynamic speakers. The talk happens at noon each day, so there's time for you to grab a yummy lunch before or after the talk. So you can hear a great talk AND eat a great meal, if you feel so inclined!
When can I eat there?
The Waffle Shop will be open this Lenten season from (TODAY!) February 22 – March 31, 2023. (Take your kids for lunch over spring break if you're in town. They'll love the waffles and the spaghetti, both served daily!)
It's only open for lunch, Wednesday through Friday from 11:00 am until 1:30 pm.
You have the option to "dine in" or you can order your items to go for $1 (they have a very accessible "take out" area!)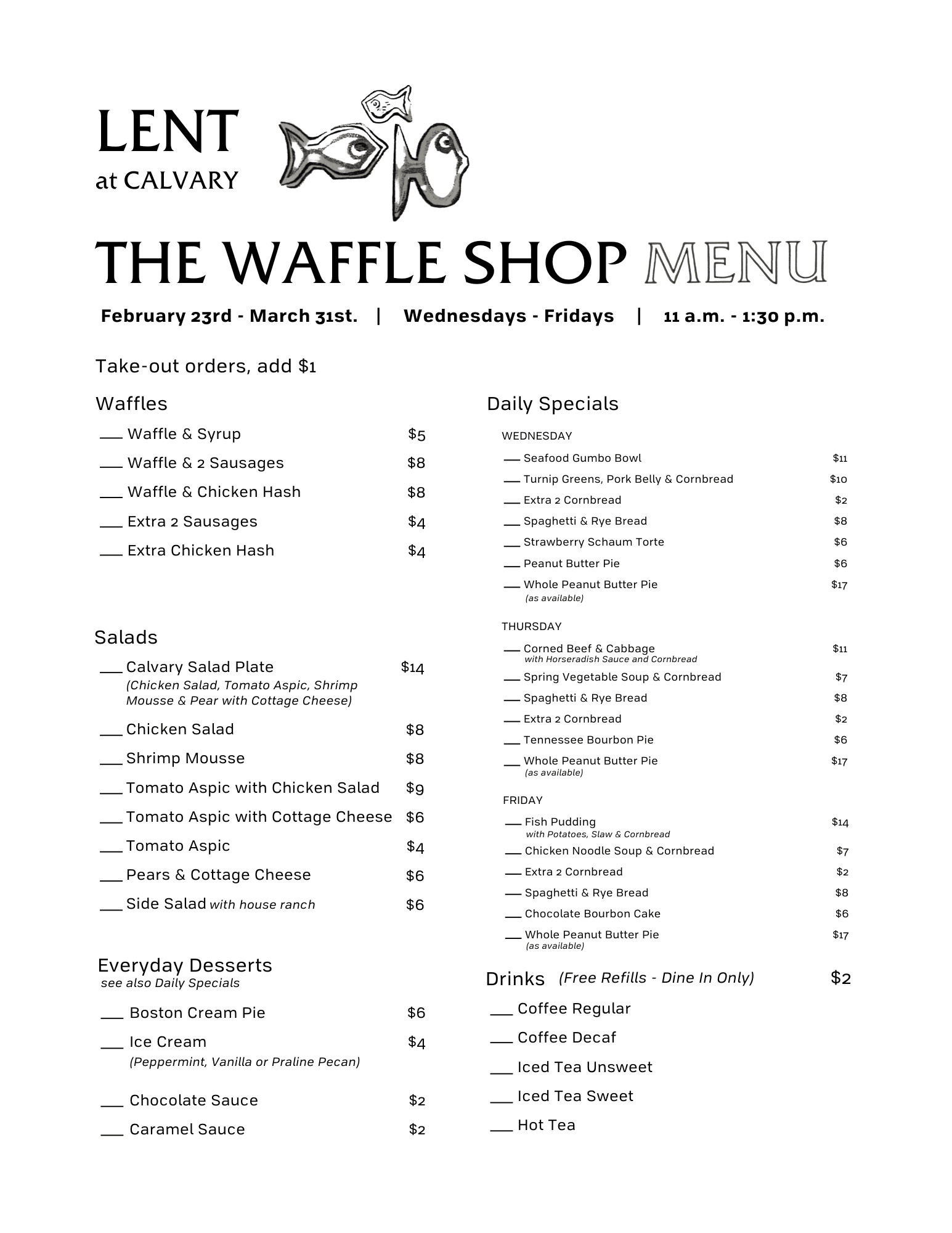 Perfect for a lunch date with your love or a "ladies lunch" with friends, the Waffle Shop is a unique lunch experience! The prices are outrageously low for the amount of delicious food they serve you. Plus, all proceeds from the Waffle Shop go to outreach and community service projects. Memphis is lucky to have such a tradition in our city.
And let's be honest, it's waaaaaaay better than that other waffle place we were thinking of!