Shelby Canopy: Our Shared Connections is an AMAZING art installation that is set to open on Sunday, November 19, and will run through April 19 of next year. Located on the Wolf River Greenway at the Memphis/Germantown line, this would be a fun way to get your kids out of the house and a fun way to run off some energy when they are home all of next week for the holiday. Since the exhibit will be around for the next six months and will continue to change (keep reading and this will make much more sense), it also is something you will want to take your kids to several times of the course of the next six months.
Shelby Canopy: Our Shared Connections is a public art installation that aims to raise awareness of the natural resources in Memphis and Shelby County as a whole, foster connections between Shelby County residents and our green spaces, and advance understanding of deforestation and the importance of trees in our environment. By inviting these artists to create these experiences, they aren't only creating something beautiful. They are raising awareness of our natural resources, highlighting the importance of trees, and helping people feel more connected to the open spaces around them. They are also actively supporting the arts and showing how they can make a positive difference in our community.
The installation feature two sections:
The first is "The Blue Trees Environmental Art Installation" by international artist Konstantin Dimopoulos. Memphis is only the latest place this has been installed and featured. "The Blue Trees" was launched in 2011 in Vancouver, Canada, and the installation has been done all of the United States and the world. But Memphis is unique in that this is the first time the Blue Trees has been installed in a wooded, forest area. This is a section of the forest that some of the (carefully selected) trees are covered in a bright, Royal blue pigment. Though the pigment LOOKS like paint, it is actually just liquid chalk. It's a special kind of chalk that the artist developed that can be applied to trees, and it's safe for people and the environment. The blue pigment will last 6 months or so (and will fade to other blue tones), depending on how much rain and snow we get during that time.
The second section is "Tree Tones" by local artist duo Belleau + Churchill. This is a section of the forest where tonal chimes have been placed in the branches of trees. There are 6 different tones to represent 6 different tree species that are important to our area. This would be so fun to experience on a windy day!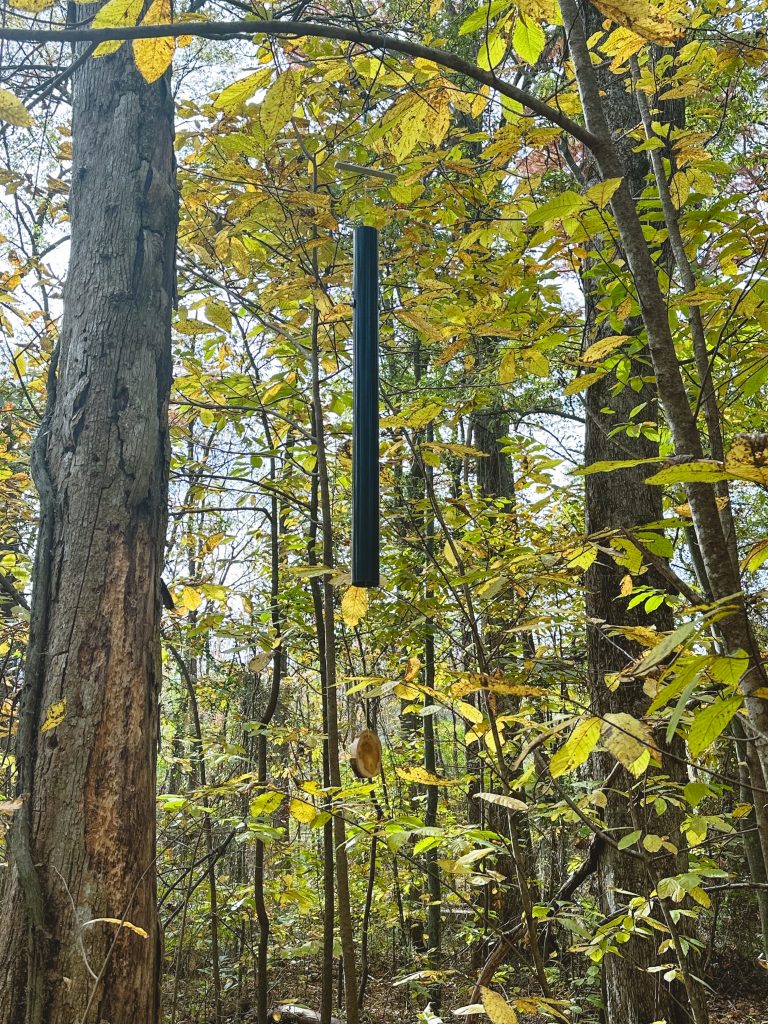 This is a free, immersive public art project. The installation is located along the Germantown Greenway, near the Memphis and Germantown border. It is only viewable from the trail and not visible from Wolf River Boulevard. The project is set along a loop right off the main trail. So you can easily walk through it and make your way back to the main Wolf River Greenway Trail. See THIS MAP for more information about where to park and walk. The trail is completely paved and is wheelchair and stroller friendly. And there is a bathroom and picnic tables located right next to the parking lot, so you could easily make a morning or afternoon out of exploring the art installation and then heading across the Wolf River to that whole network of trails.
At the beginning of each section of art, there will be signs with information about the art, why it's there, who the artists are, etc. The sign will also have a QR code you can scan for videos about how the art was installed, who worked on it, and other details. (Fun fact: one of our writers, local artist Cara Sievers, helped paint on the pigment of a few trees!)
Shelby Canopy: Our Shared Connection
Open November 19, 2023- April 19, 2024
Hours are sunrise to sunset, daily.
7014 Wolf River Parkway, Germantown, TN will take you to the parking lot next to the restrooms. This is the closest parking area to the installation, but only has six parking spots. You can also park at the Kirby Parkway Trailhead and walk over. It's a 5-10 minute walk to the installation from there, but that parking area has 22 parking spots. For more information about that, visit their FAQ page, linked HERE.
The unique learning environment at Lausanne Collegiate School includes small class sizes as well as inspiring and supportive faculty. Lausanne is located at 1381 W. Massey Rd, 38120. Learn more about what sets academics at Lausanne apart or call (901) 474-1000 to schedule a tour.