Memphis is full of amazing moms: working moms, stay-at-home moms, single moms, moms of multiples, etc. We want to highlight some of those moms! Each month we will feature one special mom as MMB's mom of the month.
Meet Brittany!
After serving in the Navy and living in several different states throughout her adult life, Brittany and her daughter laid roots in Memphis in 2013. They came here and lived with Brittany's best friend from the Navy to get a fresh start in life after a bad divorce. When Brittany came here, she had been struggling with Polycystic Ovarian Syndrome (PCOS). She was told it would be near impossible for her to have any more kids; she was considered extremely unhealthy and obese. Almost one year later, Brittany met her now husband. Not too long after being together, they were blessed to have conceived a little boy; a little boy, who doctors had told Brittany years earlier, would be near impossible to conceive due to PCOS.
While pregnant, Brittany's weight soared to an all-time high of 226 pounds. After her son was born, she only managed to drop down to 205 pounds. It wasn't until her son's first birthday in April 2016, when she saw a picture of herself giving her son a bath in the sink, that she realized how out of control her health really was. That single picture opened her eyes and made her realize she needed to change her life so she could be around for her kids.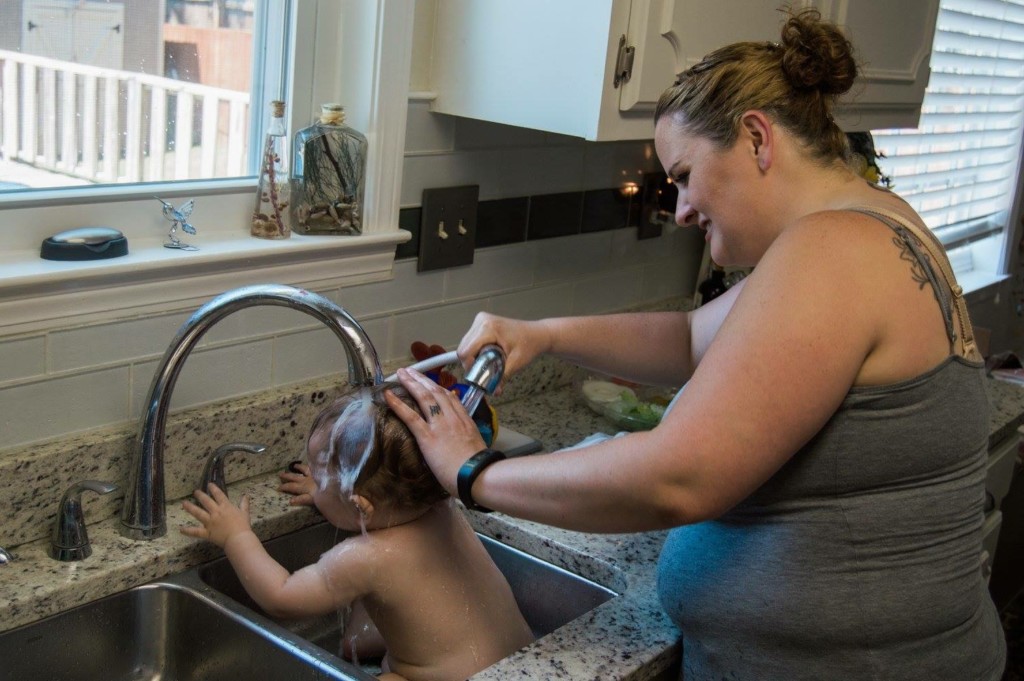 She started off her health journey by changing her way of eating. She went from the standard American diet, full of soda, processed junk, and fast food, to eating more whole foods, drinking lots of water, and eating minimal processed foods. Her exercise consisted of walking at first and lead to more intense activity as she lost weight. Within 6 months she had lost 55 pounds. She started receiving messages from friends asking for help and decided to seek out a personal training certification.
Brittany has now been a Certified Personal Trainer for two years and a Holistic Nutritionist for six months. She has helped several people change their lives and discover a newfound love for healthy food, including her husband. Unlike traditional working moms, she works from home amidst all the craziness a husband, three kids, a Siberian Husky, and a Tabby cat brings. She can be found on a daily basis juggling her home life and training clients online and in-person in her private gym. She would love to help more women reclaim their health, especially those struggling with PCOS and obesity.
We asked Brittany...
1. What Advice would you give to a mom of a blended family?
I would tell a mom of a blended family to Love all her kids equally, set her expectations the same for each and every one of her kids, be their biggest fan and cheerleader, and don't be afraid to set rules.
2. When traveling, what is your number 1 go-to "stay on track" eating tip?
When I travel, one of the easiest things for me to do is pack my Six Pack Fitness bag full of approved snacks. I typically keep my snacks low carb when I am traveling. You can always find sugar-free low carb food and snacks on the road, but you can't always find clean, sugar-free carb-based snacks. I also bring bottles of water and a couple scoops of protein so I am at least keeping my protein intake where it needs to be.
3. What is your favorite thing to do with your kids in Memphis?
My favorite thing to do with my kids in Memphis is to go to the zoo or go for walks/runs/rides at Shelby Farms. When we go to Shelby Farms, my older two will ride their bikes, while I jog and push the youngest in the stroller.
If you are as inspired as we are by Brittany's incredible story, check out her FB page to learn more about her and how she might be able to help you, or someone you know, take that first step to a healthy change!