Last week my seven-year-old washed an entire sink full of dishes AND the pots and pans. He is a master dishwasher! Hallelujah! Not only does he have a new chore, but he is now officially initiated into kitchen life. Since he was a wee one, he has been hanging near me while I cook. I have always shared with him the smells of various spices and talked with him about them. I attribute that practice to his diverse palette. In recent years, he's helped me chop cooked foods, we have cake-baking contests, and he makes a mean meatball. In our current at-home climate, we are going to venture into full meal preparation using kid-friendly recipes. We have the time to hang out, get messy, be creative, and clean up together.
Here are a few fun, kid-friendly recipes that we love to make. Let us know your favorite one!
1. Spätsle! German Egg Noodles
This one is a little more for older kids but everyone will love them! My seven-year-old, however, does fine scraping the dough into the boiling saltwater. He loves making these!
Ingredients for Noodles
›2 cups of flour
›4 eggs
›Salt and Pepper
›Herbs of your choice
›Bacon
Ingredients For the Salad Dressing
›1/4 Red Onion chopped very fine
›Tbl spoon of stone-ground mustard
1/2 cup of oil
›¼ cup of balsamic vinegar
›Fresh Lettuce
How To
›Spätsle is as fun to make as it is healthy!
›Start a large pot of boiling saltwater.
›Mix flour with salt and pepper and herbs of your choice. Stir very well with a fork. Put your elbow into it!
*make sure to season your dry ingredients
›Add eggs to the center of the flour mixture and beat. Then slowly mix into flour little by little until you have a dough the consistency of very thick slime! Add a splash of saltwater if needed.
›Spread dough onto a flat spatula and scrape it off into the boiling water in thin strips with a butter knife. Dip the knife into the water to easily cut the dough.
›When it floats it's ready (about 2-3 mins). Remove and add a new batch.
›Serve immediately with butter and crumbled bacon with the salad on the side. And, of course, you can mix in cheese!
2. Super Simple Meatballs›
Kids usually LOVE making meatballs. Here is my quick recipe for this entertaining, protein fun.
<----- Actual pic of my son having a blast.
Ingredients
1 lb of ground beef or bison (or 1/2 lb of each)
1 egg
salt and pepper
1/2 cup of kale chopped so fine the kids miss it (optional)
1 tsp paprika
2 Tsp BBQ sauce
If you want your meatballs to have a firmer texture, add bread crumbs until you have the consistency you want. But make sure you don't add too much!
Let the kids go to town mashing and shaping.
Brown in a pan on all sides and cover for a few mins until cooked thoroughly. Add to your favorite sauce and, viola!
3. Crunchy Green Bean fries with Dipping Sauce
Ingredients
For the lemony garlic dip:
½ cup mayonnaise
2 cloves garlic, minced
2 teaspoons lemon juice¼ teaspoon salt
For the beans:
¾ cup flour
2 eggs, beaten
¼ cup milk
¾ cup Parmesan
1 ¼ cups panko bread crumbs
1 teaspoon garlic powder
½ teaspoon salt
12 ounces fresh green beans, rinsed, patted dry, ad trimmed
* For the how-to, check out the recipe card
[yumprint-recipe id='3']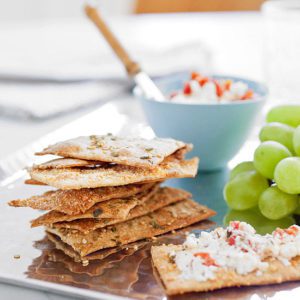 4. Sesame Herb Crackers From Scratch
1 ½ cups flour
½ cup whole-wheat flour
1 teaspoon sugar
1 teaspoon table salt
2 tablespoons sesame seeds, plus more for sprinkling
2 teaspoons dried basil or chives, plus more for sprinkling
2 tablespoons butter, softened
½ cup plus 2 tablespoons milk
Kosher salt for sprinkling
* For the how-to, check out the recipe card
5. Sushi
Your kiddos will love building their own rolls!
Ingredient Checklist
4 nori sheets ( If you don't have on hand or don't love seaweed, try thinly sliced cucumber)
⅓ English cucumber, sliced into spears
3 sticks imitation crabmeat sliced or pulled apart into thin strips (or thin slices of chicken or other fish, get creative!)
1 avocado, peeled, pitted, and sliced into 1/4-inch-thick pieces
Toasted sesame seeds
1 ½ teaspoons sugar
¼ teaspoon salt
3 tablespoons rice vinegar
1 ½ cups sushi rice, cooked and cooled (makes about 4 cups)
Soy sauce, pickled ginger, and wasabi, for serving
*If you don't have a rolling mat at home, cover a placemat with parchment or just use saran wrap. Make sure to unroll before you cut!
Directions
Arrange the nori, cucumber, crab strips, and avocado on a platter. Put the sesame seeds, sugar, and salt in small bowls and fill a medium bowl with water. Cover both sides of the rolling mat* with plastic wrap.

In a small bowl, stir together the rice vinegar, sugar, and salt. Pour the mixture over the rice and stir to coat it.

Lay a sheet of nori on the mat, shiny side down. To keep the rice from sticking to your hands, dip them in the water. Cover the nori almost to the edges with rice. Scatter on the sesame seeds. Flip the nori over (the rice should stay adhered to the nori as you do this).

Arrange avocado, crab strips, and cucumber on the nori about an inch from the edge closest to you.

Roll up the ingredients by slowly folding the mat over the filling. Tuck in the ingredients as you work. When you've formed a log, use the mat to press and shape it. Use the remaining ingredients to make more rolls.

Dip a sharp knife in hot water and use it to slice each roll into six pieces (an adult's job). Tip: First cut it in the center, then cut each half into thirds. Serve the sushi with soy sauce, pickled ginger, and wasabi on the side. (Or horseradish or hot mustard)