Our family has a reputation in our neighborhood.
And it's a good one, thank you very much (don't worry, Mom).
For the past few months, we've been using the quarantine time to spread cheer to our neighbors - at a safe distance, of course. We've been decorating our sidewalks with messages of hope, love, and a healthy dose of sass.
Not to toot our horn here, but it's kind of a big deal. Toot toot.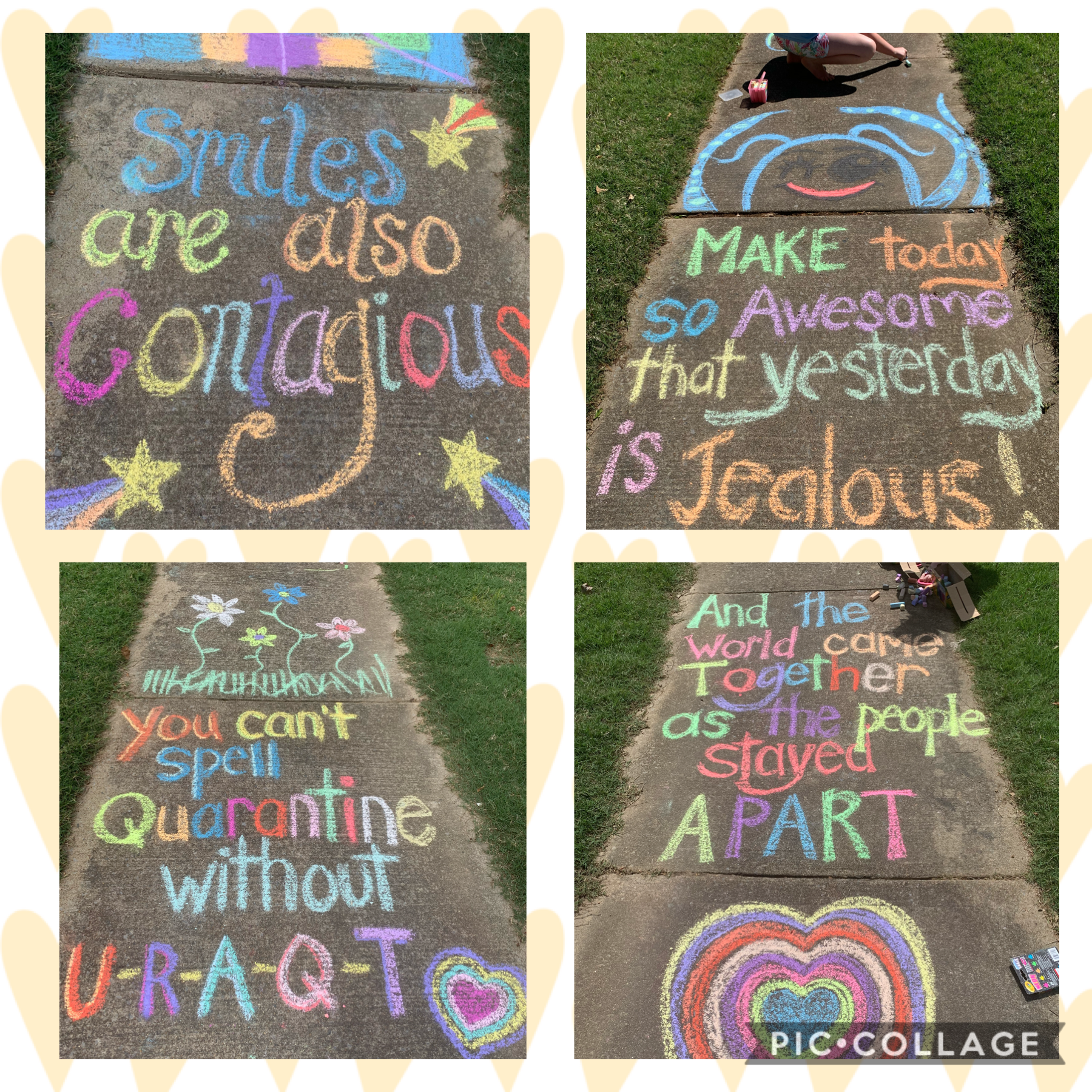 I'll be honest with you, friends: It started as a shameless attempt to get my kids out of the house to tackle our cabin fever. They were driving me crazy (hello: I'm not their Entertainer), and I have to imagine that I *might* have been driving them a little bit crazy, too. Hypothetically.
So, I tried something new. I channeled the Corona Crazy into an artsy fartsy ritual for us, which has blossomed into something we (and our neighbors) look forward to whenever the sidewalk is cleared by rain. We are blowing through sidewalk chalk of all kinds: Multicolored chalk, Neon chalk, and the Holy Grail of sidewalk chalk - Glitter chalk. It is a small price to pay for something that brings so much joy.
We even had a sweet neighbor gift us a pack of sidewalk chalk when she noticed our sidewalks were bare!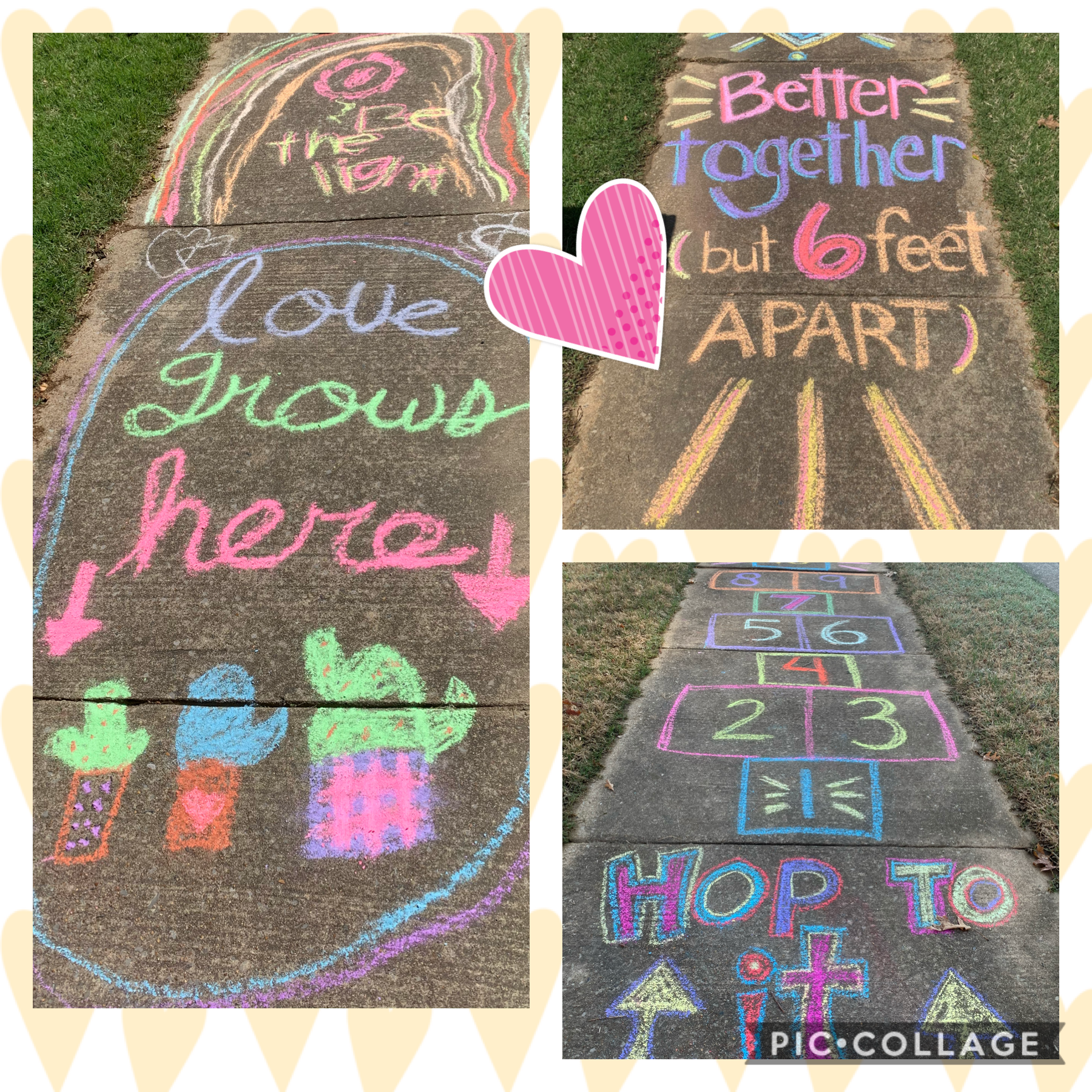 We've seen neighbors stop to read our messages, take pictures, do hopscotch, and even dance! As it turns out, our neighbors have got some sweet dance moves. Who knew, right?!
We love seeing the faces of our neighbors as they read our creations and smile. My kids get SO EXCITED if someone stops to admire their creations that they run to the window every time our Ring doorbell tells us someone is walking by.
Disclaimer: If you see my kids' faces pressed against our window, know that 1) They do get out and 2) I swear we have a semi-cool life and are not complete creepers.
It's fun, relatively cheap, and definitely helps us battle our #RonaGrumps. There is truly no age limit here, so everyone can get involved. Something magical happens when you put colorful artwork on boring sidewalks, and it teaches our kids that their seemingly small efforts can go a long way toward making an impact on others.
Bonus: You'll meet neighbors that you never knew as they pass by. 
OK, so I hear you right now. You're saying that you're "not creative" or that you have zero ideas for designs. Repeat after me: PINTEREST IS MY BEST FRIEND.
Do you really think that we conjured up all of these cute ideas by ourselves? For sure no.
If you have a tech savvy kiddo that isn't down with chalking (hey, we're not all Picassos), let him or her be the person who finds the designs. This also allows you the opportunity to supervise screen time AND helps your kids learn how to navigate the internet. You're winning all day long.
Mamas, grab a tub of sidewalk chalk and some coffee, and get those kids out of the house! I promise you'll all feel the positivity as you see the smiles a little bit of sidewalk chalk can bring to others.
Don't forget to share pictures with us! We'd love to see your artwork!