For those of you who know me, it is no secret I am a little obsessed with ALDI. Granted, I work there, but I absolutely love the products (and my people- shout out to the Guske District!). If you haven't shopped at ALDI before, let me tell you a little bit about this unique gem. You use a quarter to "rent" your cart, there are cart wipes and hand sanitizer available to keep it clean, and you will find that the vast majority of products are ALDI's private brands (in other words, if you are a brand snob, this is not the store for you). While the stores are much smaller than your usual retailer, the price savings pack a punch. Trust me, get a cart, you're going to find much more than you came for. If after your first visit, you can't get enough, you're in great company. There's even a Facebook page dedicated to celebrating ALDI finds.
The best part about shopping at ALDI this time of year is, hands-down, the seasonal items. These items are limited time and it honestly breaks my heart when they leave the shelves (and apparently a lot of our customer's hearts. I hear you, Karen, I'd fix it if I could). If you are looking for some classics or even new items to spice up your holiday celebration, look no further!
Here is a list of the items you should mask up and venture out for before Christmas (or curbside it, of course):
Almond Nog
While I was breastfeeding, I went trough a dairy-free period (LOL never again). I was so desperate for eggnog that I figured I would give this cute carton of Almond Nog a try. At this price, why not, right? Wow. I have been back on dairy for a year a half and I still reach for this over regular eggnog. It is rich, the perfect thickness, and full of flavor. Not to mention it is half the calories and fat as regular eggnog. Give this a try and you won't regret it.
Anything in the Charcuterie Endcap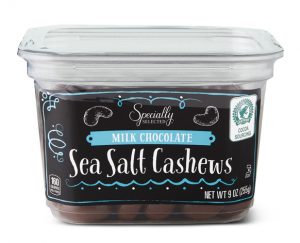 ALDI has truly stepped up its hosting game. The stores have a dedicated endcap for all of your charcuterie needs. There are so many different types of crackers and snacks- my favorite here being the Milk Chocolate Covered Cashews. You can get just about anything you could dream of to make the perfect charcuterie board come true. Because my family is not getting together for Christmas, I've decided to host a virtual party on Christmas Eve full of games and snacks. My sister's family and my parents will be on the call- and since I am "the host" I will be having each family receive their own charcuterie board ingredients (thank God for instacart!) from their local ALDI that day. We will build our boards together, and I can't wait to try delicious snacks together even states apart.
Winking Owl Wines
The best part about ALDI wines is- you guessed it- their price. The flagship line, Winking Owl, is absolutely delicious but even more affordable. At these prices, you should really try one of each (just saying, a glass a day keeps the doctor away, right? Oh that's apples? Oops). My favorite is the Sweet Red when I am feeling more fruity, and the Chardonnay when I am feeling more dry. Try the Sangria too, or even something sparkling for a festive punch.
The Cheese
I figured the best thing to follow up wine with would be the cheese. During the holidays, ALDI adds about 50 cheese offerings to their shelves. The quality of these cheeses would impress even your pickiest cheese-connosoir step uncle, but better yet, they are delicious.
The Candy
Of course I saved the best for last. The array of seasonal candy and sweets at ALDI is unreal. Fair warning- if you come down this aisle hungry, you will either leave with 17 items you didn't need, or you will need a mop to clean up your drool (just ask a friendly associate). If you must know, I have to intentionally avoid lingering on this aisle every day so that I don't make decisions I (or my waistline) will later regret. ALDI has German roots, so you will find unique imports as well as local tastes. You will find stocking stuffers and treats for anyone on your list- from kids to teachers, to friends, family, and co-workers (ahem and yourself.)
The Infamous ALDI Finds
For those of you new to the ALDI world, the Aldi Finds aisles, also called the Aisle of Shame by some, is a place you go to find anything and everything, from things you need to things you never even knew existed. It is rare to leave this aisle empty handed, so if you're on a budget, be warned that you may forget that once you lay eyes on the offerings ahead. The ALDI finds aisles are reset with new products every Wednesday. You can view the upcoming ad to see what is featured weekly through the website or the ALDI app. I have personally bought more things from the Aldi Finds aisles than I care to admit, but I will say I rarely regret a purchase.
What are your must-buys at ALDI? Drop us your favorite- sharing is caring!