Disclaimer :: This post is intended to briefly explain the history of the Teal Pumpkin Project, as well as provide options for non-food items for families to hand out to trick-or-treaters on Halloween. The idea behind non-food items is that all children can enjoy them--even those with food allergies. The author of this post is a food allergy mama herself, and her son has a severe allergy to peanuts and tree nuts. That being said, a list of nut-free candy options has also been included. This is not intended to alienate children with other allergies, or imply that the Teal Pumpkin Project is only intended to protect those children with nut allergies--this is because the author of this post wanted to offer these nut-free options in addition.
Of course, if your child suffers from food allergies (especially other than nut allergies), you should always be diligent and check their candy on Halloween, regardless of whether or not the houses you visited have a teal pumpkin on display.
---
As a member of the Food Allergy community for 2.5 years, my second worry after my son was diagnosed with his severe peanut and tree nut food allergies (besides, ya know, death) was "OH NO!!! HE WILL NEVER BE ABLE TO KNOW THE FUN OF TRICK-OR-TREATING."
See, I am a planner. Like, an in-depth planner. And although he was 10 months old when he was diagnosed, I was in Doomsday Mode and could not really fathom how Halloween could be safe for a kid like him. Fast forward, 8 months later, I had joined a local Facebook group, Memphis Area Food Allergy Moms, and posts were being shared about this Teal Pumpkin Project. The idea was to paint pumpkins teal, display them on your porch on Halloween, and pass out non-food items. Like many other causes that have colors to represent them, food allergies do as well, and that color is teal.
Teal + pumpkins = genius idea.
In short, the goal of the Teal Pumpkin Project, is to not only spread awareness of food allergies during Halloween but advertise a safe place where all kids (food allergy, diabetic, dietary restrictions) can enjoy the fun and tradition of trick-or-treating. The idea has branched out even more thanks to big-named candy companies joining the movement and labeling their Halloween bags as "PEANUT/NUT FREE." Disney World now offers a Teal Pumpkin Project treat bag for food allergy kiddos attending their Halloween parties - we attended one last month and the ability to take our son trick-or-treating for safe snacks (that I didn't provide) made me want to cry.
There are three great websites full of information on how to participate! FARE (Food Allergy Research & Education) has an amazing website for the Teal Pumpkin Project! A map where you can add your house for trick-or-treaters, resources for social media, printables for your house, & suggestions for non-food items. Kids with Food Allergies also has a great resource page for their project #keepitteal (which coincides with the Teal Pumpkin Project). And any food allergy parent's first best friend is the Snack Safely Guide and their annual Halloween Snack Safely Guide is currently out.
If you feel overwhelmed, DON'T. But DO this:
Get a pumpkin, paint it teal. We are obviously going to participate in this forever so we bought a craft pumpkin and painted it teal and break it out every year.
Search the dollar spot at Target, the Halloween sections at Walmart/Target/craft stores/grocery stores/Dollar Tree for packs of non-food items. What are those you ask? Don't fret. See below.
Just take a look at the next bag of candy you pick up. If there is "PEANUT/TREE NUT FREE" logo on the front it is listed on the back under the ingredients, you've just found your safe candy. We usually buy (and let Theo keep) Skittles, Starbursts, Smarties, Dum-Dums, Sixlets, Blow-Pops, Tootsie Rolls, and Lifesavers. But there are many more for you to choose from! Inserts from the Snack Safely Guide are below.
If you're throwing a Halloween party (at home, church, school) or you just don't want to search stores (I'm so guilty of this, I heart online shopping), Oriental Trading Company has an entire Teal Pumpkin Project section for all of your needs.
As a food allergy mama, I truly can't encourage you and thank you enough for participating in the Teal Pumpkin Project. Words cannot express how something that may seem so simple to others is such a huge deal for us.
HAPPY HALLOWEEN!!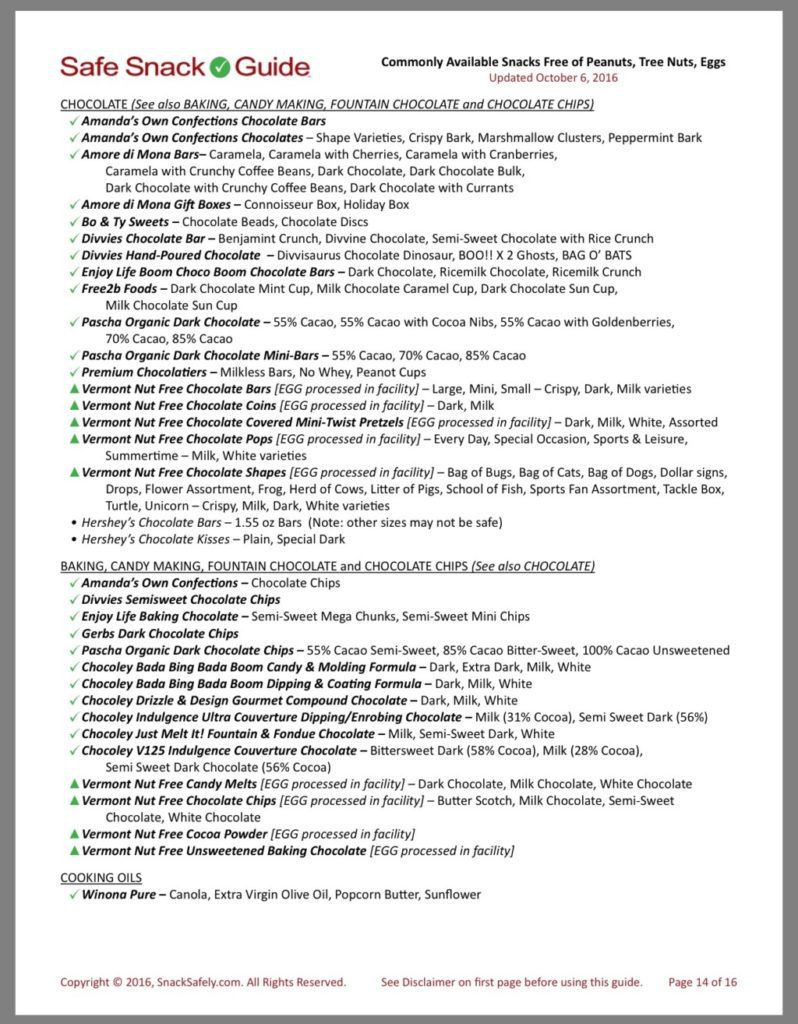 Sources: FARE, Kids with Food Allergies, SnackSafely.com