Why is buying a Father's Day gift so fraught with despair? Men like stuff. But we (the collective we who are attempting to celebrate the father-figure in our life) somehow get caught up in one image: he wants stuff for work. Cue the ties, coffee mugs, belts, and wallets. Which is fine, but maybe we can do a bit better than "fine" this year. Here are five unique gifts under $50 that will actually get used and (hopefully) loved.
$5.95 Custom Map Print
The "OH CRAP, IT'S TOMORROW" gift. Download instantly, find a 24-hour print shop, and boom. Something cool for his office/man cave/kitchen/workshop/vanity.
$16.99 With My Daddy: A Book of Love & Family
For dads with daughters, this is adorable and, like most of Jo Witek's "Growing Hearts" series, really hits on identifying emotions. Also available at the local Barnes & Noble.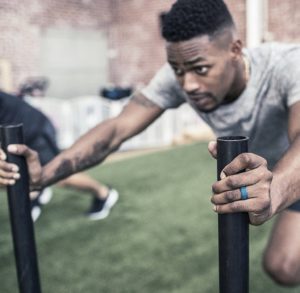 $24.95 Qalo Functional Wedding Band
These are awesome alternatives (or a second ring) for your active outdoorsy/gym-addict man or for guys working heavy-duty jobs where wearing a metal band could be dangerous or painful. Add in a sweeping drop-to-one-knee proposal, and you've got an unforgettable gift.
$30 Canvas Bottle Caddy with Opener
Whether he's carrying soda or a more adult beverage, this is a pretty neat accessory. No more clinking bottles, it keeps them cold longer at an afternoon cookout, and it comes with an attached bottle opener. BONUS: Get personal and have it customized with his initials or team logo at a local print/embroidery shop, like Creative Stitches (priced from $15+, and can possibly swing same-day turnaround time).
$40 S'well 40oz Tumbler in Teakwood
Disclaimer: I totally scoffed when I saw the prices of these bottles. Then I got one as a gift and holy smokes, they actually work. My water stayed ice cold after being left in a hot car for six hours on a 120-degree day. Then I tried hot coffee and actually scalded my mouth when taking a sip four hours after I left the house. True story. These are awesome.
NOTE: I haven't received any compensation for any of the goodies listed above. I just think they're cool.
SaveSave