You might think that because our family is made up of two moms and a child that we are a little touchy about Father's Day, but that just isn't the case for us. My wife and I both have fathers we love, and we wish for all fathers to be honored on Father's Day. We honor ours and Finn honors his grandfathers on Father's Day. We are honored on Mother's Day, both of us, so we are good.
However, a question we often get or that Finn gets, is "Who is Finn's Daddy?"
We get this question from well-meaning adults (wondering how we made Finn—this question is answered here and here) and from kids with a mother and a father wondering why Finn's family looks different from theirs. It is a perfectly innocent and expected question since we live in a world where heterosexual couples make up the dominant culture.
Don't feel bad if you've wondered, asked this question, or if your child has asked a same-sex couple this question or something like it. Ya'll are just going off what you know. It doesn't make us uncomfortable. In fact, it gives us a chance to help people understand and accept families like ours.
For us, the answer to that question is:
"Finn doesn't have a father/ daddy. He has two mothers, Mommy and Mama."
It is as simple as that. It really is.
Neither of us is the father or dad. Because we are both women, we take the nomenclature that goes with our gender.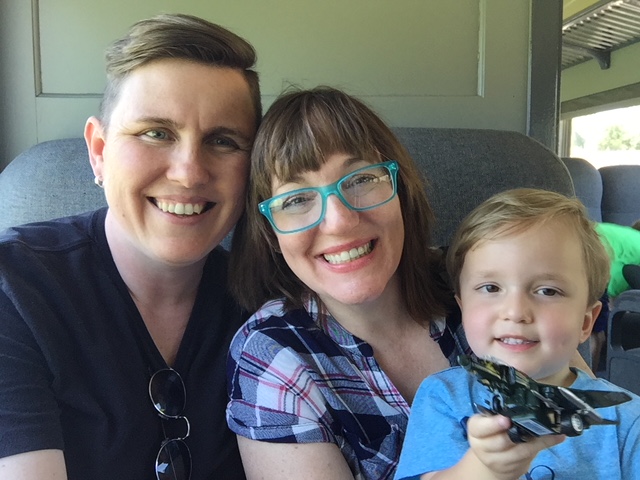 This is not to say that Finn doesn't have someone that fulfills the role that is traditionally the purview of the father figure. The thing about our family is that this role is taken on by both of us, at any given time—which, of course, as many of you can attest to, is often the case with heterosexual couples too. Gone are the days where the male of the house does/ is exclusively x, y, and z, and the female does/ is exclusively a, b, and c. This pertains to everything from working outside the home and playing catch with kids to household chores and feeding the kids. Many parents these days do both on any given day. So it is with our family too. We both cook, clean, and look after Finn. We both work full-time jobs. Some things my wife is better at or likes more and may do more of (cooking, building things with Finn), and some things I am better at or enjoy more and may do more of (cleaning, reading and learning with Finn). Every family has their own rhythm, and we are no different in this.
In case this worry has crossed your mind: Finn isn't lacking because he doesn't have a father. He has two loving parents. And he is surrounded by a host of loving role models, both men and women. As for the men in his life, he has grandfathers, uncles, fathers of his friends, our guy friends—a whole village of men to look up to along with the many women in his life to look up to.
Same-sex parents come in all shapes and sizes, just like heterosexual parents. This is how we see things for our family, and it may not apply to all. Some families might not answer the question the same way we do. But for us, his two mothers, we are Finn's parents, and he is our everything.
P.S. We call the man who gave us one of the necessary ingredients to make Finn "the donor."
SaveSave