My husband and I recently took our third trip to Disney without kids. Yes, you read that correctly -- sans kids -- to Disney World. And, yes, it was incredible! Let me let you in on a little secret: a lot of adults go to Disney without their kids. There are actually things to do there that are adult-like and fun!
Top Reasons we go to Disney Without Kids:
1. Eating and drinking around the world at Epcot!
Yes, please! 11 different countries with amazing food and cocktails/beers/wine in each?! Bring it! Sidenote: if you attempt to eat/drink around the world at Epcot, my advice is to split drinks so you'll make it! This go-around we made it from England to China before abandoning our plan (I had too many snakebites in England...oops!). We love to go during the different festivals and sample foods and drinks from the countries. The Italian Limoncello's- salud! And who could forget the Margaritas in Mexico?! 
2. Eating at fancy restaurants the kids would hate!
Hello Topolinos Terrace, Le Cellier Steakhouse and Sanaa! Sipping on a nice glass of Prosecco while eating fancy appetizers is something that you can't normally do with kids (or at least I can't with my 7 and 3 year old). No kids also means longer dinners enjoying our food while having actual adult conversations. Cheers!
3. The pools!
You can lounge by the pool for hours with a mojito in hand (without having to chase your three year old while simultaneously holding your swimsuit top up.). The Disney resort pools are seriously amazing! 
4. No kid meltdowns!
No one has a meltdowns at Akerhaus Royal Banquet Hall in Epcot because Merida isn't a princess friend there. Believe me, that was a fun experience. But seriously, kids not having Disney exhaustion meltdowns is a big plus! ????????
5. Rooftop bars.
The Dahlia Lounge at Coronado Springs- yes, please! Not to mention all of the very cool bars on the monorail! There's whole Pinterest pages and websites dedicated to monorail bar hopping.
6. Star Wars at Hollywood Studios!
It's amazing! And not just for kids! My husband is a huge SW fan and begged to go without our kids so we could go to Oga's Cantina and ride Rise of the Resistance (both things that we couldn't do with kids). And let me tell you, we had a blast!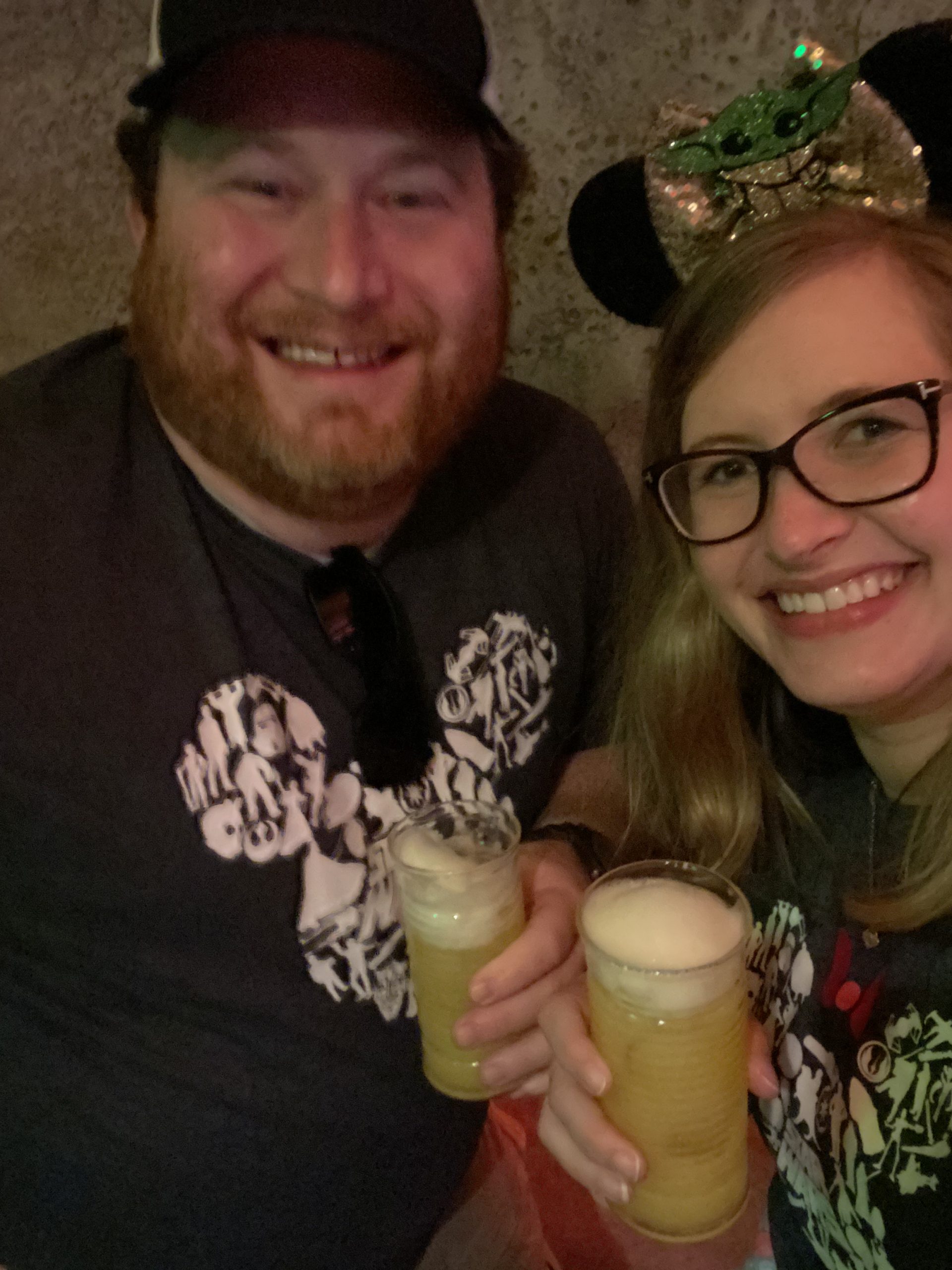 7. No Kid Rides (unless you want to!)!
You don't have to ride It's a Small World three times. Don't want to wait for 1.5 hours for the Frozen ride? You don't have kids with you, so you don't have to! Woohoo! You don't even have to go to the craziest kid place on Earth Magic Kingdom, unless you want to!
8. Did I mention eating and drinking around the world at Epcot!?
Even if you don't drink, the food is divine. 
* My husband wanted to mention not having to have a stroller as an honorable mention.
All in all, we do greatly enjoy taking our kids to the happiest place on Earth! We thankfully did that for the first time in February 2020 before the pandemic hit. But there's something about getting away with your spouse and enjoying all that Disney has to offer. I mean, there's a reason it's a top honeymoon location. So the next time you're making a list for a getaway, don't leave Disney World off!
**Disney's cleaning protocols, mask mandate, excellent distancing efforts, and keeping parks at low capacities make for a much safer trip if you want to go now. If not, plan a trip for a year or so out!