One silver lining of the pandemic lifestyle is the gift of time. However, no one wants to spend that gift doing routine chores when instead you could be enjoying quality time with your family. Or hiding out in the bathroom with some contraband chocolate. No judgment.
When I posed the question about tips to save time over social media, I was inspired by all the great strategies I received. Efficiency is a magic word to me, and I am a firm believer in working smarter, not harder. Many of the timesaving suggestions naturally fell into just a few categories and nearly all of them were ways to eliminate choice. As a naturally indecisive person, I can personally attest to how much of a time-suck making decisions can be. If the decision is already made, however, you can get right to work.
While I would love to share all of the delightful commentary from the aforementioned Facebook post, that goes against the spirit of the message...and would be like one of those food blogs that read like a memoir before FINALLY getting to the recipe. So, without further ado, here are my top timesaving tips, crowd-sourced from my friends. Hopefully you can find one or two that works for you!
LAUNDRY
Apparently the "rules" of doing laundry are really just suggestions. There are lots of tips to streamline the chore that never ends.

Don't separate by colors, but rather by type of laundry (towels, delicates, etc.) or by family member--no sorting! Note: if you're nervous about mixing colors, use the cold water setting...which is better for the environment anyway.
Don't match socks or buy very distinct ones that are easy to match
Don't iron--buy wrinkle-free clothes or use the shower to steam out wrinkles
Don't fold clothes at all--especially underwear--and keep them in baskets or bins instead of closets and drawers
Buy more clothes (or re-wear ones that aren't so dirty) to prolong time between laundry days
MEALS
Nearly everyone who chimed in on this topic sang the praises of meal planning. There are myriad ways to do it, but regardless of method, it will save you time, save you money, and save you calories.
Create a weekly (or monthly) meal plan, taking into consideration activities/commitments, seasons, and preferences
Have weekly themes: Meatless Monday, Taco Tuesday, etc.
Use all the appliances: crock pot, InstaPot, air fryer, etc.
Batch cook/prep by preparing a lot of food at once to be used throughout the week
Double recipes and freeze for busy days
Buy pre-portioned/pre-prepped food Note: frozen veggies are a great option because it's the chopping of vegetables that takes so much time. Plus, frozen vegetables retain a lot of their nutritional value, so no need to feel guilty about taking advantage of convenience.
Personal Pro Tip: Don't peel carrots (no one will notice or care)
Eat cereal for dinner!
GROCERIES
I am one of those crazy people who actually enjoys grocery shopping (maybe I should work for Shipt or something), but I know I'm in the minority. There are plenty of tips to make this task a little quicker, including avoiding it altogether!
Use curbside pickup or delivery
Subscribe to a meal kit delivery like Hello Fresh
Use apps like Big Oven that allow multiple family members to add to the grocery list
Organize the grocery list by category and/or aisle to avoid going back and forth through the store
DISHES
There are some chores that can't be avoided for too long, and doing the dishes is one of them. But there are some things you can do to stay on top of what can quickly become a mountain of dirty dishes.
Put everything in the dishwasher
Organize utensils in the dishwasher by type to put away faster
Use the dishes on the drying rack/in the (clean) dishwasher first--why put them away if you're just going to use them again?
Use paper plates (some are even compostable) for busy days or big events
GENERAL CLEANING
Once you've covered the basics of feeding and clothing your people, there are plenty of timesaving tips for general housekeeping

Get the whole family involved and consider using chores as a way for kids to not be bored and/or earn rewards
Have a daily routine: tidy up on Monday, bathrooms on Tuesday, kitchen on Wednesday, etc.
Get a Roomba
Hire a housekeeper
Just don't clean as often
PERSONAL HYGIENE
While everyone likes a clean house, it's even more important to keep ourselves clean...just maybe not every day.
Bathe kids together or "car wash" style back-to-back
Use bath time as an opportunity to clean the bathroom or fold towels, etc.
Don't bathe every day and only wash hair once a week (this goes for kids and adults)
Brush teeth (or even pee) in the shower
Shave legs in the car Note: the fellow contributor who suggested this has lots of other parenting tricks that are pure gold.
PLANNING
"Failing to plan is planning to fail." Clichés are usually clichés for a reason, and this one is no different. Mornings tend to be frantic for most of us, so the more you can prepare the night before, the better.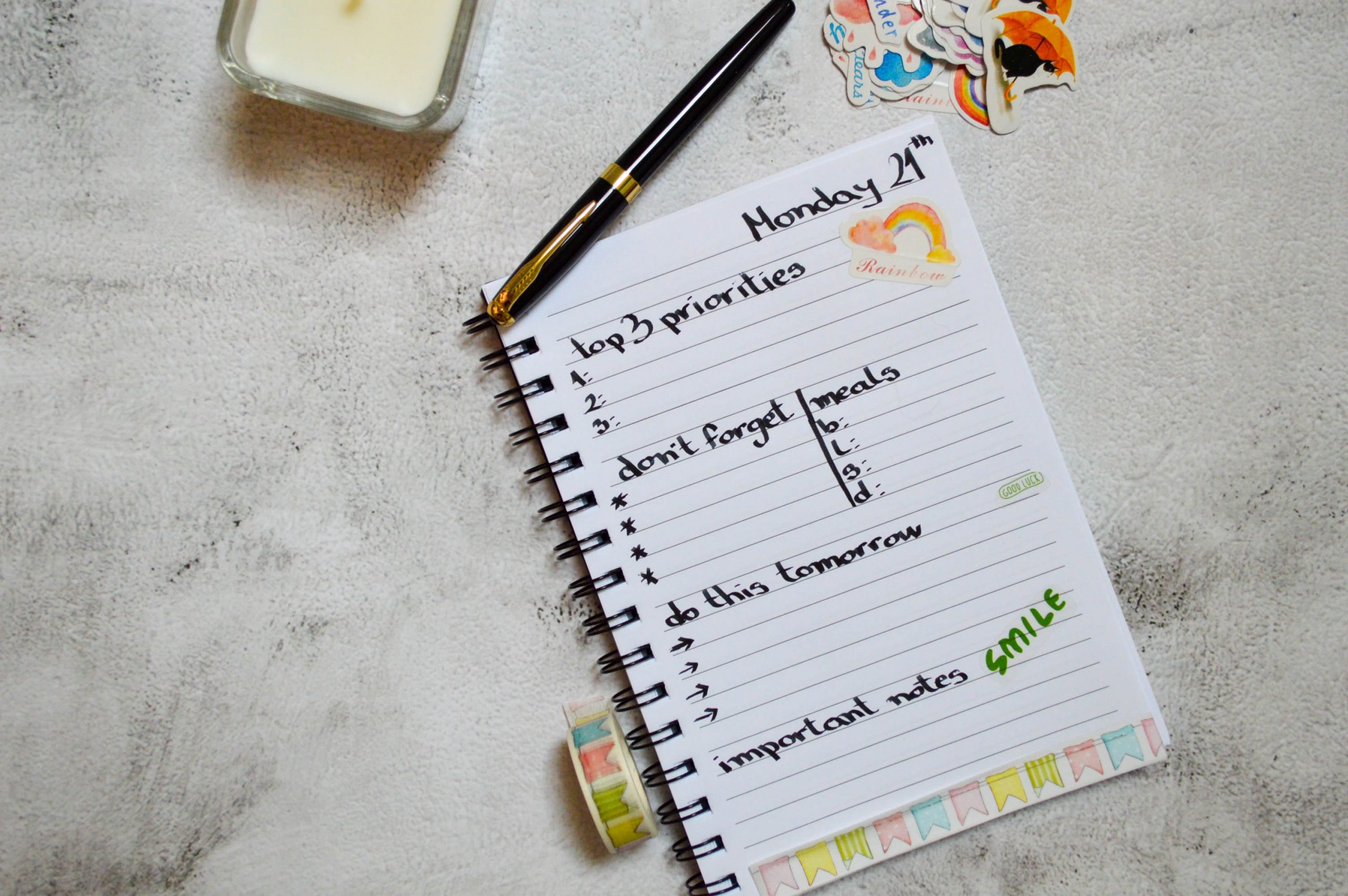 Pick out clothes the night before (or just wear them to bed instead of pajamas) Note: if I am going to exercise first thing in the morning, I will often sleep in my clothes so all I have to do is roll out of bed. Totally unrelated, but yoga pants and sweats also make good pajamas. See tip above about not bathing every day. 
Pack lunches the night before
Prep coffee the night before
Write out all greeting cards for the entire month at once
Prioritize the to-do list, keeping expectations realistic (3-5 tasks rather than 17) and focusing on the "need to do" before tackling the "want to do"
MISCELLANEOUS
And now for the rest of the tips...
Match all the lids to the Tupperware so you're not digging to find a matching set
Listen to audiobooks in the car--good for family story time or for keeping up with book club
Stage items near where they will be used: shoes by the door, yes, but also cleaning supplies in the bathroom/kitchen, sheets in the bedroom, towels in the bathroom, pet leashes and toys by the door, etc.
Older siblings who need to log reading time can read to younger siblings so everyone is busy and everyone wins!
Organize errands by geographic location to avoid driving back and forth across town Note: I live in Midtown, so a trip to Germantown requires a sack lunch and a full tank of gas. If I do have head out there, I try to check off as many errands as possible.
Maintain a zero inbox for email by responding immediately, flagging for later, or deleting Note: the friend who suggested this is clearly a wizard.
I may be late to the game (evidently I need to be following The Lazy Genius), but it's important to reflect on our routines/habits every once in a while and question why we do them. Are we spending time on things that don't really matter (seriously--carrot peels!), or things that don't matter to us? If so, why? Can we make a change that will save time for the things that actually do matter?
If you have any top timesaver tips of your own, please don't hesitate to share. In the meantime, I wish you a productive and efficient 2021!