My youngest turned 4 this past July and I'm embarrassed to admit she had never been to the dentist. My oldest had already been there, done that with the whole braces thing, my son currently has braces, and my middle two have had zero cavities and I'm lazy and just do the "back to school' dental visits once a year. So prioritizing Gwen going to the dentist was just waaayyyy down there on my list of things to do. Wasn't happening.
But then, when I was looking at dates to make Kates' and Paige's annual appointments, it was brought up that Gwen needed to see a dentist too. Ah geez. I immediately starting thinking a litany of thoughts: ugh, so much paperwork, so much extra time, we'll be there forever, she's probably going to cry, does she *really* need to see a dentist, how much is this going to cost...
Where do I even take her?
That last question was the most important though, because as a family we'd been seeing a general family dentist. However, I wasn't happy. I really wanted my kids to see a pediatric dentist (after all, they see a pediatrician, why not a pediatric dentist?). Since we were making the switch to a whole new practice, my obvious choice was Pediatric Dental Care. Conveniently located in East Memphis on White Station, it was close to drive from my house, PLUS I pass two Starbucks on the way, which was equally important in the grand scheme of things (because for me, caffeine is life).
Upon arriving (with all 5 kids in tow), the staff was just incredible. They had all my paperwork organized and ready to go. I already had my iced latte in hand, but for those parents arriving un-caffeinated, there's a complimentary Keurig bar with tea, coffee, and even hot cocoa.
Once I had the massive pile of paperwork in hand (ok, it was only massive for me because I was filling out 4 children's worth; I'm sure your pile will be normal), we were led from the main waiting room into a smaller waiting room that had a few comfy couches and a large screen TV mounted to the wall. The ACTUAL dental chairs, where the cleaning and exams take place, were right there as well. Parents can choose to sit right next to their child or they can simply stay in the smaller waiting area, enjoying their coffee and watching Sponge Bob (this is what I obviously chose). It's a FABULOUS compromise too -- for those kids that might still want mom or dad to go back with them, this area allows for parents to be an arm's length away but still gives the kid a chance to be independent.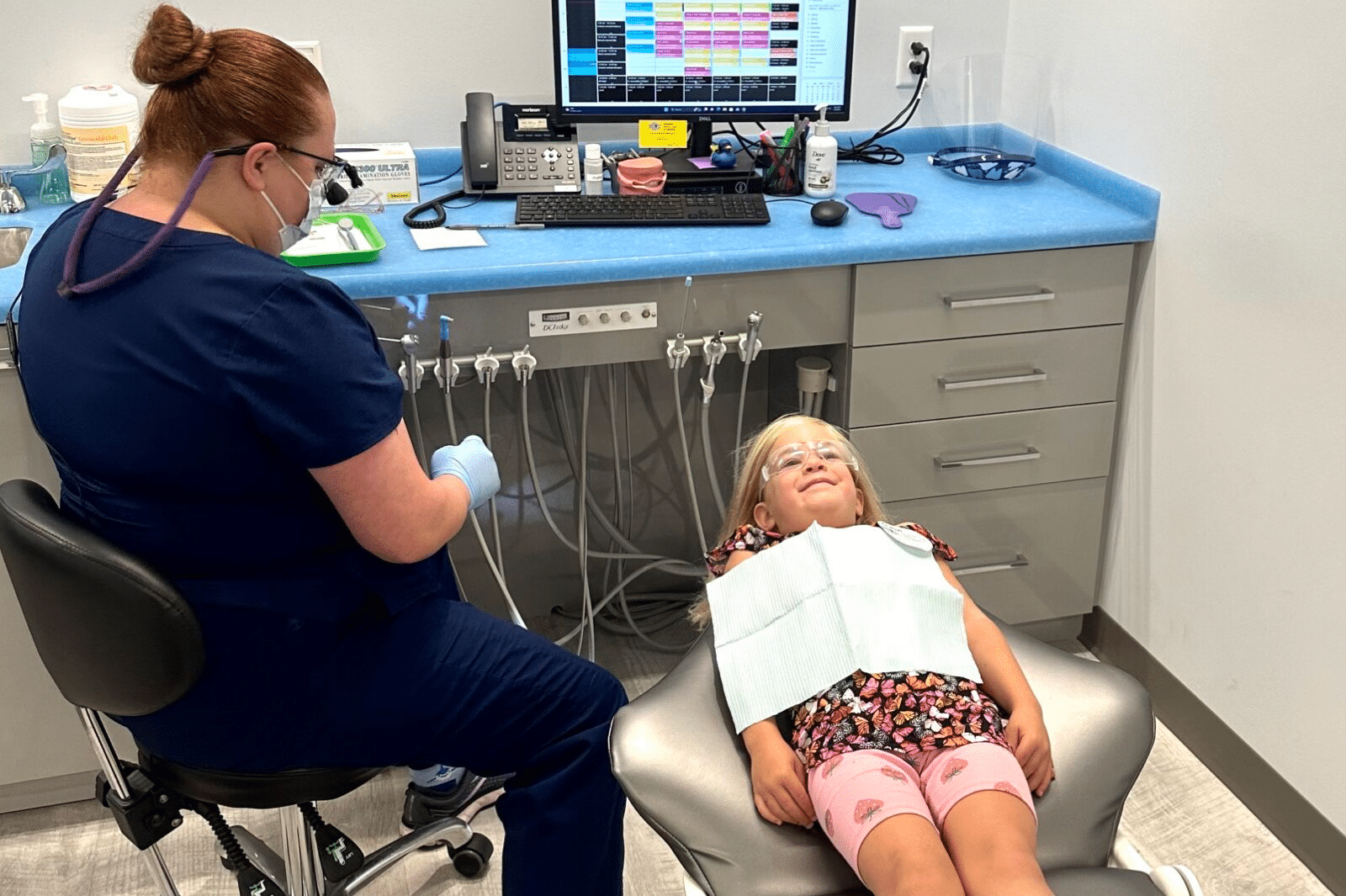 Now, this next part I cannot stress enough : PDC can take ALL MY KIDS AT THE SAME TIME. All the praise hands. They have the availability to clean/exam 6 kids all at once. Their open room concept gives the dental technicians and patients privacy with separate exam chairs and room dividers, while also giving the space a sense of airiness (and not feeling like you're being suffocated in a tiny exam room, helping calm any fears).
PDC not only cleaned each girls' teeth, but they gave them X-rays too and the option for me to approve adding a cavity-protection cap on the middle girls' teeth as well as a fluoride treatment. It's important for PDC to partner with parents, so I was informed of everything the techs were doing, asked for permission before they performed anything to the kids, and was given one on one time with the Dr. Acosta at the end of the appointment to ask any questions and review their X-rays. Also this is important to note : WE WERE IN & OUT IN AN HOUR! All 4 kids, all 4 cleanings, all 4 getting X-rays, time with the Dentist, and time for them to get a prize (we'll get to that). ONE HOUR. Y'all. For those of us with big families, this is a huge win in my book. PDC even offers "after-hours" times for working parents, as well as weekend options. They really do put families first in how they run their practice.
Kates and Gwen needed some additional dental work done, but that's another story for another day (Have you ever seen your kids on laughing gas? Oh, it's a laugh. Literally.). The office was accommodating to our family's schedule to come back a different day to get that work done (and I punted those appointments to my husband, because I'm generous like that).
At the end of the whole shebang, each kid got a token to put into a vending machine to redeem a prize (trinkets, etc), although what Gwen was most pumped about was her brand new toothbrush and bag of teeth cleaning accessories. Hopefully they actually made it from our van floor to the bathroom... because, 5th kid problems, y'all.
More important facts to know:
Every single piece of paperwork was also in Spanish on the reverse side, so for those that prefer/need to use Spanish, it's incredibly easy!
Spanish speaking dental techs are employed. If your child needs to speak in Spanish, simply ask for that service when booking your appointment.
PDC takes all forms of payment: insurance, TennCare, and cash pay.
PDC employs 4 Pediatric Dentists, so making an appointment that's not months out is actually doable!
Remember, you can book ALL YOUR KIDS at the same time!
PDC specializes in helping kids with sensory needs have a great visit, too. If your child needs sensory accommodations, mention that when booking.
PDC wants to arm you with the most information they can before you visit. Check out their commonly asked Q&A here!
I asked my kids if there's anything else I should talk about in this blog and they said to tell you all that PDC also has "really fancy bathrooms." So there's that, too.

717 S. White Station Rd #7
Memphis, 38117
call 901-560-4386 to schedule an appointment