I learned something recently that I'd like to share with you: I'm tough. In fact, I'm a little too tough. I always knew I had a little bit of a hard candy shell, if you will, because I'm horrible at consoling people. It's not that I can't empathize—it's more of the fact that I try to have the attitude that it is what it is. There's no reason to be vulnerable with your emotions. Let's get over it and move on.
Now, I've heard stories about people like me who tend to build a wall or perhaps internalize more than they should. You usually hear about them reaching a breaking point and falling apart, because they didn't take the time to feel, to wallow, to be vulnerable, to grieve, or to mourn along the way. Quite frankly, I guess I've looked at people like this as a little weak. Wow—I can't believe I'm admitting that. But, like I said, I'm more of a "let's get over it and move on" kind of girl.
Well, the universe decided to prove me wrong. And I suppose 2020—the year of crazy town—was the perfect time to do it. So, let me tell you a little story about a super strong woman (that would be me) who finally lost her ish (like totally).
Right before school started back, I was trying to decide whether my two toddler boys were going to attend preschool or not. I changed my mind multiple times a day—I was ABSOLUTELY SURE they were staying home, and I was also ABSOLUTELY SURE they were going back. The decision was really wearing on me. Their school was taking all the precautions I could ever ask for, and I knew they needed it and missed it. But I was also torn because, well, COVID. Anyway, the decision was plaguing me, and I guess it was that way for just about every parent out there. Add to that all the other stresses brought on by this pandemic, and I guess you could say I was in a vulnerable state … but I didn't realize that was the case.
Amid all this, on a totally normal day, I took my boys over to their grandmother's house to play. I got my oldest son out of the van, and we walked around to the other side to get his brother out. After they were both out, my oldest wanted to press the button to make the door slide shut. He has done this a million times. He pressed the button, I took three steps away, and I turned to make sure he was following me. I looked back at him just in time to see his hand resting where the door was about to slide shut. He was looking at his other hand, trying to press the button to lock the doors on the passenger door handle.
I quickly put my other son down and ran to open the door back up. But it did shut on his hand for like a second. This was a first for us. And I totally freaked.
I grabbed both of them and ran inside. I ran cold water over my son's hand, and calmed his crying. Thank God his fingers were fine—no breaks, no blood, just barely a scratch. He was done crying and had begun playing about 15 minutes later. (I think I got to the door before it fully latched; but I am super disappointed that it closed in the first place. The doors are supposed to have sensors that keep that from happening. It won't close on teddy bear foot; but it will close on my child's hand? Anyway, I digress.)
After he was playing, I stuck around for a while. Then, I left to run an errand that I had planned to run. Although I didn't leave. I sat in the car in front of my mother-in-law's house for about 40 minutes, and just sobbed and sobbed and sobbed. It's like everything hit me at once. Here I was thinking about this school decision 24-7 to try to do what's best for my children, and I couldn't even keep them from closing their fingers in the door! I guess that was my breaking point.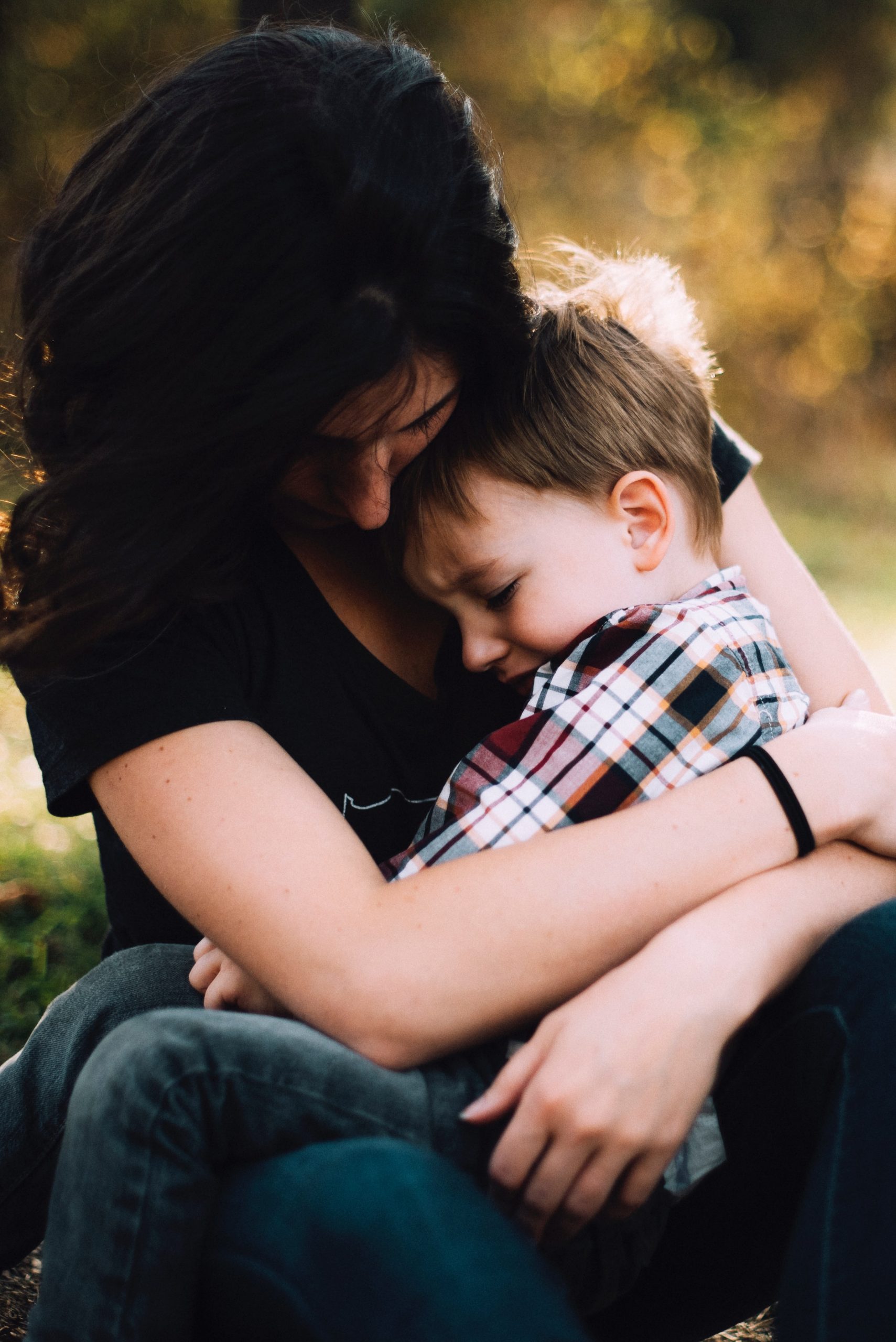 I called a friend who lived nearby, and I drove to her house instead of running my errand. I didn't realize how much I needed a hug. She hugged me and let me cry. I was grateful for that human contact, especially during these long months of isolation. But it's what she said to me later that day on the phone that really made me think.
"That's only the second time I've ever seen you cry," she said.
Y'all, we've been friends for almost 30 years. This statement shocked me. Wow. I must be a robot.
I share this story so that maybe someone else out there can identify with this and maybe learn from it. I know now that I need to be more vulnerable. I need to feel things more along the way so I don't reach a breaking point like I did that day. Being a momma is hard—there is a lot to feel, and not a lot of time to feel it—so, I guess, we all need to check in with ourselves more to see how we're feeling. We need to talk things out, and sit squarely in our emotions. And we need to be vulnerable and let people take care of us (SOOOOOO HARD FOR MOMMAS!).
Am I the only one who is working more on intentionally feeling what I'm feeling? Do you also have trouble being vulnerable? Let's share our stories and support each other during this crazy, unprecedented time.