Hot, cold, icy, stormy, or another type of crazy Memphis weather and not sure what to do with the kiddos? Crosstown Concourse is the place to be for any type of weather. They have fun indoor AND outdoor stuff to do for anybody, at any stage of life. The old Sears warehouse was vacant between 1993 and 2017 before it was reopened with spaces for retail, food/drink/restaurants, music and arts, wellness and care, and even AirBnBs or spaces to live in. Today, Crosstown truly has it all. While it is impossible to list out all the things you can do there, this post highlights some of our favorites in the space.

Exploring
If you have never been to the building, it is a great place to just explore. The general public can go all the way up to the 7th floor, so you have 7 floors and several sides of the building to explore (since you have multiple atriums that connect to each other). Your kids can run up and down multiple flights of stairs, you can play hide and seek games, you can create your own scavenger hunt, or you can play some pinball. Are you ever done exploring this place? I would say no. They add businesses all the time. They add restaurants, they change decorations, and they do great live music and events. Maybe you can even find the "secret" entrance way to another place in the building. There are several paths to the outdoors as well. You are never "done" in this place, and there is always somewhere new to go. I would definitely recommend just going, not getting a map or directory, and seeing what things you can find.
Little library / reading space on the 2nd floor of the Central Atrium
We never visit Crosstown without making a stop here. It is a free little library where young and old can come borrow books, read, or just hang out. Go up the first set of steps in the Central Atrium, and around the corner you see many shelves of books ready to be read. They recently even organized it by category! You can spend anywhere from 5 to 60 minutes here, or even longer if you are by yourself and just want to find a place to browse for something new or read your own book. Sometimes they even do bilingual or other special story times there too.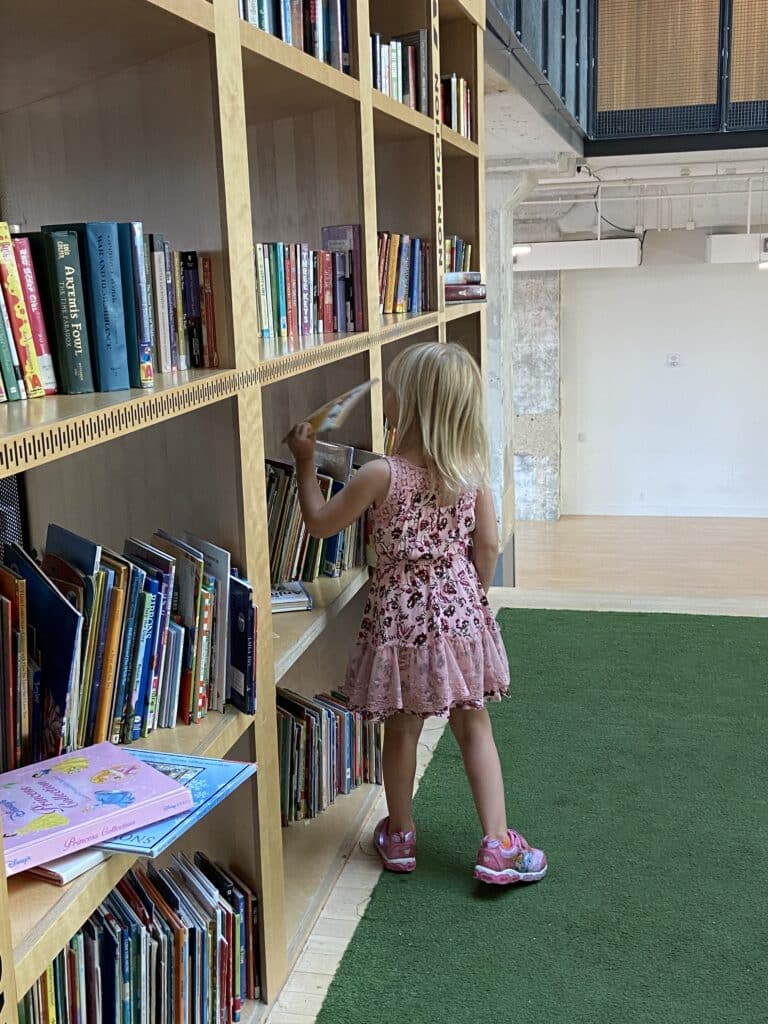 Green Room & Art Bar
Ready for a date night? On the second floor of the Central Atrium, they have two really great spaces to go. The Art Bar is a great place to hangout with your significant other and have a cocktail in a cozy space, and the Green Room is a great small concert space where different artists play their music (tickets are usually required).

Crosstown Art Exhibitions
On the second floor, if you take the red stairs up (close to the art bar), they have free art galleries with rotating exhibits that are really cool to look at with your older kids or even by yourself. Paintings, videos, and a variety of other art displays are up and you can view them in the public space whenever they are open (mostly during the day). If you come back a few months later, new stuff will be up. Even in the existing galleries there are sometimes artists that come work on their art, so really the exhibits are ever-changing.
Listening Lab
Ever feel like listening to music? Check this place out! They have endless records you can pick from and listen to. They have a bunch of kids audio books as well, so it is really cool to just come hang out and listen to music here.
YMCA & the Well Childcare
I am slightly biased on this one, but the Church Health location of the YMCA on the 2nd floor of the West Atrium is really great. They have so many different exercise classes, and their pool that is open in the summer time is amazing too (they have a great splash pad for kids). My favorite part about this YMCA is the childcare option that is affiliated with Church Health. It is called "The Well" and it is open quite often. They are not just your standard, traditional childcare, but they have a curriculum they follow and actually teach your children some great skills. They do a lot of special activities. But the best thing about this place is that you can be anywhere in the building while you drop your kids off there. So, if you need an hour (or two) for yourself, you can drop them off and they can have a great time while you have some downtime. Church Health patients are also able to use this childcare.
Outdoor activities
In the summer, the fountains out front are on and your kids can go wild splashing in there. In the winter, they have Christmas lights indoors and outdoors, and that same patio is filled full of lights in trees and overhead. Go check it out!
If you have a dog, you will love the space they created for dogs out back.
If you are a water person, you will love the outdoor pool that is open Memorial – Labor Day.
If you love beer/drinking, you will love the Crosstown Brewery.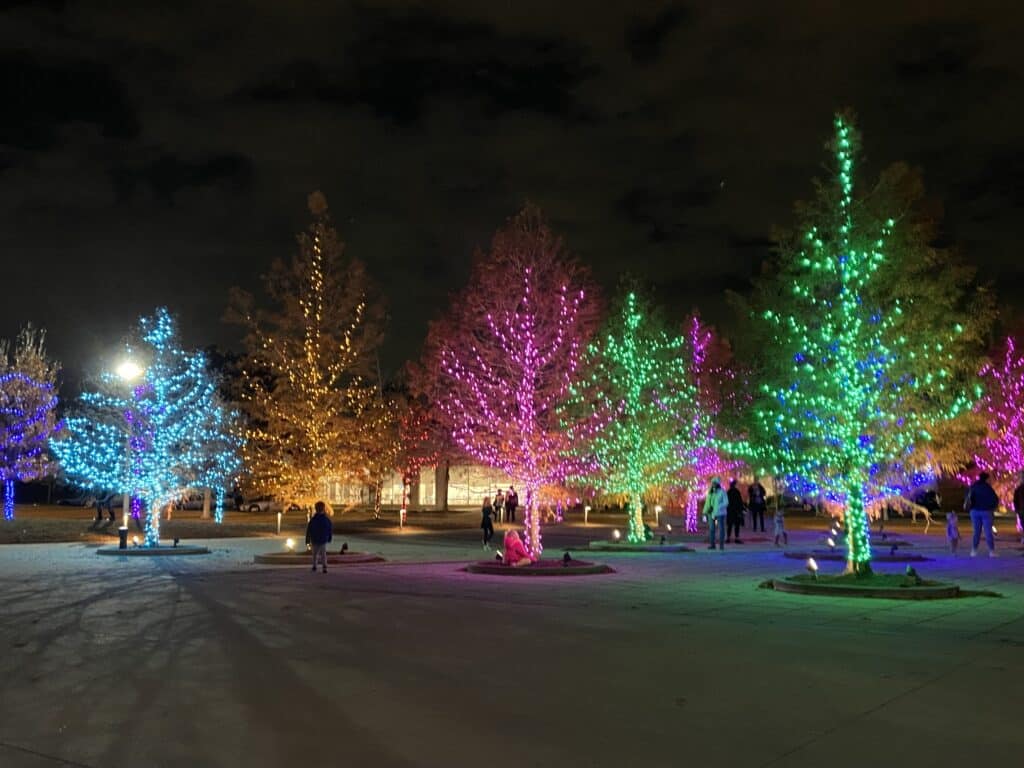 There is just SO much to do at Crosstown that your adventure could be endless. You could spend all day at this place if you wanted to. The place is open 24/7 since people live in the building, but of course there are extra security measures in place during the nighttime hours. Business hours and weekends are the best times to go explore (less busy during business hours throughout the week), but you could go any time! The fun thing is that you do not even have to spend any money if you did not want to.
Parking is free, but make sure that you register your license plate if you park in one of the 30 minute or 2 hour spots. The 2nd floor of the garage (and up) are always free.
The only thing you would need to bring to this place is your swimsuit (if you are planning on doing any water play in the fountains or the Y's pool/splash pad) and an adventurous spirit! Everything else you could totally find in this place.
Crosstown Concourse
1350 Concourse Ave, Memphis, TN 38104
(901) 203 8300
https://crosstownconcourse.com/
I hope this will give you a quick start on where to go and where to start looking. Let us know if you explore it and what your favorite place in Crosstown is!
The unique learning environment at Lausanne Collegiate School includes small class sizes as well as inspiring and supportive faculty. Lausanne is located at 1381 W. Massey Rd, 38120. Learn more about what sets academics at Lausanne apart or call (901) 474-1000 to schedule a tour.