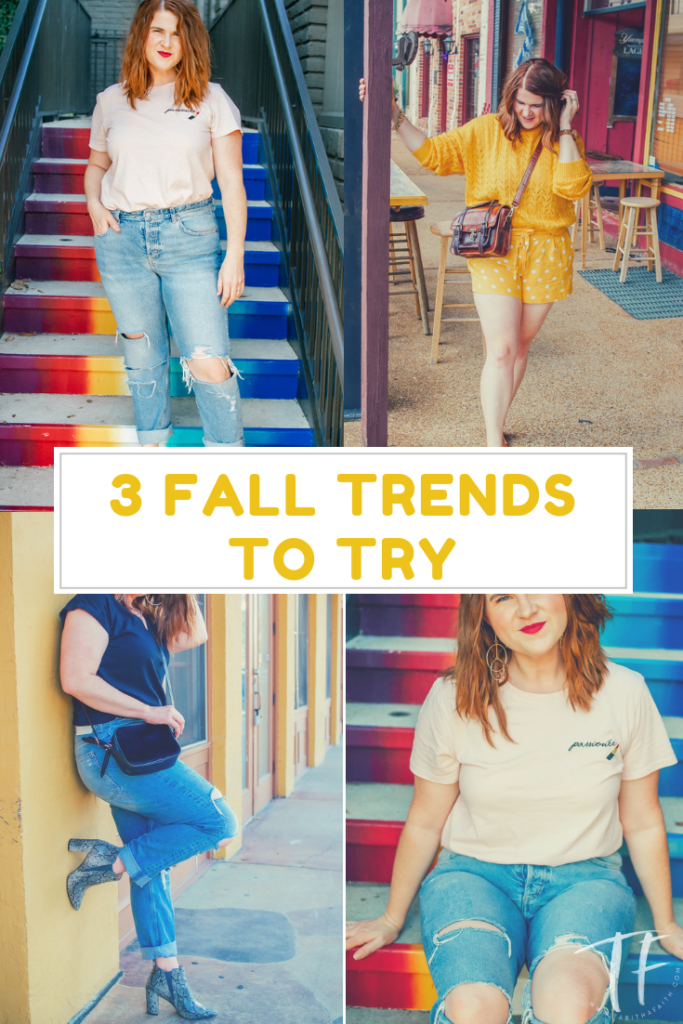 Happy fall, ya'll! With any new change of season comes a change in fashion and fun new trends to try. I totally get that this can be daunting as you scroll through the New Arrivals section of your favorite store and wonder how in the world you could pull that off. Never fear! Because today I'm sharing 3 fall trends to try that *spoiler alert* you may already even have in your closet.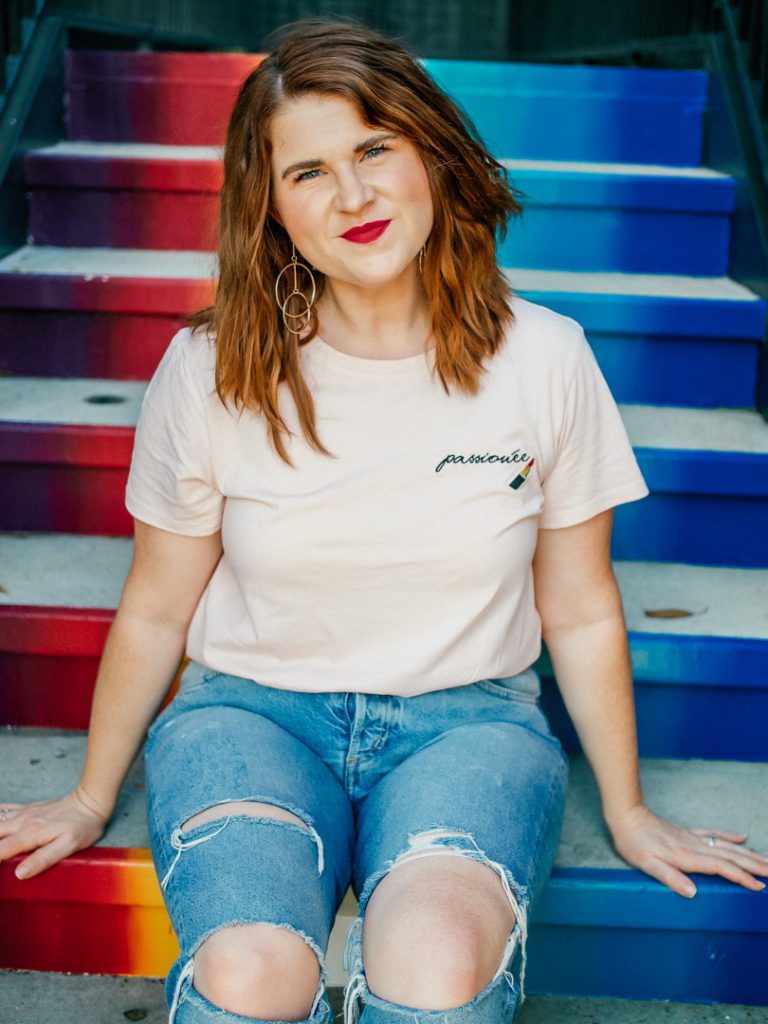 The Graphic Tee
The graphic tee just happens to be a personal favorite of mine, and I have a sneaking suspicion you're going to love it too! It's just so stinking comfy. And with so many graphics to chose from, you're bound to find the perfect one for you. Feeling sassy? Express it in your graphic tee. Want to say you're a Friends lover for life? Wear that logo with pride. All I'm saying is that this can be a super fun and easy way to feel comfy, be trendy, and express a little of your personality all at the same time. My personal favorite way to wear a graphic tee is tucked into some distressed mom or boyfriend fit jeans with my favorite sneakers. But they can be worn with skirts, overalls, the works!
Animal Print
Now before you run away screaming at the thought of animal print, hear me out? I'm not asking you to don a head to toe snakeskin jumpsuit (unless that's your jam, then by all means rock it). But adding animal print to your outfit doesn't have to be overwhelming. If you're unsure of how to pull it off or just not the biggest lover of print, start with accessories. Snakeskin is one of the biggest trends for fall, so find a fun pair of snakeskin boots or flats and pair them with a basic outfit like I did here. A simple black top and jeans combination allows for any fun accessories to be the statement piece of the look without being overwhelming. You could opt for an animal print bag as the accent as well. But start there and work your way to larger pieces like a top or pair of pants.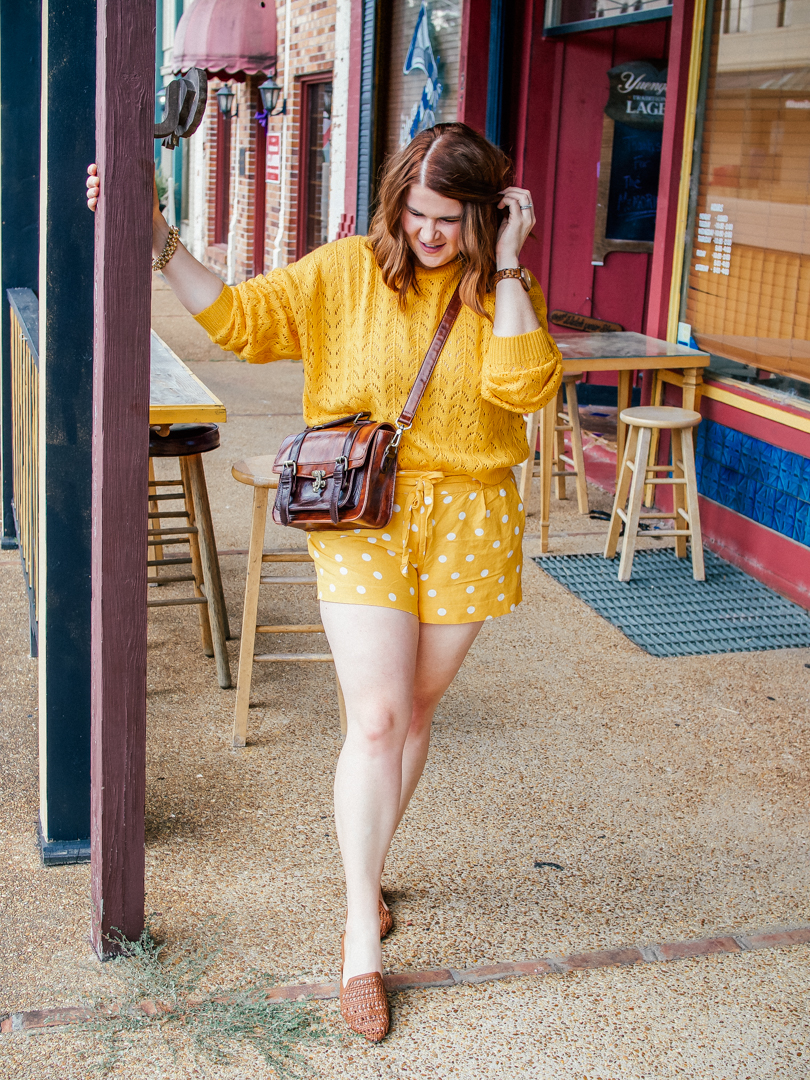 Mustard Colored Anything
The fall season has some of the most beautiful, rich colors and I'm so excited that mustard is a big color in fashion this year. It suits mostly every skin tone and is super simple to wear. If you don't dig the idea of head to toe mustard like I did here, then wear this super comfy sweater with your favorite jeans. If you're up for a little fun, branch out and buy a pair of mustard cords. (Bonus points if you pair them with your graphic tee) Easy peazy!
With these 3 fall trends to try, I think we're all looking forward to fall fashion! Be sure to tag me on Instagram (@tabithafaith) if you recreate any of these looks.
Tabitha is the creative director behind Tabitha Faith, a brand teaching millennial women how to cultivate confidence in their bodies and in their lives through wellness and personal style. She encourages her community daily through practical fashion tips, real life body confidence stories, and success strategies to take you to the next level in your self-love journey. Check out her post, The Power of Words: How Meditation and Affirmations Can Cultivate Confidence, and follow her on Instagram (@tabithafaith) to join this amazing community of women. Always remember, you are loved, you are valued, and you are worthy!