Now that we have a Trader Joe's, it's time for some meal hacks. I'd start this with an ode to the quirky store, but that's been done, and if you know - then you know. Also, the word "hack" generally means you're in a hurry and don't wanna scroll through some clever prose. Each meal takes 15 minutes and leaves only one pot/pan and a bowl for dishwashing. And, most importantly, I've really made them and they're actually delicious.
---
The "I'm Cold and/or Sick and Need to Eat an Entire Pot of Something" Soup.
1 box Miso Ginger Broth
1 bag frozen Chicken Cilantro Won Tons
1 bag Cruciferous Crunch salad mix
Optional: hot sauce, cayenne, fish sauce, chopped cilantro
Bring miso ginger broth to simmer, add all the won tons you want (but half a bag is usually good) and bring back to simmer. Toss in handfuls of kale/cabbage mix - depends on the bragging rights you want about how much kale you eat. Add optional stuff to taste. I recommend a metric forkton of powdered cayenne if you feel a headcold/sore throat coming on - it's magic.
---
The "Gonna Be Fancy and Call this Primavera Even Thought I Don't Know the Rules " Pasta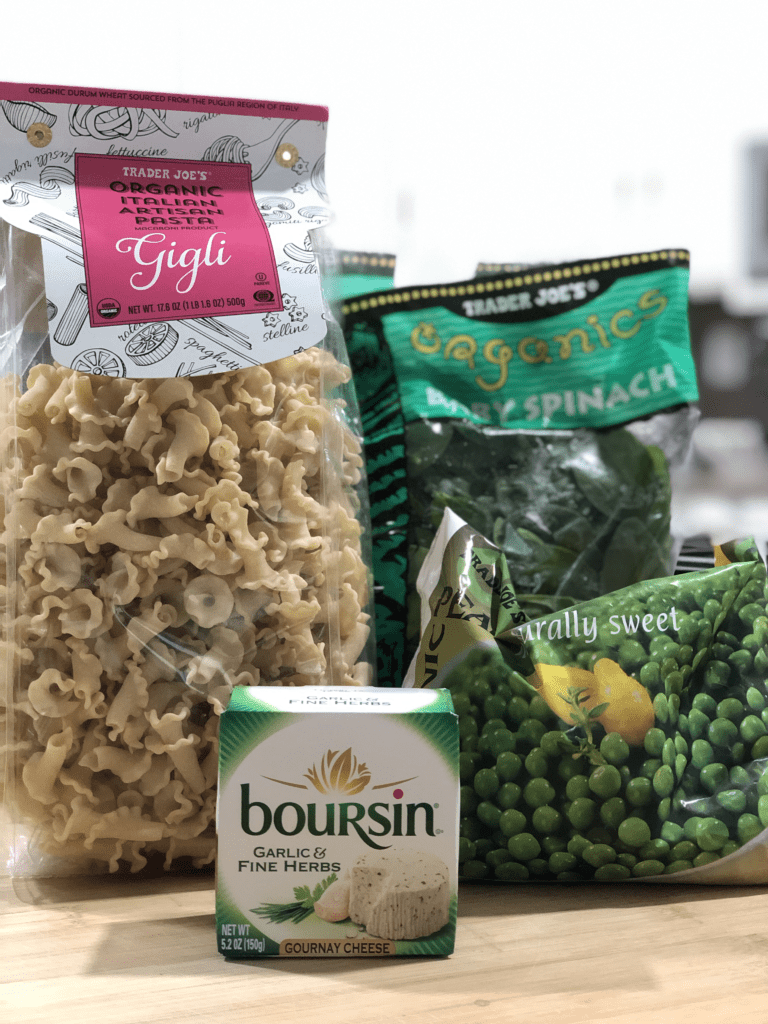 Whatever ravioli or pasta looks good at Trader Joe's
1 box Garlic & Herb Boursin cheese
Frozen peas
Fresh baby spinach, chopped if ya feel like chopping it
Optional: parmesan, chili flakes
Boil pasta according to package in salted water, remove, and set aside. (NOTE: just remove the pasta, keep the water and bring back to a boil). Add a bunch of peas (like 1/4 of the bag?) into same pasta water for quick blanch. Drain it all once they turn bright green, about two minutes of instagram scrolling. Dump the Boursin cheese into the (now empty) pot and return to low heat if needed and let melt. Add spinach and wilt down. Add cooked peas and pasta and gently toss until happy, creamy, green mess. Serve. Kid approved meal.
---
The "I Need to Bring an Impressive Dessert/Brunch Item and Don't Wanna Just Buy Something" Thing.
6oz Heavy Whipping Cream
8oz Plain Greek Yogurt (nonfat, lowfat, all fat...doesn't matter)
Choose ONLY ONE: 2 ounces/about 3 tablespoons of maple syrup, honey, agave syrup, golden syrup, or whatever sweet sticky liquid sounds good to you.
Choose ONLY ONE: 1/4 teaspoon of vanilla extract (or paste), orange blossom water, or rose water
pinch of salt
1 tub Trader Joe's Vanilla Meringues
3 pints of whatever berries look good (or if you want more work, a mix of stone fruit that will need slicing)
Optional fanciness: lime zest, sliced mint leaves, pomegranate arils, crushed unsalted nuts
Add cream, yogurt, pinch salt, sweetener of choice, and essence of choice to bowl. Whisk 'till its whipped cream (it will be soft whipped and won't get to stiff peaks - put in fridge for an hour or so to firm up if desired). Meanwhile, smash a bunch of meringues till small chunks. Wash your berries. Find a nice platter and blob on the whipped yogurt cream, sprinkle with most of the smashed meringue. Top with berries. Sprinkle with last of crushed meringues and whatever fancy garnish you choose. Go the extra mile and make the same thing in individual serving cups. Whoa.
---
The "This is Either a Side Dish to Carnivores or a Main for Vegetarians" Stuffed Peppers.
3-4 bell peppers (get those cool stripey ones for extra points)
1 package frozen brown rice (or white rice, or cauliflower rice, or quinoa...whatever you can microwave).
1 jar Trader Joe's Cowboy Caviar salsa
Bag of shredded or crumbled cheese (cheddar sounds good, mozzerella will work, feta for creaminess)
Optional: Cilantro, hot sauce
Preheat oven to 350. Slice the tops off the peppers, smush them together in a square baking dish so they're standing and stable. In a bowl, combine heated rice, Cowboy Caviar, handful (or three) of cheese. Mix and stuff into peppers. Top with more cheese. Make them a meal by adding ground beef/turkey or crumbled soy chorizo (it's GOOD). Bake till warm. Top with cilantro before serving.
---
The "How to Eat an Entire Pint of Ice Cream Without Guilt" Dinner.
1 bag frozen Stir Fry Shrimp w/Black Pepper
1 bag frozen Cauliflower Rice Stir Fry
Optional: Hot sauce
1 pint Cookie Butter Ice Cream
Make shrimp as indicated on package and set aside. Add about 1/3 bag of cauliflower stir-fry with the veggies from the shrimp bag. This makes a large bowl of low-carb vegetables and lean protein. You now have a free pass to eat as much ice cream as you need, because 1) your stomach will almost be at capacity, and 2) you ate green things first. Because it's not a Trader Joe's meal hack unless you factor in some cookie butter/pumpkin spice/seasonal kringle calories.