If you're anything like me, the scariest thing about a quarantine is being stuck at home all day with stir-crazy kids. Forget the toilet paper and hand sanitizer, I have 4 loud and crazy kids so I've been stocking up on snacks! But what to do when those are gone and we need to burn some energy? Get Outside!
If you are brave enough (or if your kids are driving you crazy enough) to actually leave the house, here are several outdoor & community options your kids will love:
Soap Making at Buff City Soap Co.: This should probably be your number one excursion in the next two weeks! Total Clean Fun! Choose from a bath bomb class or creating bars of soap. Learn the science behind the magic of soap making (see! Educational too!) Both classes are two hours long, where a knowledgeable employee will teach the kids (and adults!) about the ingredients and processes it takes to create both items. Minimum of 6 guests required to make a reservation. Click on www.buffcitysoap.com and choose the location of choice! Bonus -- your group will get a chance to have a private shopping experience too!
Ride Bikes on the Greenline: The Greenline is a great way to get some outdoor exercise without breathing in recycled air. It's sunny in some areas, shady in others, and my kids like to look for turtles in the ponds you find along the way.
Visit the Botanic Gardens: "My Big Backyard" may be crawling with kids but the actual gardens are beautiful and a great space to wander. And once the weather is warmer, it will be time to feed the huge Koi fish that inhabit the pond. Or head over to the Prehistoric Trail and check out the large climbable dinosaurs. There's a cave and even a sand pit to become a "real" paleontologist.
Memphis Tiger Scavenger Hunt: Did you know there are 50 tiger statues on the University of Memphis campus and 50 tigers located around the Memphis area? Well I do because I just googled it! Try to locate them all and get a picture with each one. You can even turn it into a competition with other families!
Stop by Memorial Park Cemetery: I can just about guarantee you this place won't be crowded. Check out the Crystal Shrine Grotto, a hand-built crystal cave depicting biblical scenes. Open every day from 7:30am-5:00pm, it's a unique and historic (free) adventure.
Go to the Movies (Drive-in of course): I always forget that the Summer Drive-In exists, but it's a great outdoor option if your kids love to watch movies and you don't want to be sneezed on as you share an arm rest with a random stranger. Pack up the lawn chairs and snacks!
Parks: Forget Shelby Farms, there are tons of great parks in the Memphis area that work just as well to burn off energy and aren't going to be so crowded.
*Riverdale Park in Germantown is well-known but spread out and a lot of fun.
*Playground of Dreams in Arlington is brand new and city employees have actually been cleaning and wiping down the equipment.
*Davies Plantation Park in Bartlett is a beautiful space with a playground area, large lake, and a walking trail.
*W.C. Johnson park in Collierville has a great playground area, a lake where you can feed ducks, and my kids love the boardwalk that goes into the woods.
*River Garden Park in downtown Memphis is also a newer park and has some unique play structures that your kids will definitely enjoy.
If you would prefer staying home, here's a list of outdoor activities that will get them moving:
Rent a Bounce House: I mean, desperate times call for desperate measures. We recommend using the locally owned iBounce Rentals. There's a variety of styles and price ranges. Ask neighbors to chip in and you've got a pretty cheap afternoon of fun. iBounce brings the house, sets it up and then comes back to collect it. You don't need to jump through hoops to be the coolest mom of quarantine!
Nerf Gun War: Use some of those Amazon boxes you have from ordering bulk toilet paper and set them up as blinds. You can divide kids up into teams, set all the guns in the middle of the battlefield, and blow the whistle like a game of dodgeball.
Neighborhood Scavenger Hunt: Make up your own list of items you normally see on an outdoor walk around the neighborhood and turn it into a competition. When we did one, I let the kids get an extra point for every time they point out dog poop (they thought it was hilarious, it was a great tie-breaker, and it helped to make sure no one accidentally stepped in poop).
Hide Stuff in the Backyard: You can celebrate Easter early by hiding Easter Eggs. My kids will actually do this year round, especially if I hide little pieces of candy or coins in the eggs. Or if you have an obscene amount of Imaginext action figures like me, you can hide them and have your kids dress up like superheroes and "rescue" them. My daughter has always been a little dark so she likes to dress up like a villain to see how many action figures she can steal away from the other superheroes. Or you can always do a good old-fashioned, outdoor "Treasure Hunt" if you are feeling particularly inspired but I'm usually not.
Sidewalk Chalk Art Show: There are so many different kinds of chalk options now, not just your standard box of 4 colors. There's different shapes, rainbow colors, neon colors, stencils, and even liquid chalk -- everything your kids need to create their outdoor masterpieces.
Backyard Obstacle Course: Drag out all that junk from your garage and get creative! You can time your kids to see if they can beat their own records or have friends join in and do relay races. If you want to get intense, you can shoot them with nerf guns or spray them with the hose as they compete. It makes it more challenging and it's a great way to pay them back for all those times during the quarantine they whined to you about being bored!
Neighborhood Sports: Whether its kickball, baseball, soccer, or whatever sport your kid is probably needing to practice, its always more fun with friends. You already have the equipment, everyone knows how to play, and it will tire them out enough to forget the fact that they are stuck at the house!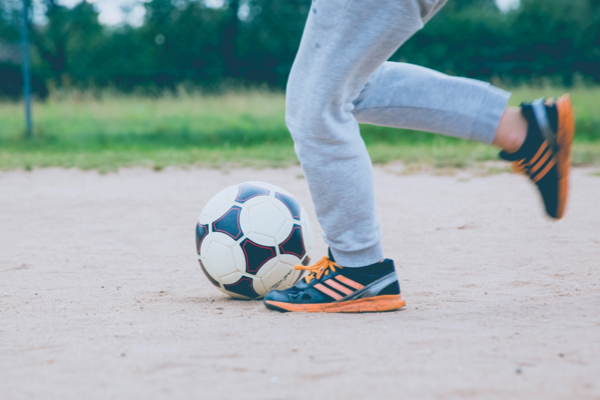 This quarantine is going to be tough in so many ways but basically I'm just going to re-create my childhood. It was so different back then. My mom never felt the need to constantly entertain us. She made us go outside to play while she ironed and watched "The Mary Tyler Moore Show." There wasn't a lot of extra money so we didn't go out to eat and rarely went to the movies. Our city had a zoo and a children's museum but the only time I ever went there was on a school field trip. We played outside with neighborhood kids until it got dark and we caught fireflies on the way home. The only screen time we had was watching The Cosby Show at 6:00 after we ate dinner. Instead, we invented our own games and actually used our imagination. It was one of the best times of my life. It's like our parents were preparing us for this quarantine all along!