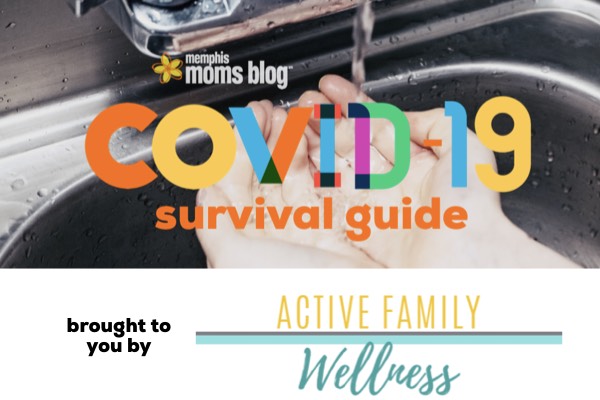 So Spring Break (and the rest of March) is canceled. For our little travelers, this meant missing out on a National Parks trip to California, visiting family, and even the San Diego Zoo. However, our family is thankful for extra time to spend at home together -- reading, playing board games, doing art projects, starting our garden, and cooking yummy recipes! Our kid chefs, Tristan and Noah, are no strangers in the kitchen -- we have been filming cooking and gardening videos for about 3 years now. It started as just something cute to share with family and friends -- but it has grown into a mission for all of us!
I (Dr. Holly, AKA mom) started offering nutrition services to my patients and developing resources, Chef Tristan continued to be creative in the kitchen, and Chef Noah has been moving up the ranks, too, learning all about everyday nutrition and how to feed our bodies right!
Last year, our "Active Family" moved to Germantown from East Tennessee, and Active Family Wellness was born -- formalizing our community outreach, online service offerings, and creating programming to impact the next generation's health! I felt a strong calling once the boys entered school that we could and should do better in feeding our children's health. Instead of making detriments to their health with unhealthy habits around every corner, we are literally feeding them the healthiest versions of food possible and empowering them to make healthy choices through education.
This week, Dr. Holly is hosting a "Kids in the Kitchen" Spring Break Challenge -- highlighting recipes that the kids approve and they can help with in the kitchen! In this pop-up Facebook group, Chef Noah and Chef Tristan are sharing some of our favorite recipes and also making some new ones -- like the Shamrock Shake!
Here are a few whole-food* recipes from our
Active Family Kitchen
:
Kid-Dependent Breakfast: Overnight Oats

Homemade Trail Mix

Meatless Dinner: Portobello Mushrooms

Green Goodness: Side Dishes

Shamrock Shake (the lucky healthy one!)
If you are looking for more resources -- you are in luck. Dr Holly's 5x5: 25 Secrets to a Busy Mom's Kitchen eBook is publishing SOON! My 5 favorite dinner templates, kitchen gadgets, spices, pantry staples, superfoods, and more!
Plus, get our Spring Break Recipe Book at the end of this week for FREE!
*Dr. Holly's definition of whole food nutrition is one where the majority of foods are directly in their plant-life form. Foods are purchased unprocessed or minimally processed/packaged, often in single ingredients. Vegetables, fruits, nuts, seeds, high quality meats, seafood, and poultry. Most meals are high in plants, low-to-no grain and dairy. No processed sugar, food additives, dyes, or flavors. Closely related to Paleo diet, with more emphasis on plants over meat. Occasionally vegan.
These recipes follow the #NutritionTRAIN method: cultivating a love for food by Replacing processed foods and added sugar, Accessing commonly found foods, and Incorporating kids in the kitchen. Talk to your children about their favorites and Navigate how to inspire change in multiple settings!
Kid-Dependent Breakfast: Overnight Oats
INGREDIENTS
⅓ c rolled oats (GF, from Trader Joe's)
⅔ c unsweetened almond or coconut milk
½t chia seeds
½T unsweetened shredded coconut
1T hemp hearts
1T nut butter (almond, cashew, sunflower or Nuttzo)
Fruit+ for flavor! This is where the kids can be creative and make their own combinations. Chopped apple + cinnamon. Cherry + blueberry. Banana + peanut butter. Mango + coconut. Strawberry + Mint.
Combine the base ingredients in a 2 cup glass pyrex bowl. Stir well, making sure there is a small layer of milk puddle on the top -- if it is too choppy or lumpy, add more milk. Add the fruit+ flavors on the top. Refrigerate overnight. Serve cold or warm in the morning. [Find our video here]

Homemade Trail Mix
This is a freestyle recipe. We keep single ingredients in Mason jars in our home, so the kids can grab whatever combinations they want for an afternoon snack.
INGREDIENTS
Sliced or whole raw nuts (almonds, pecans, cashews, walnuts)
Sunflower seeds
Dried fruits (raisins, apricots, goji berries, figs)
Toasted or shredded coconut
Cacao nibs (warning! these are bitter -- pair with a dried fruit)

Meatless Dinner: Portobello Mushrooms
INGREDIENTS
4 large portobello mushrooms, rinsed & de-gilled
¼ c Dijon Mustard
¼ c Olive Oil
2T Balsamic Vinegar
2 Sprigs Rosemary, chopped
Kids: Help mom rinse and de-gill the mushrooms. Pick rosemary from the garden or have them help to peel it off the sprigs! Mix up the oil, mustard, and vinegar -- adding in the rosemary. Place mushrooms upside down in a glass baking dish, pouring the mixture into the mushroom "bowl" (be sure to add a bit of olive oil on the bottom of the pan to prevent sticking). Can also poke holes in the mushroom to intensify flavor. Bake on 400°F for approximately 20-25 minutes, until tender.

Green Goodness: Side Dishes
Here are a few options for good, green side dishes that our kiddos love!
Curry Green Beans: Combine fresh cut green beans, coconut oil, and curry powder in a pan -- saute until soft and/or crispy.
Cabbage Steaks: Chop 1" slices of cabbage (with the core maintained in the center), drizzle with olive oil, and sprinkle with 21 seasoning. Bake flat on 400°F for approximately 20-25 minutes, flipping half-way. Monitor them, poke center until it is soft, and bake until some edges are crunchy!
Asparagus: Combine fresh cut asparagus, avocado oil, sea salt, and dill in a pan -- saute until soft and/or crispy.

Shamrock Shake* (the lucky healthy one!)
INGREDIENTS
1 ½ c unsweetened almond milk
1 avocado
2 large handfuls of spinach
5 pitted medjool dates
1 banana, frozen if available
½ t organic peppermint extract
2-3 handfuls of ice, fill the Vitamix to the top
Mix all the ingredients, except the ice, in a Vitamix. Blend on the frozen setting (if available). Taste test before adding in the ice. [Find our video here]
*This recipe was inspired by Detoxinista -- we altered the ratios a bit, reducing the dates and increasing the avocado!