Growing up, our family did not care much for Santa. But that was mostly because we received all our presents on December 5th! That is 'present day' or "pakjesavond (in Dutch)" which is basically a celebration of St. Nicholas' (Santa's) birthday. I know this sounds crazy. If you didn't already know this, Santa's origins are in the Netherlands. Sinterklaas (St. Nicholas) is the forerunner of Santa Claus as we know him in the United States and most of the rest of the world.
Let me tell you about this tradition!
Last year, I had the privilege of introducing my toddler to this tradition. She wasn't sure what to think. In November, Sinterklaas comes in on a boat to every major town in the Netherlands. The story goes that he comes from Spain with his helpers. They help him with presents, wish lists, treats, and such. They have black soot on their faces because they come through the chimney to deliver the presents. After they arrive on a boat, Sinterklaas parades through the town on a white horse. This is a very fun celebration for the kids with lots of candy and special Sinterklaas holiday music.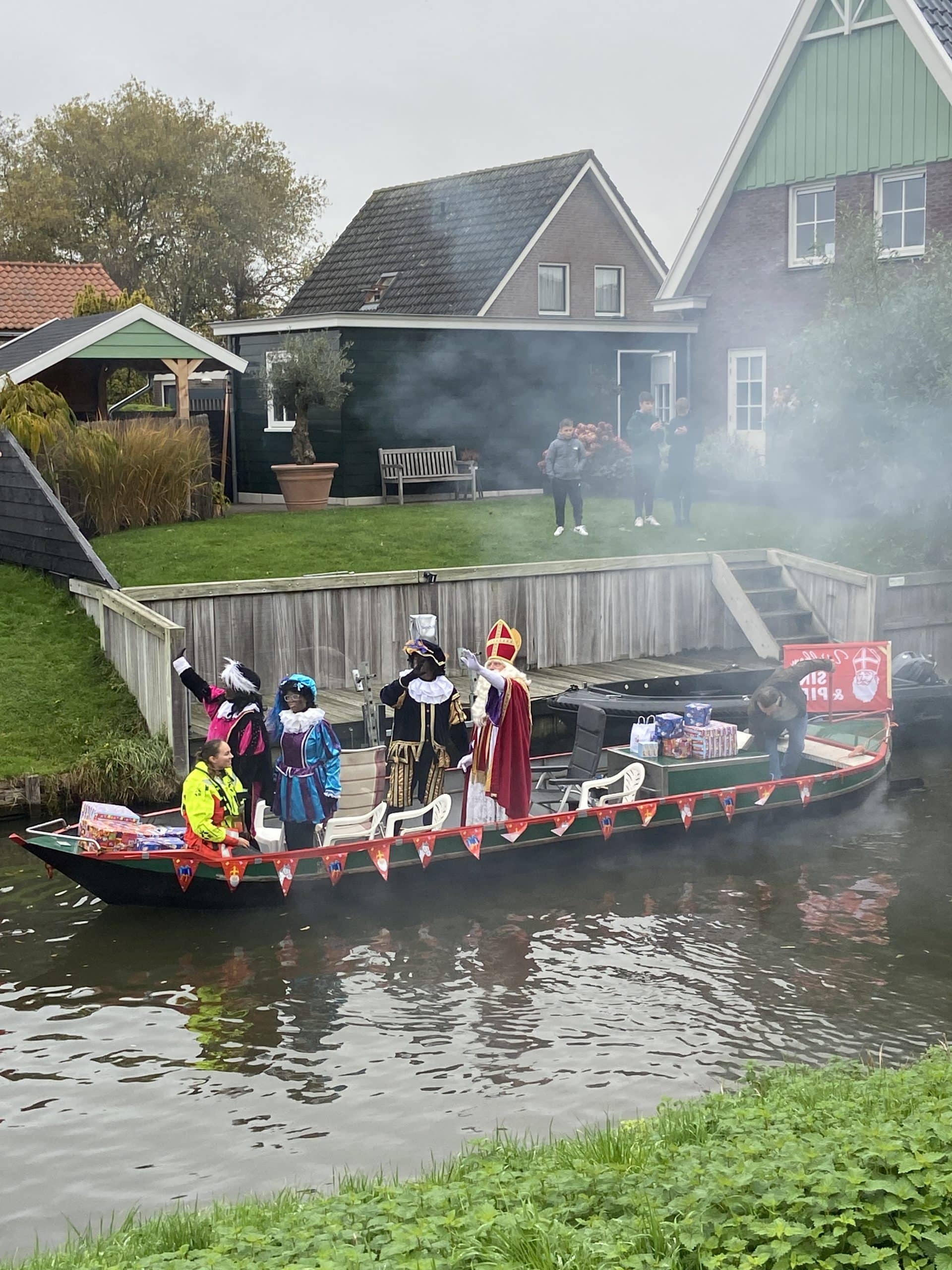 After he arrives, Sinterklaas visits schools, hospitals, and shopping centers for three weeks or so. Children try to be at their best behavior during this time, as the story goes that Sinterklaas and his helpers may take you back to Spain if you're behaving poorly. Then on St. Nicholas Eve, we set our shoe by the chimney (or the front door) to receive presents from our Dutch Santa. We set our shoes there, sing a song, leave something for his horse inside our shoes, and the next morning we have a small present and some candy in our shoe.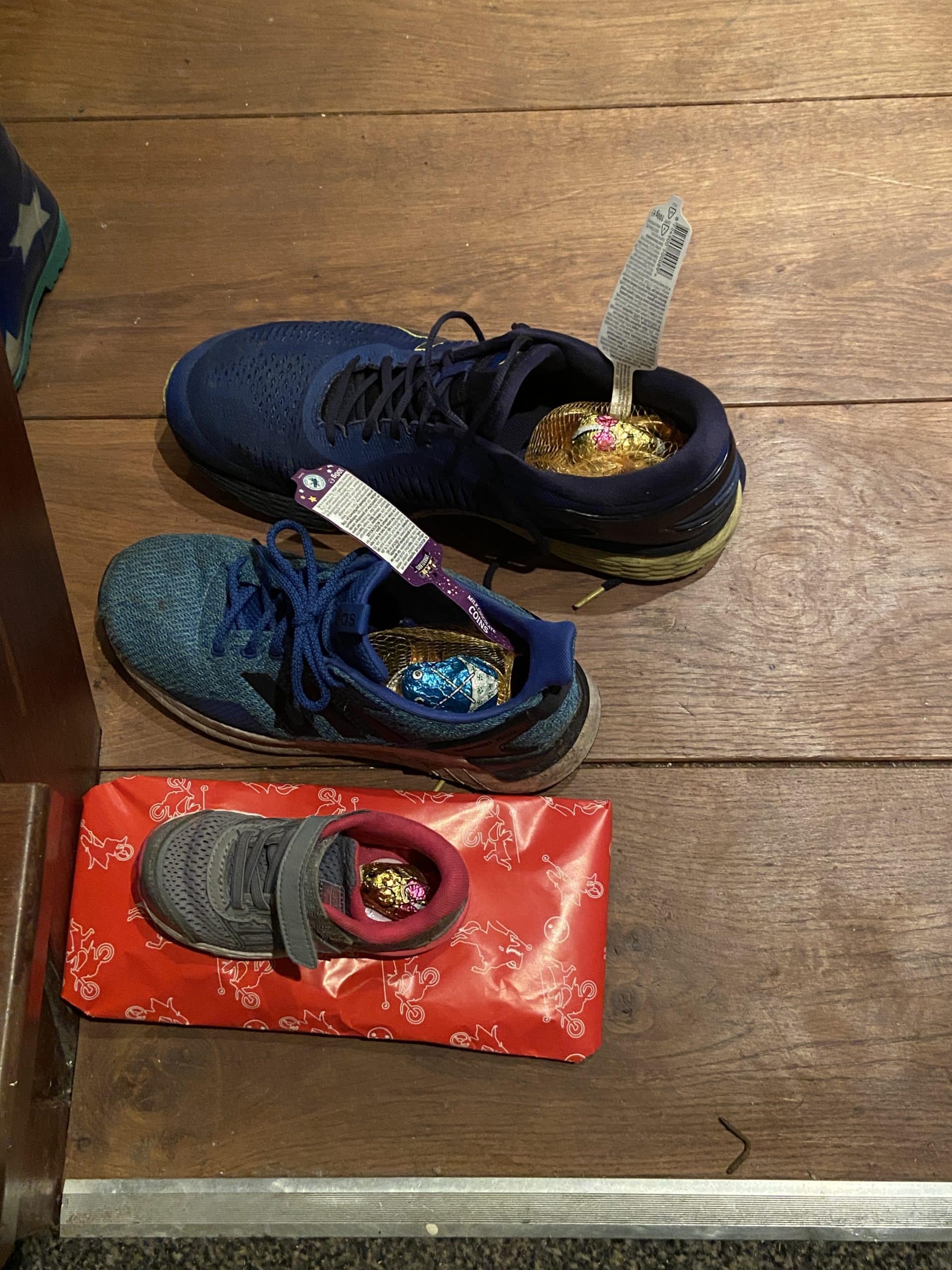 Just like Christmas, some of this holiday has become very commercialized. Dutch stores are full of presents and Dutch Santa holiday snacks and craft supplies to make 'surprises' for the holiday. My grandparents would always go all out on December 5th. The 'helpers' set out a sack full of present outside the door, then knock really loudly on the door and run away, and the kids then can open the sack full of presents. It is a big family gathering that is so much fun!
Dutch kids believe in Sinterklaas until they are around 12 years of age and head off to high school (we don't have middle school and go straight from elementary to high school). In high school, the celebration changes to something you can compare to the Dirty Santa/White Elephant game we play in the U.S. We draw names, and then make a surprise with a present and a rhyme on the inside of that crafted thing. For example, if somebody is really into doing their hair, you would craft a giant hairspray bottle, put a present and a rhyme inside, and exchange these 'surprises' on the set date somewhere before December 5th, because that is the date that Sinterklaas goes back to Spain.
There is no goodbye parade for Sinterklaas or anything as big as the welcome parade, but after that date, everyone puts up their Christmas trees.
This Sinterklaas tradition is a Dutch cultural tradition that I want to pass on to Nora. It is one of my favorite ones that I miss the most, even as a grown-up. How we are going to celebrate this while we live in the United States is something I am not quite sure about, since it is not something most Americans celebrate. Thought, some Episcopalian churches do celebrate something very similar by teaching people about St. Nicholas.
We also have a tiny Dutch community of about 10 people living in Memphis, so maybe we will start something with that group. They had a celebration for it in the past, but they have not celebrated it since I have been in Memphis. It may be something that is worth starting up again, now that I have a young child.
Sinterklaas (St. Nicholas) is also celebrated in other European countries, though each country has its own, slightly unique, traditions. I hope after reading this, your curiosity has been piqued and you feel like learning more about this cultural tradition.