It's pumpkin patch season! We've put together a list of places to get your pumpkins and celebrate all the wonders of fall. Not all are officially pumpkin patches, but they have loads of gourds and seasonal items to make any autumn-obsessed mom swoon.
Big Jim's "Punkin" Patch Oak Court Mall
Big Jim's East Memphis
4479 Poplar Ave.
Memphis, TN 38117
Hours
9:00 am-8:00 pm, daily
You'll know it when you see a huge, inflatable pumpkin on Poplar just outside Oak Court Mall. This family-owned patch was previously located in the Poplar/I-240 Target parking lot. They have two other locations as well:
Big Jim's Bartlett
6777 Stage Rd.
Memphis, TN 38134
Big Jim's Lakeland
9589 HWY 64
Cordova, TN 38002
11034 HWY 64
Arlington, TN
Hours
Monday thru Saturday 8:00 am-5:00 pm, Sunday 10 am-5 pm
Right at the entrance to this locally owned nursery, is an adorable "photobooth" set up for some quick fall pics. Pumpkins are separated by size and easy to access off high tables. But don't stop your purchases there! There's beautiful mums and other fall flowers to choose from. Nurseries are an absolutely fun place to take kids to experience so many different plants and trees. Be sure to watch out for the nursery's kitty, too!
Country Gardens Pumpkin Patch at the Agricenter

7858 Smythe Farm Rd.
Memphis, TN 38120
(Located next to the Agricenter farmer's market)  
Hours
Monday thru Saturday: 9:00 am-6:00 pm
Sunday: 1:00 pm-6:00 pm
Great photo opportunities, tons of pumpkins, and be sure to buy some cider and pumpkin butter! Time it right and pop over to the farmer's market to buy some local produce, yummy breads, and beautiful flowers.
Emmanuel United Methodist Church Pumpkin Patch
2404 Kirby Rd.
Memphis, TN 381119
Hours
Sunday thru Friday: 11:30 am – dark
Saturday: 9:00 am – dark
This year's patch is gearing up to the bigger than ever! The pumpkin patch supports the youth choir at Emmanuel United Methodist Church. They have pumpkins, gourds, mums, and more. Bring your camera for some cute family photos — they always have the cutest photo area set up!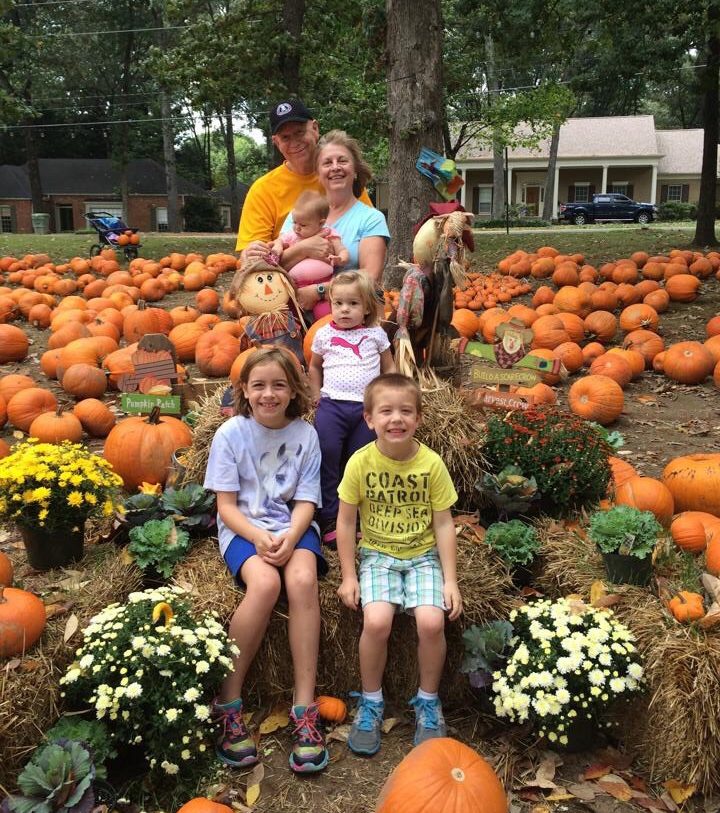 6850 Singleton Parkway
Millington, TN 38053
(located near the south exit of the Millington naval base)
Hours
8:00 am-4:00 pm, daily
Jones Family Orchard is one of the largest family-owned orchards in Shelby County. They have an arrangement of pumpkins, squash, and other seasonal produce. Be sure to check out their 10-acre corn maze, which features a large Steamboat headed down the Mississippi River!
Corn maze admission: $10 for ages 5 and up (4 and under free w/ adult purchase)
The maze is open every Friday – Sunday in October, including Halloween (opens October 6). It's located at 6880 Singleton Parkway.
Hours
Friday: 6:00-11:00 pm
Saturday: noon – 11:00pm
Sunday: noon – 9:30 pm
Halloween: 6:00 – 9:30 pm
They also have a pumpkin patch at 7170 Hwy 51 in Millington. It's open for the season staring October 1, Monday-Sunday from 8-6 pm
Brace yourself for the Shadowlands Festival of Fear each Friday to Sunday in October!
Admission is $15
Hours
7-11 pm on Oct. 6,7,13,14,20,21,27,28
7-9:30 pm on Oct. 8,15,22,29,31
750 Cherry Rd
Memphis, TN 38117
Back by popular demand, the Halloween Hike will be on October 28 this year. Take a not-so-spooky walk through the Garden. Special treat and activity stations along the way will feature Alice in Wonderland activities & crafts, pumpkin storytime, bat crafts, a bone dig, and much more! There will be family-friendly food trucks on-site. Costumes are encouraged!
11 am-3 pm
$10 MBG Members/$15 Non-Members/$18 Same Day. Under 2 free. Click here to purchase tickets.
Midtown Nursery
2400 Poplar Ave.
Memphis, TN 38112 
Hours
9:00 am-6:00 pm, daily
Midtown Nursery offers a wide array of pumpkins and seasonal plants, with new shipments every week. Get your pumpkins, gorgeous mums, pansies, and so much more. Bring the whole family (they love kids AND pets).  
4595 Germantown Rd.
Arlington, TN 38002
Open for the season September 16-November 5
Hours
Monday thru Thursday 10:00 am-7:00 pm, Friday until 8:00 pm
Saturday 9:00-8:00
Sunday 11:00-7:00
You'll love this 24-acre farm located on Germantown Parkway just north of the Wolfchase Mall. They also have a petting zoo, hay rides, bounce houses, and more fun for the family (each attraction is an add-on price). You can even bring old children's clothes to make your own scarecrow. Check out their haunted corn maize during extended evening hours!
4680 Walnut Grove
Memphis TN 38117
Hours (September 30-Halloween)
Monday thru Saturday 10:00 am – dark
Sunday 12:00 pm – dark
Pumpkin Festival is October 21
This patch includes a beautiful array of pumpkins and gourds in all shapes and sizes, plus hay bales, corn stalks, mums, cabbage, pansies, and compost for planting. Pumpkin patch hoodies will be available for purchase, along with carving kits. They have a festive picture area for family photos. 100% of the proceeds support student missions and ministries.
**Teachers, did you know you can host a story time for your class here? It would make a fun field trip!
1665 Murrell Rd
Rossville, TN 38066
Hours
Monday-Thursday 9:00-5:00
Friday-Sunday 9:00-7:00
Located in Rossville, just east of Collierville, Tom's Farm serves thousands throughout West Tennessee. They offer an 8 acre corn maze (haunted the last two weeks of October), wagon rides, pumpkin patch camping, bon fires, children's playground, fall decorations (corn stalks, gourds, pumpkins, and mums), and more! They specialize in hosting outdoor activities for Scouts, 4-H, schools, churches, and businesses. Snacks and drinks are available.
9374 US-51
Millington, TN 38053
Hours
Monday-Friday 3:00-7:00
Saturday and Sunday 9:00-7:00
Hotshot Farms in Millington is a pumpkin patch and petting zoo. They offer a variety of fun games, from corn-hole to pumpkin tic-tac-toe. They have a hay ride, maze, corn pit, plus they sell pumpkin decorating kits! Children 2 and under are free and they sell concessions.
Don Mills Pumpkin Patch Winchester
Located behind BancorpSouth Bank on Winchester and Centennial Dr
Hours
9:00 am-8:00 pm daily
Look at those picture perfect pumpkins! For those looking for a Pumpkin Patch in the Southeastern part of the City, Don Mills has you covered. Corn Stalks, mini pumpkins, Large Jack-O-Lanterns, and variations of squash are all accessible to you here.
What's your favorite place to get pumpkins?