Today, I woke up CONVINCED that I was pregnant. I had a dream about it that was incredibly vivid. I got that fluttery, excited feeling like I did with my other 4 pregnancies. I scrambled to find a pregnancy test. I got nervous about how we'd handle another baby. It was overwhelming until I remembered one thing....
My husband got a vasectomy three years ago.
I took the darn test anyway (you never know....), but it was negative. Of. Course. It. Was.
My heart SANK. I was surprisingly sad about it for a few minutes. Kind of how you feel when you buy a lottery ticket, plan what you'd do if you won, and then don't have any matching numbers. Times 100. It was the most unexpected and spontaneously weird emotion in the world.
"WHY WERE YOU SAD, YOU CRAZY PERSON?," you are probably asking.... and you're totally right.
After all, I - I mean WE - chose this. After a challenging pregnancy, I realized that this thirty something year old body couldn't grow people again, so my dear husband took one for the team. I didn't feel sad. I didn't feel regretful. We both were confident that this was the right decision. It was totally emotionally uneventful, and no one cried. (Well... the whole "frozen peas on the crotch" visual made me laugh so hard that I cried. Just once, though.) All in all, I was JUST FINE with it.
Until I wasn't. It's complicated like that.
No one told me how truly disappointing the loss of those little "could I be pregnant?" moments would be. Out of the blue, something will trigger that knee jerk "I think I'm pregnant!" reaction, and I remember that the answer is always going to be a big NOPE.
Things it could be: stomach flu, bloating, anxiety.
Thing it won't be: pregnancy. Trust me when I tell you that it takes quite a bit of getting used to, Mamas.
And, Y'all, let's discuss the elephant in the room. It makes me feel kinda old. These ovaries are officially in retirement. SENIOR. CITIZEN. OVARIES. Unless we adopt, the next baby in my family will be a GRANDBABY. Let that sink in.
I see pregnant mamas and feel nostalgic in a way that is different now that our baby factory is closed. My heart remembers the sweet smell of a newborn and the comfort of a peacefully sleeping baby on my chest. I wonder what my youngest would be like as a big sister. And thanks to TimeHop, I'm regularly reminded of exactly how adorable my babies were. It makes me momentarily think about what it would be like to have just one more...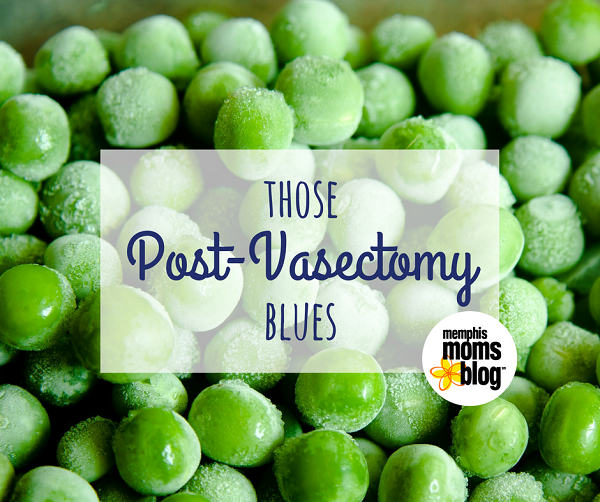 For a split second.
Then, back to reality. I remember how freakin' tired I was waking up every few hours. I recall the way my body bounced back more s-l-o-w-l-y with every pregnancy. I remember those scary moments of my last labor and delivery. I know with confidence that my husband and I made the absolute right choice for our family. (And for SLEEP.)
I am incredibly thankful that my little crazy crew is healthy and thriving. In fact, I am usually overwhelmed with the things we have to get done in a single day. I'm tired in a completely different way now, but it is something I wouldn't trade for anything in the world. My life and my heart are incredibly full with more blessings that I could ever have imagined. I know we're right where we are supposed to be.
Adding a pregnancy to the mix would be insane for us. Although I'm 100% certain that a vasectomy was the right choice for our family, I will probably always feel a tug on my heartstrings when I see a mama carrying a newborn. For a moment, my heart will swell as I reminisce about my precious newborns.
SPOILER ALERT: I might even get a little teary - not for the loss of what could be but for the sweet remembrance of what once was. I'll smile, knowing the joys in store for that mama as her sweet baby grows. I'll cherish the gift of being present for my children as they become big kids. I'll cherish the times that they snuggle with me, tell me jokes that don't make any sense, and draw me pictures saying I'm a great Mom.
And I'll cherish each memory because I know it all goes by far too fast.