GNO, also known as "Girls' Night Out." Until a couple of years ago, I had no clue that this was a "thing" and something I needed desperately too. Sure, I saw my friends at the zoo as we took turns plucking our toddlers off the fence between us and the lions or across the produce aisle at Kroger as we sorted through bananas and kale. But it never occurred to me how much I might have needed one solitary night every so often to just be with my girls—to trade in that "mommy" title just for a bit and be a woman—be ME.
Now, it's what keeps me going and it's a sacred custom. For one night a month, I get to recharge my batteries so I can go, go, go for another couple of weeks without a complete loss of self. And my husband is the biggest advocate, because he knows that when mama's not happy, ain't nobody happy!
So, if you want to GNO like a pro, here are my suggestions:
Get Your Hands Dirty
There are lots of different places you can go to paint a canvas with friends and most encourage you to bring wine—a necessary component. While I've tried several different places, even scoring a few on Groupon. My favorite was one I signed up for with some other ladies in my neighborhood a few years ago. Before the class, we were asked to email in a photo of our homes, and when we arrived, it was already sketched out for us on a blank canvas. We spent the next hour or two completing a grown-up "paint by numbers" of sorts and left with a completed portrait of our beloved homes. They weren't perfect by any means, but to us, they were masterpieces!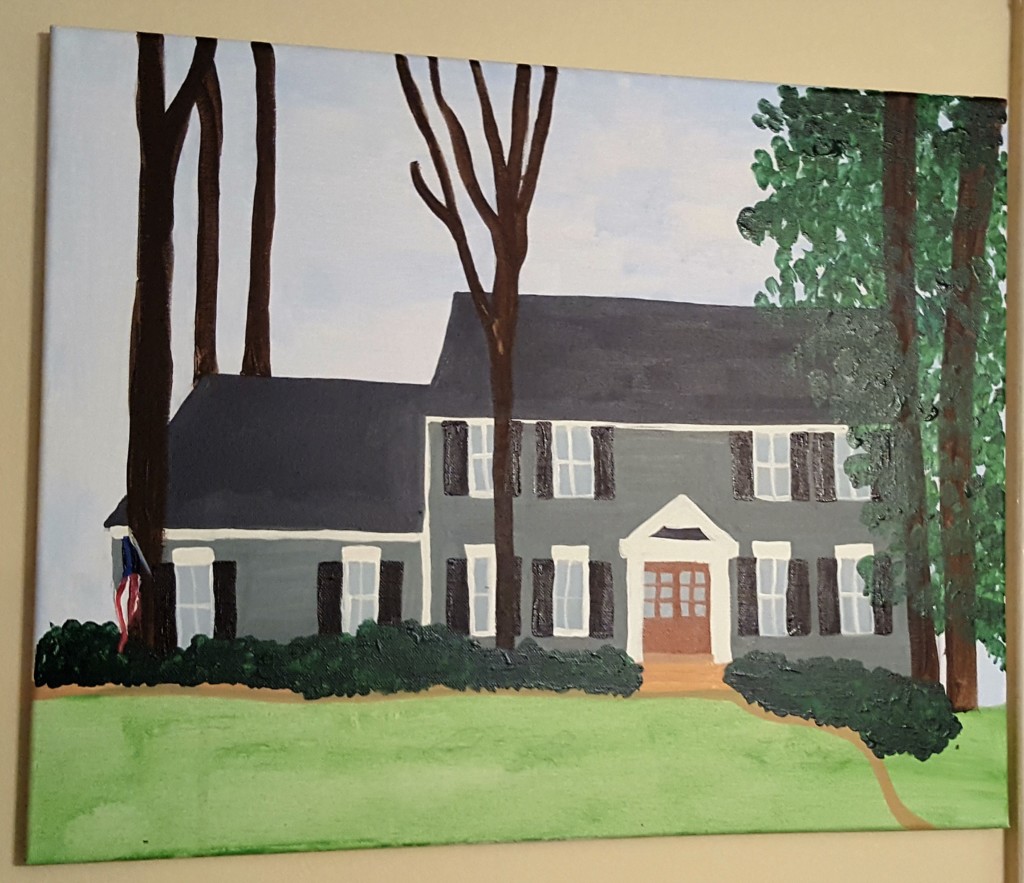 Be A Bookworm
Who has time to read, you ask? It's tough, I'll admit. But being accountable to a group and knowing a book was recommended by so many is a great motivator for me. There's nothing worse than finally finishing an amazing book only to realize you have no one to talk about it with. So whether you put together a group of women yourself, or reach out to your local library to piggyback on an existing one, a book club is a great way to recharge your soul and fuel your mind for those monotonous mommy tasks we all know too well.
Pssst... Rumor has it Memphis Moms Blog will be launching a new online book club for those of us who have trouble leaving the house in the evenings, but would still love to connect! More information is coming soon!
See a Show (or Be the Show)
There's something about getting decked out in fanfare for a big game or all dolled up for a big concert with your girls that is undeniably fun. So grab some tickets to a live event of some sort, dial up Uber, and have a night on the town! A few weeks ago, my girlfriends and I decided to go to the Adam Levine concert. We shared a magnum of Prosecco on the Uber ride there, had a delicious dinner at Itta Bena, and then created silly Dubsmashes in our seats as we waited for the concert to start. We spent the next two hours singing until we were hoarse and sipping cheap wine, and let me tell you, it was just what this mama needed! I'm sure if you asked the people a row in front or behind us, they couldn't tell you who was more entertaining….us or Adam Levine!
Act Like a Kid Again
If you want to really cut loose and get fancy-free, grab your girls and head downtown to Loflin Yard for a spell. Not only do they have awesome food, an abundance of yummy cocktails, and live music, but a large lawn filled with outdoor games from hula hoops to darts. Add in some twinkly lights above, a mass of adirondack chairs, and some fire pits, and you've got yourself a little slice of heaven. It's the perfect place to unwind and definitely needs to be on at the top of your GNO list!

Put the Pedal to the Metal
It might sound like work, but you can share the load with your gal pals on a party bike and take a 2-hour tour of Midtown. Sprock n' Roll is one of several party bike tour companies in town and a great way see the area and enjoy this awesome fall weather we're having. The bikes, which can accommodate between 8 and 16 people, stop at several partnering bars and restaurants where you can take advantage of great deals and promotions. Or, you can opt to BYOB... they even have a pony tap and cups!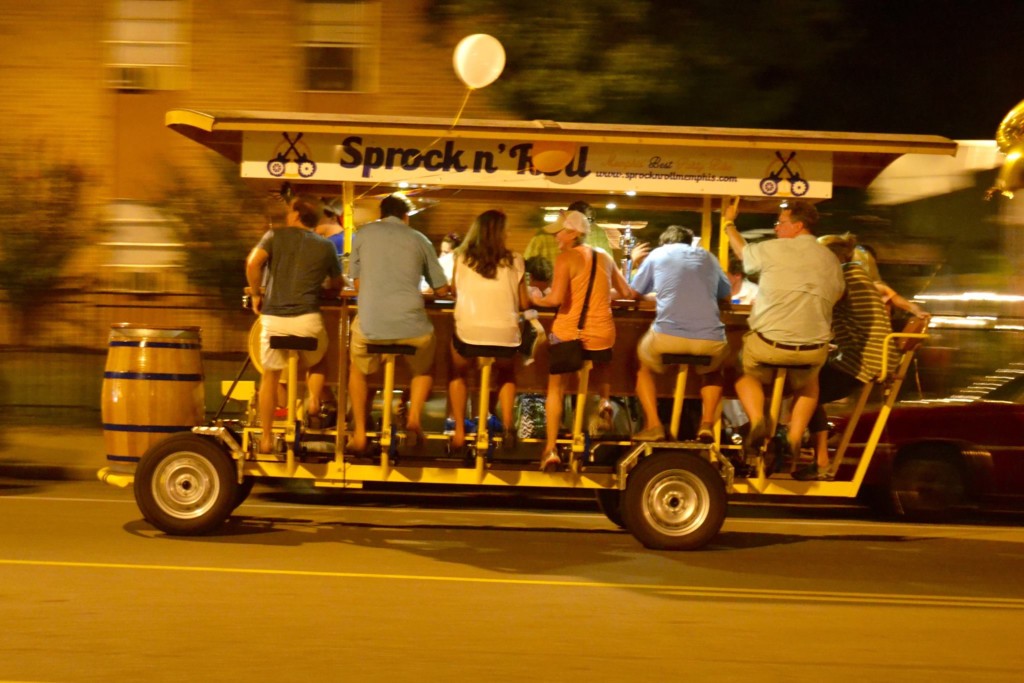 Let Someone Else Serve You
Let's be honest, if you don't have to cook a meal, it tastes even better. So grab some friends and head to the nearest restaurant of your choice and relish the fact that you can actually eat an entire meal without getting up to refill someone's cup, wiping sauce off chubby cheeks, or wolfing down your food before your threenager gets to it first. Memphis is bursting with great restaurants that are the perfect scene for a great meal, some much-needed drinks, and well-deserved adult conversations. My go-to GNO restaurants are usually Mexican ones, because hey, margaritas! But here are some of my faves in each neck of the woods:
Downtown: Flight, The Majestic Grille, Felicia Suzanne's, McEwen's, and Pearl's Oyster House
Midtown: Local, The Beauty Shop, Babalu, The Second Line, and Celtic Crossing
East Memphis: Hog & Hominy, Jim's Place East, Sekisui (also in Bartlett, Collierville, and Cordova), Bounty on Broad, and Napa Cafe
Germantown/Collierville: Skybox, Bangkok Alley (also in Midtown), Firebirds (also in Bartlett), The Forest Hill Grill, and Pasta Maker
Challenge Your Mind
If you enjoy a good puzzle, you'll love solving your way out of one of the rooms at Memphis Escape Rooms. These multi-person live game experiences force you to use those problem-solving strategies that you've honed along the way to master the mystery in front of you in order to escape within an hour! The clock will be ticking away, your adrenaline will be pumping, and after you've escaped, you'll have really earned that drink!
But, who are we kidding? As long as a GNO involves good friends, does it really matter what you do? I didn't think so.