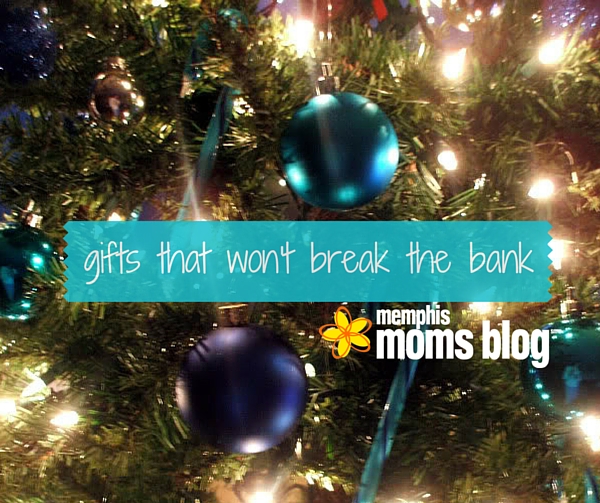 Have you ever bought your child a really amazing, expensive gift only to have them end up playing with pots and pans in the kitchen or bubble wrap from the gift you bought? It's truly frustrating, but it should be a lesson and reminder that not everything we buy has to be brand new or "the best" to make our babies happy. If you're wanting to have a memorable Christmas without going outside of your budget, here are a few key points to remember:
*HAND-ME-DOWNS: Be on the look-out year-round for second-hand toys from thrift stores, resale sites, or friends. Jump on those deals! Don't try to squeeze all your shopping in one month. That's how you miss good deals and break your bank all at once. Recently, a co-worker asked me if I wanted a table and chair for my girls. I said sure. I had no idea what it looked like or if I would even want it, but why pass it up when it's free? If you don't like it, find someone who does. Lucky for me though, it just so happened that one of my twins put on her Christmas list that she wanted a desk for her artwork. BINGO! I plan to paint it her favorite color and place it under the tree Christmas morning.
*CURB ALERT: In the summer months, people are notorious for putting toys and other gadgets on the curb if they don't want them or if they've had a garage sale and these items didn't sell. My husband and I recently scored a Barbie bicycle in perfect condition from someone's trash! Now I only have to buy one bike instead of two!
*CREATIVITY: You can make any ordinary gift become extraordinary if you put some time and love into it! Do you have any old electronics you don't use anymore? An old i-Phone you didn't trade in or an old digital camera that you never use anymore? Decorate them, wrap them, and your kids will think you are the coolest parents in the world on Christmas day and you spent NOTHING. We have an old digital camera that we never use anymore. I painted it with pink sparkle nail polish. To my surprise, the polish did not chip off, and now the girls are going to be so excited when they see their princess camera under the tree!
Children LOVE thinking they're getting a big toy for Christmas, but big usually means expensive. This is not always the case though. Here are two ideas for big presents that won't break the bank:
1) A scooter. You can get a scooter with your child's favorite character on sale at almost any store but Wal-Mart is best known for their $20-$30 scooters. Your kiddo will love the big box under the tree just as much as he/she loves playing with the scooter outside.
2) A dress-up chest. Maybe you have an old wooden chest laying around that no one uses. If you're feeling crafty, paint it pink or your daughter's favorite color. If you have a little boy, go for superhero red or blue! Maybe even stencil their name on it "Princess ________" or "Captain _______." Grab up all your little girl's princess dresses and costumes, tiaras, and play jewelry around the house and throw it in the chest or you could check out your local thrift shops and find some new costumes and dresses for cheap. For little boys, find all their superhero costumes, shields, and swords to place in the box. Wrap it for one HUGE Christmas present under the tree.
The kids are not going to care that they've seen the costumes a million times, especially not when they see their very own pretty princess or pirate chest! If you don't have a chest lying around, you can always pick up a plastic tub to decorate or large storage box. You can use this same concept for a Barbie Box or Superhero Storage. Throw in all your child's favorite Barbies or dolls and all their dress-up clothes... or all your little man's action figures.
Another important thing to remember when shopping for toys is to visit stores like Ross and Marshall's before you go to name-brand stores. So many times, these stores are more likely to have cheaper deals than Toys-R-Us, Target, and even Wal-Mart. I recently visited one of our local Ross stores in Collierville and spotted these hot deals: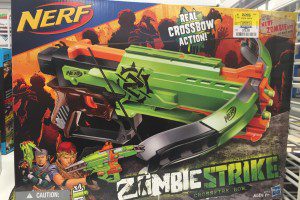 NERF Zombie Strike Crossbow
Toys-R-Us $19.99
Ross $16.99

Sofia the First Toddler doll
Toys-R-Us $24.99
Ross $15.99

Super Hero Mashers
I actually couldn't find this toy at Toys-R-Us or Target. However, 1 superhero usually costs between $10-$15 with toys parts. You get 2 superheroes for $14.99 at Ross.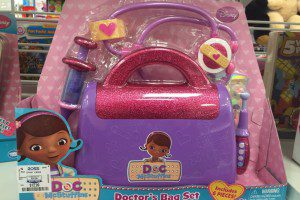 Doc McStuffins Doctor's Bag
Toys-R-Us $19.99
Ross $12.99
And the most important key point to remember is to PLAN AHEAD!  Starting in January, set aside money each pay period during the year for Christmas. You will not regret it. Tell us your secrets for Christmas shopping on a budget; we can't wait to hear!