Although we're halfway though fall, it's just now beginning to feel like it here in Memphis. FINALLY!
Off-the-Shoulder
Top Row: 1 | 2 | 3 | 4 Bottom Row: 5 | 6 | 7 | 8
Off-the-shoulder tops are sexy, fun, and totally on-trend this season! They're not just for spring and summer; you can absolutely rock them in the cooler months, too (especially in our neck of the woods!). This fall, look for styles with a longer hem, heavier weight, cozy fabric or rich autumn hues. They're easy to pair with just about any style of jeans or even leggings and boots! I recently picked up this one from Anthropologie and I can't say enough good things about it: it's a really soft flannel-like material, long enough to wear with leggings, and even has under-arm straps so that it stays in place, (even when you raise your arms), which makes it totally practical and kid-friendly!
Chokers
Top Row: 1 | 2 | 3 | 4 Bottom Row: 5 | 6 | 7 | 8
The 90s are back, y'all! The once ever-popular neck-hugging accessory is back and I'm totally loving it! A choker is the perfect finishing touch to add some interest to jeans and a sweater, or make a statement with an off-the-shoulder top and a chic ponytail. Go simple or go bold-- There are so many options! It's versatile, easy, and an affordable way to mix up your style this fall season! And ladies, take it from me... Don't bother asking your husband what he thinks of it. Mine said it looks like a dog collar. *Eye roll* Men....
Over-the-Knee Boots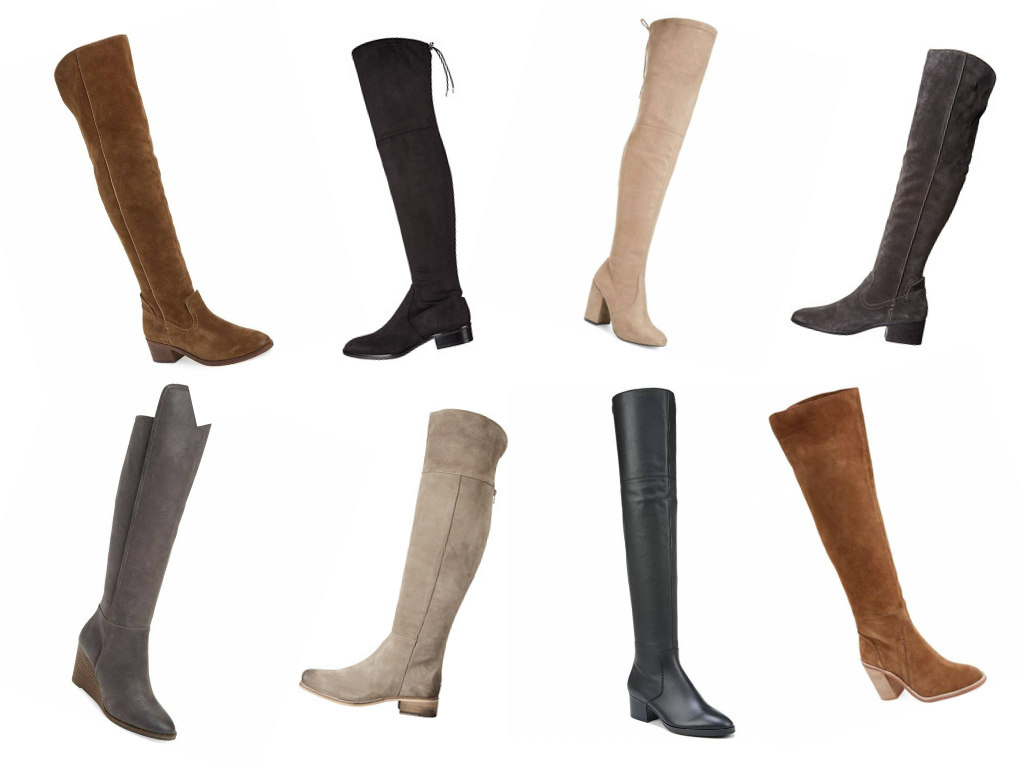 Top Row: 1 | 2 | 3 | 4 Bottom Row: 5 | 6 | 7 | 8
The past couple of years I was a total ankle boot gal, but this year I'm completely obsessed with OTK boots. Like, I already have 3 pairs and I want to wear them alllll the time. Which works out just fine because they go with EVERYTHING! Seriously. Think of OTK boots as being just as versatile as your favorite riding boots; They look phenomenal with dresses and skirts (toss out those tights, girl!) but also look just as amazing with skinny jeans and leggings. Dress them up or dress them down-- OTK boots are the only boots you need this year! MMB owner Lindsay and I both recently showed up to a get-together wearing this pair. P.S. They're 25% off right now at Nordstrom!
Wine-Colored
It's been a huge trend in recent years and this year, it's still going strong! From accessories like hats, shoes, and bags, to clothing such as tops, bottoms, and dresses, this color works everywhere! Bonus: if you spill your wine, it'll totally blend in to your outfit!