I am pretty sure I have the toy aisles of Target and Walmart memorized. I could shop there in my sleep. And because my four year old shops on Amazon in her spare time (yes, really... don't worry, she cannot actually purchase anything but I have about 250 items saved in my cart from her), I am more than familiar with Amazon's toy selection as well. And the catalogs that come in the mail - goodness- we spend hours looking over those.
So when it comes to shopping for toys, I consider myself more than qualified on the subject. And I know I am not alone; as parents, we are inundated with the chorus of wants. Every ad, every shopping trip, every visit to a friend's house. When we cleaned out our playroom last year after way too long, I was shocked how many toys my then three year old had - and it made me realize I wanted to be more purposeful in what we purchased for our children.
The other day, I dropped in Knowledge Tree to scope out some toys to share with you all. Honestly, I didn't even realize they had such a huge toy selection. I thought it was just for teacher supplies. Boy, was I wrong! Before picking these toys to review, I probably spent thirty minutes just going down the aisles - there was so much I wanted to get my girls. And they carry the best brands - I loved seeing brands like Melissa and Doug (way more than Target stocks), Learning Resources, Hearthsong, and Fat Brain Toys. Their selection was full of things I had never seen before in all my toy shopping adventures, or things I only had seen online. Best of all, they are a local store, not a chain, which is a priority for me as a shopper. But, even better, I price compared their items and most things were the same price or even cheaper than big box stores.
Now that I've visited Knowledge Tree, I know where I'll be going to grab those last minute birthday presents, as well as where I'll finish out my Christmas shopping (excuse me --- I will assist Santa in finishing his shopping).
While I was there, I picked a few things to share with you all -- these would be great gift ideas!

Harry Potter Hogwarts Clock Tower Lego Set: 922 pieces, ages 9+, $79.99 - I was impressed at Knowledge Tree's selection of Duplos and Legos. They have an entire wall devoted to kits, ranging from smaller boxes to the big kits like this. There's Disney, Star Wars, Frozen, Harry Potter, classic kits, and more.
Color Code Drum: $59.99, this flexible roll up drum kit connects to headphones (parent approved!) and teaches kids how to play the drums. It is portable, connects to mp3 players, and would be great for older kids. Ages 6+.
Ooze Labs Alien Slime Lab: $29.99, made by Thames & Kosmos, this kit has 10 different experiments including color changing slime and slime bubbles. Ages 6+.
Twister Tubes: $29.99, 10 feet of racing tube, race car goes through the flexible track tubing that you build. It glows in the dark and it charges with USB, so no batteries are needed. Check out this demo video!
Steam Breathing Dragon: $37.99, made by Hearthsong toys, this dragon walks and breathes "steam" (it is a vapor, kid safe, and not hot!), ages 3+.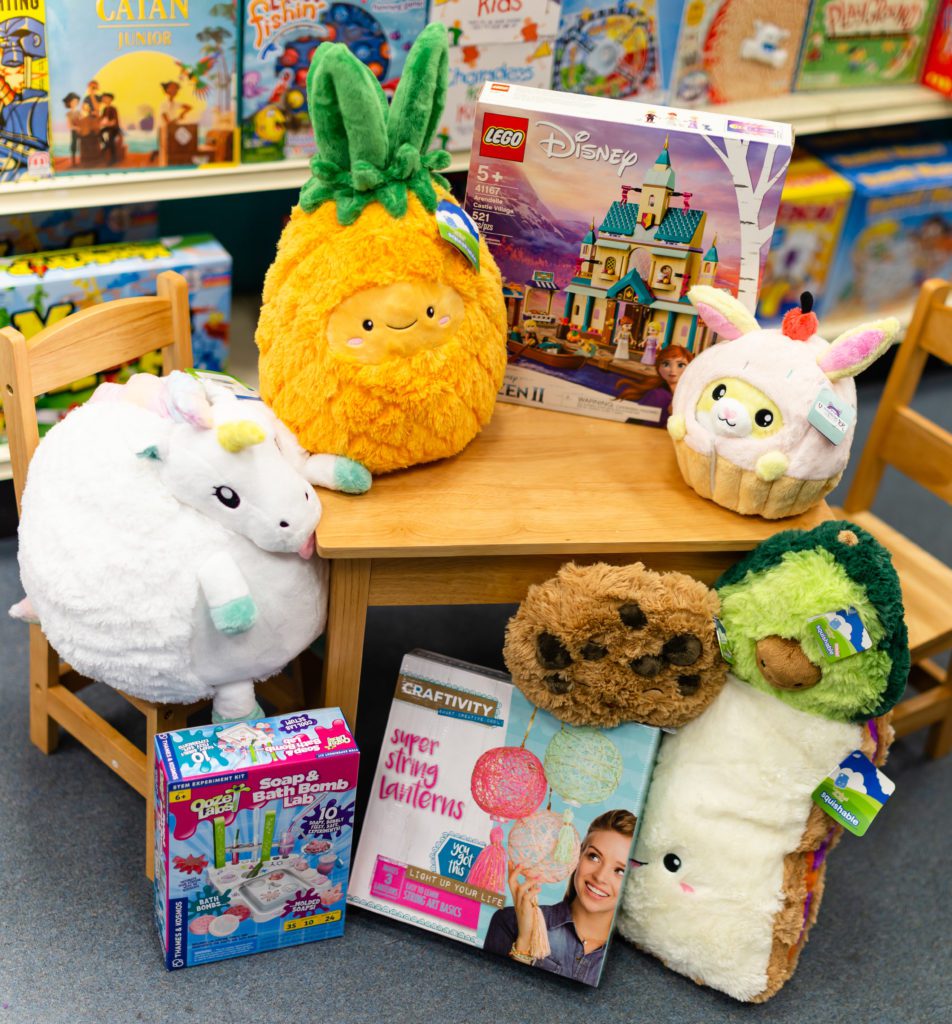 Squishables

: $17.99 and up (varies by size), they carry a lot of fun different types like a peanut butter and jelly squishable, a corgi that you can get clothes for to dress up, and more. They are super soft and .... well, like the name implies, squishy.

Emily Doll House: $79.99, made by KidKraft, this doll house is themed a little more modern than others, and I love that it has three bigger rooms instead of a slew of little ones, because I've found it makes playing easier on little people.
Frozen II Lego Set: $75.99, like the Harry Potter set listed above, this set is part of a series with boxes that range in price. Frozen II is sure to be a hit this Christmas!
Ooze Labs Bath Bomb Lab: $29.99, this kit has 10 experiments like the slime lab above - you can make soap and bath bombs. All their products are kid safe, which I love as a parent. It includes information on the chemistry of making these products - the pH levels and learning about acids and bases, so it is fun and educational.
Craftivity String Lantern: $24.99, this craft kit is made by Faber Castell and is non-toxic and safe for kids. Knowledge Tree has a lot of crafting kits, which I love for pre-teens and teens. This one shows you how to make string lanterns, which would be a neat project for decorating their room.
Not only does Knowledge Tree have great toys for all ages, I found some great ideas for stocking stuffers. I am trying hard this year to not buy random stuff that will end up under foot and eventually thrown away, so I am excited about these ideas for our stockings.
Plushies: $5.99 - 9.99, Ty Beanie Boo and Aurora brands, assorted variety available
Watchitude Slap Bracelet Watches: $19.99, these are "plunge proof" for kids who won't forget to take their watch off before washing their hands, and they are a real, working watch on a slap bracelet!
Glo Pals: $9, these light up cubes are a hit at our house! They are made in Starkville, MS, so I love that they are semi local. They light up in water, which makes bath time fun.
Pluffle Play Foam: $7.99, this crazy substance feels so neat in your hands but isn't messy, kids can squish and mold it, to me it kind of felt like rubber bits - grab a bin and let them play away! We have kinetic sand at our house, and I see this being the next big thing.
Mad Matter: $12.99 bag/$6.99 jar, this substance is a sand like dough that can be molded into bricks, shapes, etc.
Play Foam Pals: $3.99, this is sort of reminiscent of the "floam" we had growing up, that styrofoam squishy material, but these have surprise figurines inside, which means my kid will be doubly happy.
Jixelz: $9.95, these tiny puzzle pieces in the kit form creations that are quite sturdy once put together - there are kits for robots, sea creatures, unicorns, sweet treats, and playful pets - it is like a puzzle you can carry around afterwards!
Plus Plus: $5.99 small tube/$9.99 larger tube, these plus sign puzzle pieces can be built together to create your own invention, or there are kits to build specific items like a Christmas tree or a unicorn.
Knowledge Tree's main store is located at 5000 Summer Avenue, but they also have locations in Germantown, Horn Lake, Cordova, and Little Rock. I found the people working there to be incredibly knowledgeable about their products and could tell they hand selected all their stock, so they carry high quality items that kids will love.
Knowledge Tree will be running a Black Friday sale on Friday, November 29:
Spend $25, get 15% off
Spend $50, get 20% off
Spend $75, get 25% off
Spend $100, get 30% off
*games and toys only, excludes Legos
They will also be participating in Small Business Saturday as well! During that sale, all Melissa and Doug toys will be 25% off.