It's football season, y'all! And we at the Memphis Moms Blog are ready for some tailgating!
Memphis is a unique college football town. While it's home to the Tigers, southern SEC ties run deep here. But no matter who you root for, football games mean tailgating! In an Instagram survey, we polled our followers and found that 70% of women thought THEY were in charge of the tailgating. And we all know, moms are already busy! So we came up with a few different tailgating tips to make mom's job a little easier:
THE FOOD
We all know a good tailgating party is all about the food. But as busy moms, we don't have time to cook side dishes or main courses for a crew of family and friends. Grilling is often the guy's job, but depending on the stadium that you're hanging out at, there's not always the go ahead to fire up that grill.
Here are four local restaurants and catering services that offer amazing, affordable tailgating grub. From brunch food to fancy charcuterie trays to good old fashioned plates of wings -- we found it all!
Oh Grate!
Oh Grate! is the newest meal delivery service here in Memphis! Each week their menu is different, offering casseroles, side dishes, or breakfast choices. Order online and they'll bring your frozen food to your door! You can choose to bake it right away or stash it in your freezer to save for another day. Perfect tailgating options include their sausage breakfast muffins.
Feast & Graze
Feast and Graze, another new delivery and catering service here in town, specilize in charcutiere trays. They can customize their offerings for any event -- from board room meetings to tailgate parties! This tailgate to-go box features soft pretzel chunks, a variety of meats, cheese, fruit, and crackers. Little hands can easily grab and go play. Allergies or sensitivities are no problem, leaving your guests appreciating the delicious snacks!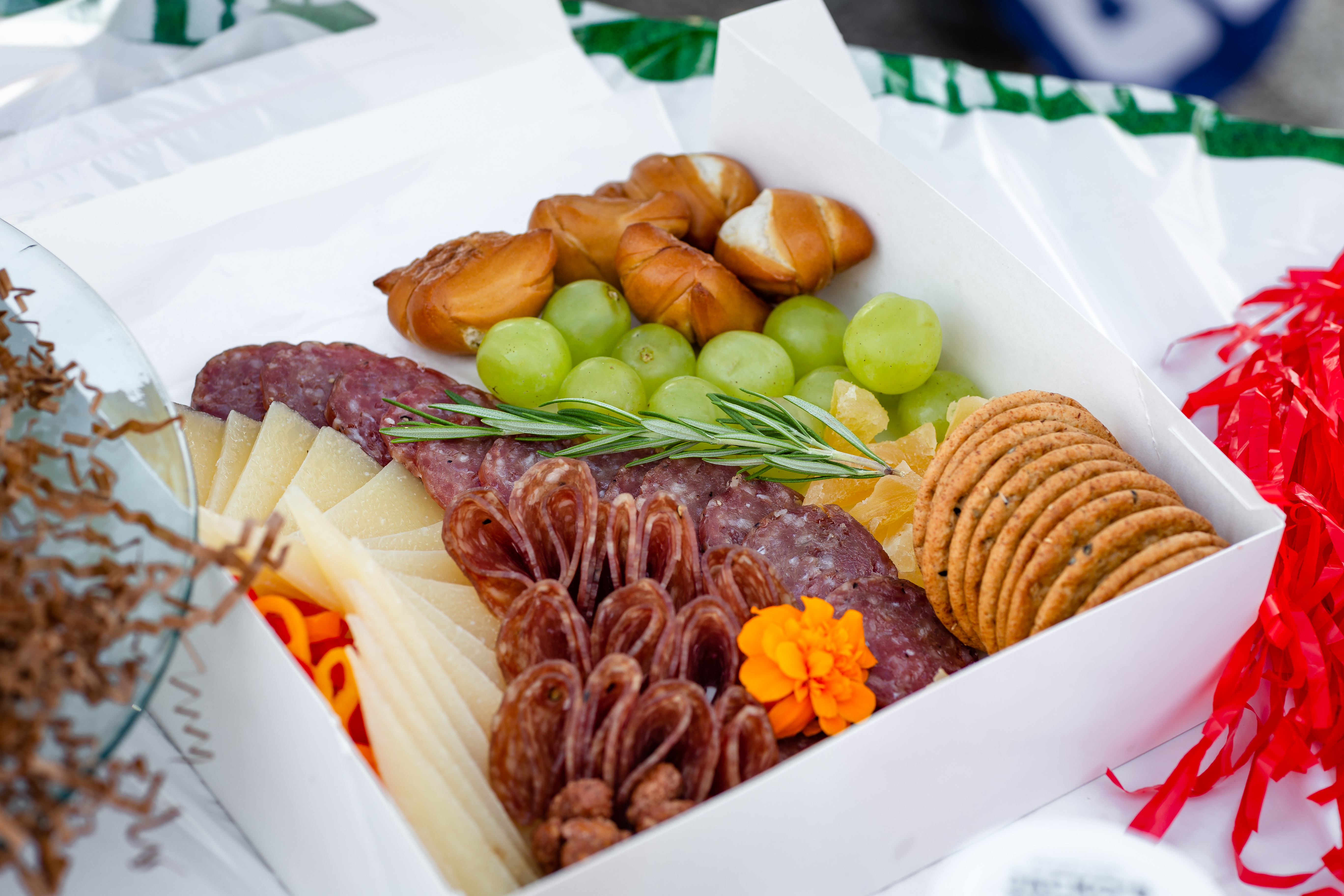 Holiday Ham
You'll hit the jackpot at this local favorite! While early games might garner brunch food, later games are all about the lunch options. At Holiday Ham, you get both! Offering a full catering service, you can order your party trays ahead of time and pick up at either their East Memphis or Midtown location. We highly recommend trying their wings (with a variety of homemade sauces) or their breakfast sandwiches, with a meat choice, egg, and cheese. YUM!
Camerin's Cookies
Kids seem to be hungry all the time! This is why it's a fun addition to offer football themed sugar cookies. Perfect for tiny hands, you can customize an order with your favorite team's logo, mascot, colors, or just some fun football cut outs. Camerin's Cookies can also be found at Crave in Arlington.
TEAM (FOOD) STUFF
Tailgate buffets wouldn't be complete without all the extra added touches. RSVP Stationers in East Memphis stocks all your game-day needs. They have every southern football team, as well as an entire section dedicated to our Tigers. You'll find cocktail napkins, reusable plastic plates, styrofoam cups, utensils, cutting boards, decorations, and more!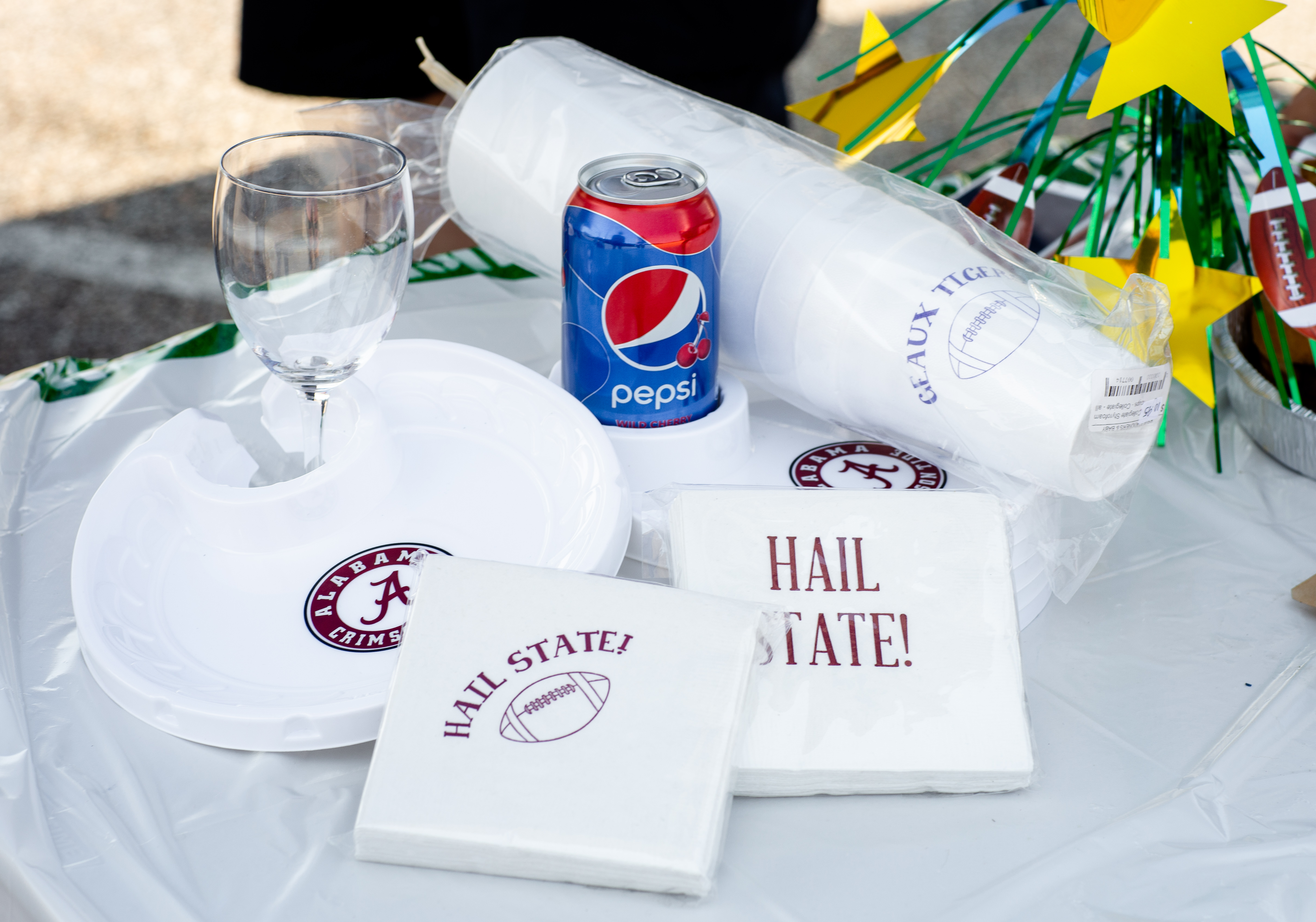 THE GEAR
Let's talk clothing and accessories first. As we all know, down here in the south, football season also means matching smocked outfits or embroidered team spirit! Kids wear their college colors/mascots to school on Friday and then also need a different outfit to sport to the tailgating party!
Easy Tip:
* Buy used at consignment stores
* Check out Smocked Auctions, The Smocking Place, or Frances Rose Boutique right here in Memphis!
* Make sure you stock up in May or June for the upcoming season!
*Don't forget the accessories! Bows, belts, and matching shoes are a must!
Moms need some fun spirit wear too! Throw on a fun "Tailgates & Touchdowns" T-shirt or dress up any outfit with earrings sporting your team colors. Both can be found at Pickering Boxwood!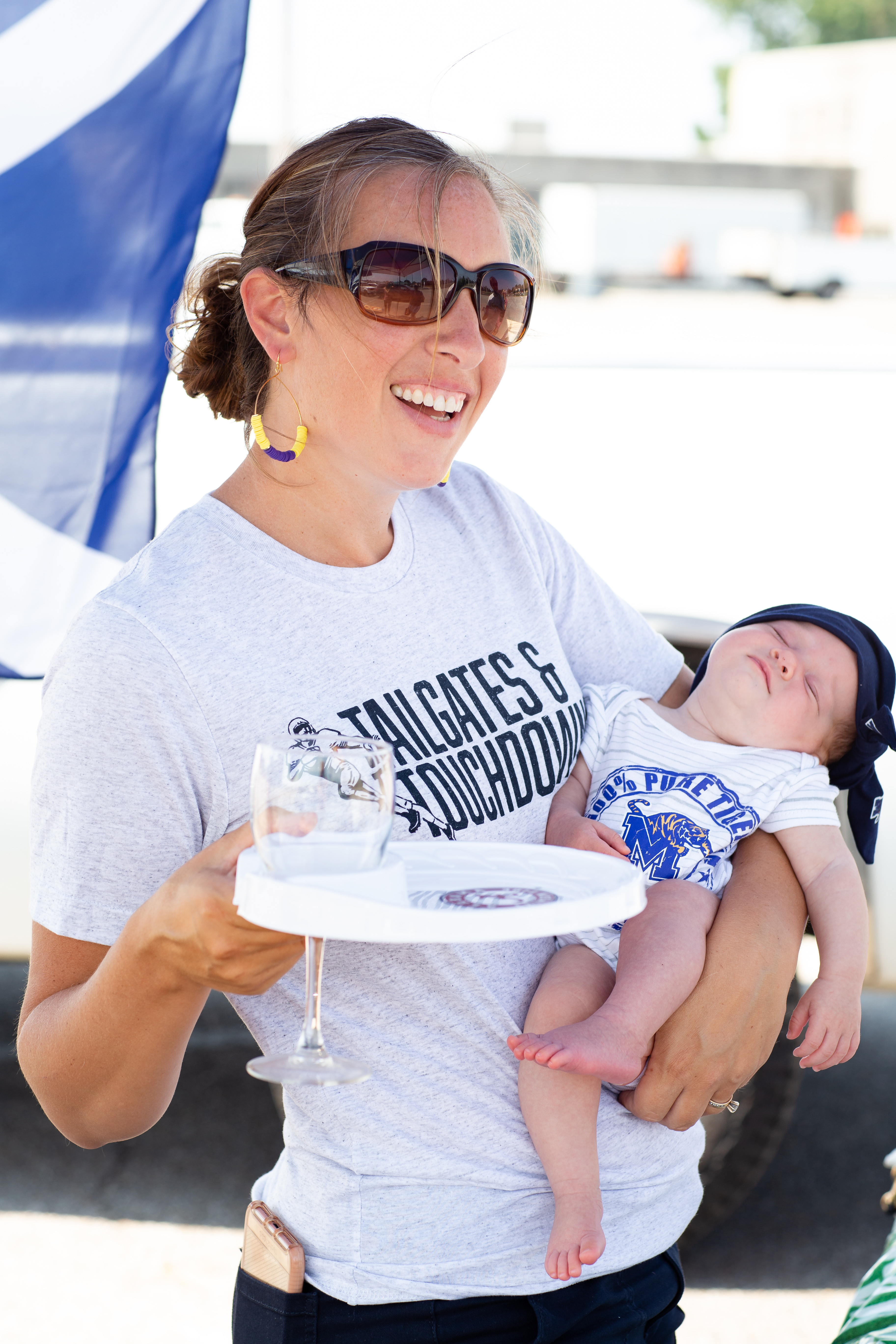 GAME DAY EXTRAS
If you decide to stay out in the parking lot, you'll want to bring things to entertain the kids and keep them cool. We recommend lots of battery operated fans -- you can buy ones for around your neck, the tables, and even ones that clip to strollers. Games are also essential for entertaining little ones. Bring on the Cornhole and other popular lawn games!
What to use though to carry all these things? Local Thirty-One consultant Roxanna recommends using a large utility tote and game-day cooler. Both are customizable with either your team name or colors and easy to wipe down if spills happen. Pro-tip is to keep your game day tote stocked with essentials like a stadium blanket, water, baby wipes, fans, extra batteries, extra set of clothes, and any other gear (like diapers!) that you might need. Just grab it and head out the door on game day!
If you decide to enter the stadium after tailgating, don't forget you'll need a game day bag! The Stovall Collection has you covered! Grab a clear, see through clutch or over the shoulder purse, and you'll scoot right through security with no problems!
MORE PRO TIPS
Don't forget some tailgating essentials:
Team tent to keep everyone in the shade (and show team pride!)
It's hot at the beginning of the season -- bring plenty of iced drinks to stay hydrated
Sunscreen and a hat -- especially if you're entering the stadium
Noise canceling headphones -- to protect against noise or sensory overload. Stadiums are loud -- especially if you're sitting near the marching band. Even the parking lot can get crowded and a bit rowdy once the game starts.
As the temperature cools down, don't forget a team blanket or stadium chair to keep bums warm!
Camp chairs. You might have a true pick up tailgate, but if you don't, remember to bring somewhere for people to sit!
Portable phone charger! This way you'll never miss capturing all the tailgate fun!
Check out our Facebook video, Live from the Liberty Bowl Stadium! We highlighted why "Football Matters" and the comrodery tailgating brings to our neighborhoods, city, and state!