I love a chance to do something for a great cause, and I got my chance a few weeks ago when I saw that Cordova-based Dream Big Cafe opened. Not only did I get to do lunch with one of our fabulous MMB bloggers (shout out to Erin Lewis), but I got to check out a brand new neighborhood spot.
Win - win if you ask me.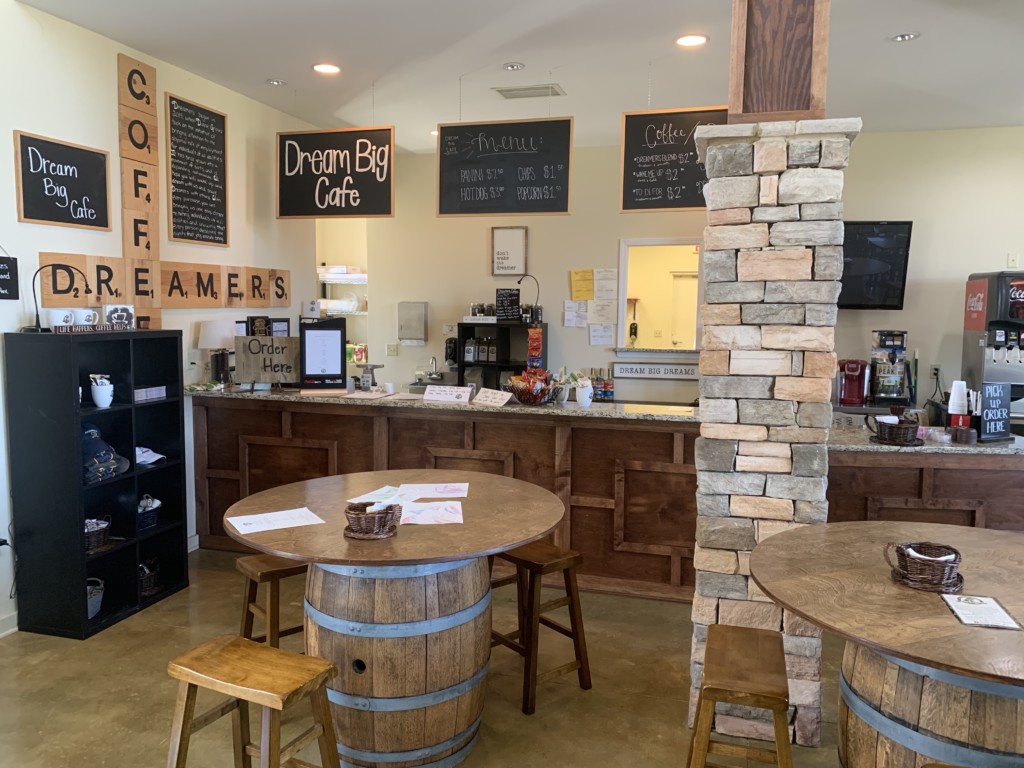 Dream Big Cafe opened earlier this year on World Down Syndrome Day with a very special purpose - to create great food and to employ people with disabilities. In addition to serving food, Dream Big Cafe also hosts events specifically for kids with disabilities, like the recent Easter Egg Hunt for kids with Down Syndrome.
Owner Diane Grover was inspired to support this mission for many reasons, but paramount to this endeavor was her daughter Mary Ellen, who has Down Syndrome. Diane founded Dreamers Merchants Coffee Company as a start toward supporting employment for those with disabilities, and thanks to strong support from the community, her business has flourished.
We loved the warm, casual atmosphere of Dream Big Cafe - and since it is right around the corner from us, it's a perfect spot to take a homeschool break. We even ran into our next door neighbor there!
But let me dish on the food.
Because, let's be honest here, that's the real test, right?
We got the Dreamini Paninis and they were ridiculously tasty. Diane shared with us that she searched high and low to find the perfect bread, and it did not disappoint. Seriously, y'all.
My kids ordered the hot dogs, which were great for the non adventurous ones like mine who opt for mac and cheese or chicken nuggets 24/7. The kids also loved the fact that they had an assortment of chips. Because it's the little things, right? Bonus: Dream Big Cafe also has toys (hey there, Game of Life!) to entertain the kids who are impatiently waiting for food...or waiting for mamas to finish talking.
Dream Big currently serves Dreamers coffee, yummy frozen coffee "Dreamuccinos," and my personal favorite - "Dreamini Panini," pressed sandwiches. The menu will grow over time, so keep checking on Instagram and Facebook for the latest updates. You can also purchase the bags of Dreamers coffee that started Diane's original vision for employing individuals with disabilities.
Here are the details you need to know:
Where is it? The cafe is tucked away in Vantage Point Golf Center (9580 Macon Rd. in Cordova). P.S. If you haven't done the mini golf there, you're missing out on a really, really fun time - it's one of our favorite spots for mommy/kid dates!
When is it open? Currently, spring hours are 11:30-1:30 and 4:00-7:00. Additional hours may be added as they grow (and they are growing quickly!)
What's the contact number? (901) 849-7002
What's on the menu? They are serving custom Paninis, great coffee drinks, soft drinks, and more for lunch and dinner. They have a brand new kids menu, too!
Because they're just EXTRA amazing: If you are a police officer, fire fighter, a veteran, or in the military service, our panini sandwich and chips is $5.46 for you, including tax! That's a savings from our $7.50 plus tax! They want to thank them for all they do for Memphis and the surrounding communities!
Dream Big Adult Menu