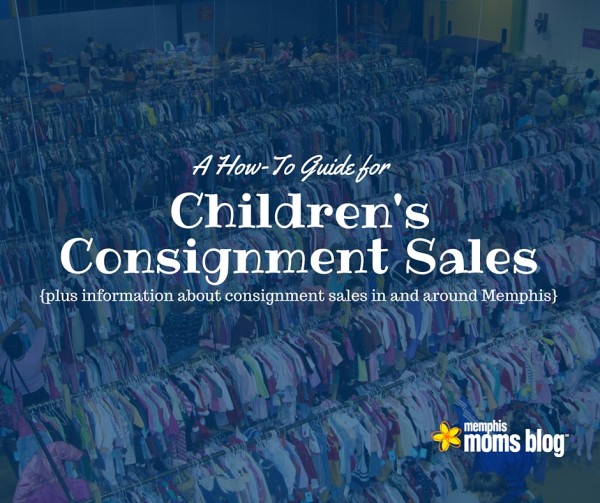 I have a son and a daughter. One of each…perfection, they say. Right? Yes! And no. For instance, I don't get the benefit of buying a beautiful, pricey, brand-name article of clothing without the guilt of knowing only one child of mine will ever wear it. And in those early years when they are growing like weeds, that child may only wear it once or twice, if I'm lucky. But instead of denying myself the pleasure of buying such gems, I have discovered the art of consignment sale shopping and selling. Truly, it has been a game-changer for me. I remember the first consignment sale I shopped. My mother-in-law had told me about it and I thought "Eww, gross. Dress my precious baby boy in someone else's raggedy old hand-me-downs? No thank you." Boy, did I have it wrong. There were racks and racks of barely-worn boutique items for a third of their retail value. And just like that, I was sold.
Over the last eight years, I have participated in at least four consignment sales each season--sometimes more. And there is definitely a learning curve. It took me a couple of seasons, if not years, to figure out which ones were better for certain items and how to maximize my return for the least amount of effort. Here's what I've learned and am happy to share:
A little at a time is the name of the rhyme
Getting prepared to sell at a consignment sale can be overwhelming. Checking sizes, rummaging through storage bins, and forcing your kids to try everything on…it can be downright exhausting if done all at once. The key is to pull clothes as your kids outgrow them and put them in a separate place so that when consignment season hits, they are ready to go. And if there are any stains on them or in need of repair, it helps to do it in advance since consignment sales will not accept items in either condition.
Be Prepared
All sales require that your clothing be washed and hung on plastic or wire hangers before drop-off, so make sure to stock up on hangers throughout the year. Good resources include your dry cleaners (some will give them away for free in bulk even if you aren't a regular customer), dollar stores, and Ebay. Also, a good rule of thumb is to price items at 1/3 of their retail value. If you aren't sure what that is, Google items to see what the going rates are first so that you don't over- or underestimate their worth.
Know your audience
In order to sell the most, you need to know what does the best at each sale. For example, play clothes and toys seem to fly out of the window at KidsTown, while Women's Exchange items are the "must-haves" at The Blue Door Exchange.
Map out your plan
With so many sales in the area during a short period, it's tough to stay on top of all of the specifics--drop-off dates, consignor shopping times, public sales, and pick-ups. The best way to tackle this beast is with a calendar. I like to visit each sale's online site two times a year (July and January) to get all the most up-to-date info and immediately jot it down in my planner and phone. I am usually good about peeking in on the next week on my agenda anyway and that gives me just enough time to get registered, sign up for a drop-off time, or whatever deadline is approaching.
Take every opportunity
If you have at least 10 items to sell, you are typically entitled to shop consignment sales earlier than the general public. This allows you the chance to purchase items that you may not have otherwise even seen, and is definitely worth the "hassle" of preparing your items. New mom and nothing to consign? Ask for a pass to shop early! Most places are happy to provide new moms, grandparents, and even military members with a special pass allowing them to shop with consignors. Want an even more exclusive look at what's for sale and the chance to buy it? Sign up to volunteer! Most sales will allow you early entry into the sale after just four hours of help with sorting, tagging, or other assistance. Some sales even count snack donations as volunteer hours, qualifying you for early shopping!
Don't give up
A few of your items didn't sell? No biggie. The sales are spread out enough over the course of a month or two to where you can still take those items that didn't sell from one sale to another and try your hand there. Or, you can always keep them for the same sale next year, as long as the clothing is still considered "in season". For example, most shoes, pants, and collared shirts are pretty seasonless, and a great item to put in any sale, regardless of the time of year.
Consignment Sales to check out!
Here is a list of the consignment sales I have experience with in the Memphis area as well as the pertinent dates and consignor info. For more information about each sale, please visit their website.
Kidstown Consignment Sale
Location: Agricenter International
Dropoff Dates: Through January 30, 2017
Sale Dates: February 2-4, 2017 (earlier if you consign)
Methods of accepted payment: Cash, Visa, MasterCard, Discover
Pick-up Date: Sunday, February 5, 2017
In Summary: KidsTown offers sellers 70% of the sale price of each item and takes a $10 consignor fee. Consignors must have a minimum of 10 items valued at $3 or more or one large item. They accept everything from newborn clothes to baby gear to Juniors sized-clothing. Tip: This is a great place to score items like bottles, blankets, and breast pumps if you are a new mom or bikes and toddler beds if your kids are a little older. It is also the perfect place to stock up for birthdays and holidays, as there are an abundance of toys in excellent used condition and some even have the tags still on them! And this is the ONLY sale (to my knowledge) that accepts pajamas and discount brands like Circo, Garanimals, etc. so it's the best place to get rid of those items and make some cash at the same time!
Sweet Repeats Memphis
Location: Carrefour Center at Kirby and Poplar in East Memphis
Dropoff Dates: January 17-21, 2017
Sale Dates: February 1-4, 2017 (earlier if you consign)
Methods of accepted payments: Cash and credit cards (plus a 3% transaction fee)ick-up Date: March 2, 2016
Pick-up Date: Monday, February 6th, 2017
In Summary: Sweet Repeats has multiple options for consignors, which is why it appeals to so many. You can "Enter My Own", and receive 65% of the sale price, "Drop and Go" and get 55%, or take advantage of their "Pickup Service" where they do it all for you and you still earn 50% of anything that sells. There is a $10 consignor fee and a 10 item minimum to participate. Minimum value is $5 per item and they accept "Sunday best" only in newborn sizes. They also limit items to brand-name clothing, toys, shoes, and larger items like baby gear. Tip: This sale is jam-packed with all the brands you love…..Kissy Kissy, Matilda Jane, Vineyard Vines, and more! If you can only pick one sale to participate in, this is it!
Children's Clothing Exchange
Location: 1134 North Germantown Parkway, Suite 101 in the Cordova Town Center (behind Humdinger's facing the side of Malco Cinema)
Dropoff Dates: February 6 - February 13, 2017
Sale Dates: February 22-26, 3027 (earlier if you consign)
Methods of accepted payments: Doesn't say on their website but I know I've used a credit card there before
Pick-up Date: Thursday, March 2, 2017
In Summary: Children's Clothing Exchange is one of the oldest, most established consignment sales for children and teens in the area. Consignors get 65% of what they sell and there is a 10-item and $5 value minimum in place. CCEX accepts newborn through juniors clothing as well as large toys, baby equipment, shoes, and accessories. Tip: The Clothing Exchange is known for its great selection of toys, equipment and bedroom décor, so make sure to check these items out while you're there. And they always have tons of American Girl dolls and accessories too. If you have a teen, this sale is an absolute must with racks and racks of trendy clothing in a variety of juniors sizes. In fact, I have walked away with several pairs of designer jeans and cocktail dresses from this sale myself!
The Blue Door Exchange
Location: Home of Boo Webb: 4227 Amber Lane in East Memphis
Dropoff Dates: Accepting clothing by appointment only on the following dates: January 18, 20, 23, 26, 30, February 2, and February 6; email bluedoorexchange@comcast.net
Methods of accepted payments: Cash, check or credit card. Credit card charges do incur a 3% transaction fee.
Sale Dates: February 21-23, 2017 (earlier if you consign)
Pick-up Date: TBD
In Summary: The Blue Door Exchange is by far the easiest sale to participate in from a consignor perspective. It is literally drop and go! No tagging, no online entry, or even pricing your items, as the owner of the sale handles it all for you, using her expertise to get you the maximum amount of money for your items. From a shopper's perspective, it is definitely the premier sale, offering lots of hand-made clothing, boutique items, and clothing/shoes in tip-top shape. Blue Door Exchange is located at the owner's home, but utilizes tents outdoors to maximize space and limits items to clothing and shoes only. Tip: Save your Sunday best to sell at this sale and check high-dollar items like Easter suits and Christmas dresses off your shopping list at the same time! This sale is also a great place to find name brand jackets and coats, smocked swimsuits, and Women's Exchange items. And for the tennis players out there, you can always find a skirt from Lululemon or Lucky in Love in the teen section.
GUMW Children's Clothing Boutique
Location: Owing's Life Enrichment Center across from Germantown Methodist on West St. in Germantown
Dropoff Dates: March 22-23, 2017
Sale Dates: March 24-25, 2017 (earlier if you consign)
Methods of accepted payments: Cash or check. Visa, MasterCard, Discover, and American Express are accepted with a $3.00 handling fee.
Pick-up Date: Sunday, March 26th
In Summary: The Children's Clothing Boutique is run by the Germantown United Methodist Women and 30% of all sales go to fund their mission projects while the remaining 70% of sales go to the consignor. This sale only accepts newborns through kids size 12 clothing, the minimum value per item is $3, and there does not appear to be a minimum number of items you must bring or a consignor fee. They also accept discount brand clothing, toys, baby equipment, larger items like playsets and bikes, bedroom décor, costumes and shoes. Tip: The Clothing Boutique is a great place to stock up on books, movies, and small toys for your kids, but is also a great resource for uniforms if your child's school has a standardized dress code. Another thing I love about this sale is their holiday racks, featuring nothing but holiday-themed items for the upcoming season. They also separate costumes and dancewear, making it easier to locate and sort through. This is one I've recently discovered, but am glad I did!
Second Blessings Children's Consignment Sale
Location: 2052 Cranbrook Drive in Germantown
Dropoff Dates: March 22-28, 2017
Sale Dates: March 30-April 1, 2017
Methods of accepted payments: Cash, Mastercard and Visa
Pick-up Date: April 3-4, 2017
In Summary: Second Blessings is one of the smaller consignment sales in the area and is located at someone's home. However, that doesn't mean it is one to miss. On the contrary, it is always lined with racks of name-brand clothing in great shape and I often have trouble narrowing my selections down at this one, especially for my daughter. Consignors receive 65% of the sale of their items, are charged a $5 consignor fee to participate, and must comply with the $5 minimum per item. Second Blessings accepts clothing from size 6 months up to size 16 as well as small or large toys, costumes, and shoes. Tip: Small is not bad in this instance, so make sure to check it out! On top of the half-price sale on the last day, the owner marks everything an additional 20% off for the last hour, ensuring more sales for the consignor and bigger values for the shopper.
Emmanuel Children's Clothing Sale
Location: Emmanuel Methodist Church on Kirby Road in East Memphis
Dropoff Dates: February 18-19, 2017
Sale Dates: February 20-25, 2017
Methods of accepted payments: Cash, check. Credit or debit cards are allowed but incur a $2 transaction fee.
Pick-up Date: Sunday, February 26, 2017
In Summary: Emmanuel Children's Clothing Sale offers the single highest percentage of sales to their consignors at 80%, allowing the other 20% to go to other charities their Sunday Schools support. This fact alone makes it a no-brainer to participate in as a consignor. They accept newborn to size 16 clothes, large and small toys, baby equipment, and is one of the only sales to accept/sell baby bedding. They do accept shoes, but limit each consignor to 2 pairs. They also charge a consignor fee of $10 for up to 160 items. Have more items? No problem! For an additional 80 items, you will incur an additional $10 consignor fee. Tip: This is another great sale to get rid of items that you might otherwise only be able to donate, but is also a good place to score toys, play clothes, costumes, and baby gear. Lastly, if you are a new mother who is already overwhelmed or someone that just hasn't quite gotten their act together, check out their "mother's helper" option. For a $20 fee, someone at Emmanuel Children's Clothing Sale will price, inventory and tag your items for you and you still entitled to the full 80% of the item's sale price.
Other area consignment sales to check out:
Sycamore View Church of Christ Consignment Sale