Nothing says Christmas like ruthless smack talk, cut-throat competition, and the proud moment of winning a trophy.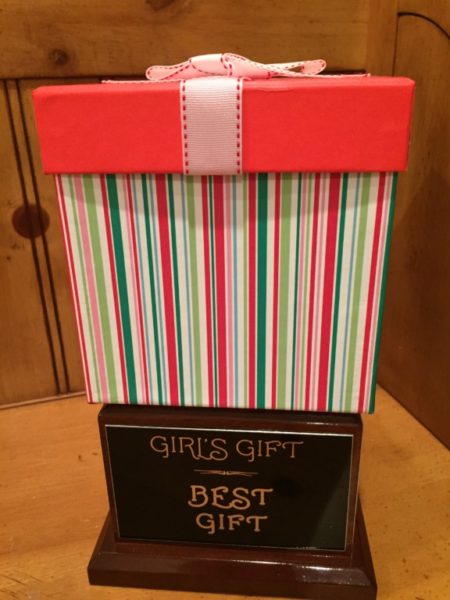 Cut-throat might be a little extreme, so let's just say we have a friendly annual competition. My family has developed a tradition that we like to call Girl Gifts. It was started decades ago and has evolved over the year into its very own event.
Each adult female in the family is responsible for getting identical gifts for all the other girls. Customizing color, pattern, design, etc. is allowed when applicable. We usually spend $5-$10 per person, sometimes a little more if it's a really neat item. Then, we wrap the gift in packaging that is festive and cute.
The Pre-Game
The smack talk is completely innocent but also completely necessary. It first started when someone found and bought their Girl Gift for that Christmas in January. That organized early-bird earned some bragging rights. We have an email thread and/or group text that builds our competitive hype as we lead up to the big day.
The Main Event
When we get together for Christmas, we have such a great time passing the girls gifts out. Each Giver gets a turn to hand the gift to each girl and then all at once we open them and ohh and ahh over how cool or cute it is. While there is not a prize for theatrics, we have seen all sorts of bells and whistles pulled out during gift presentations (including a train whistle). After all girls have taken their turn, we display one of each gift and one of each packaging for the judging panel (which is usually the men with input from the ladies).
The Victory March
There is a trophy for Best Gift and a trophy for Best Packaging. The rule is that you cannot win the same trophy two years in a row. The winner of each trophy gets a pictures taken with the previous year's winner handing the trophy to the new victor and she gets to keep the trophy at her house until the next Christmas. There are official name plaques on the base that mark who won and what what year.
Winning examples from of our Hall of Fame:
Best Gift - Scarf hanger, key chain fob personalized with our name on it, a billfold style grocery list with built in calculator, a small cookbook with a few of our family's favorite recipes, an incredibly efficient broom, fudge cooked in dishes shaped in the first letter of each of our names
Packaging -A mason jar holding the ingredients to cookie, a tin train with several compartments that open to store goodies, a snow globe holding a gift card inside, a giant Santa bag
I realize that this is not normal! We embrace the competitive spirit running through our genes and love one another through it. Gifts of material possessions are not the focus of the holiday, but they do bring us together and create memories that will outlast the glory of winning a trophy.
What kind of unique traditions do you have in your holiday celebrations?