This post and giveaway are both sponsored by Crowne Plaza Memphis Downtown, however the opinions expressed and fun had are 100% genuine and ours.
Several weeks ago, we published a post called GNO Like a Pro all about planning a girls' night out with friends and cutting loose. I think we can all agree it's important for moms to take a break from time to time. Every job comes with paid vacation, and motherhood should be no exception--OK, maybe not the paid part, but you catch my drift.
So in the interest of... research... our contributor (and my appropriately titled "Memphis BFF") Mary and I headed out for a night away from our families. Neither of us had experienced a night away from motherhood in quite some time, and we felt like in the interest of... research... we owed it to our readers.
Research, y'all.
It just so happens that the Crowne Plaza Memphis Downtown recently underwent some big renovations, and they very obviously fit the bill for our night out. They're close to downtown, have a free shuttle that drops guests off on Beale Street, and most appealing to us: they aren't run by a pack of wild preschoolers. Frankly, that was all we needed.
More than we anticipated...
We really just needed a place to lay our heads the night we decided to do our research. It turns out our choice of hotel was much much nicer than we anticipated. Upon arrival and check-in, we realized just how awesome our mini mom "stay-cation" was going to be.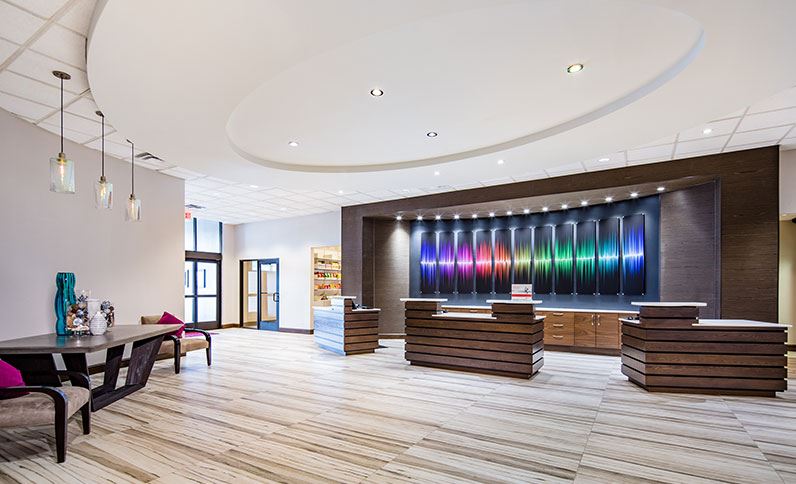 Our first stop was our room, because hello we're moms and we both had to potty. Also, after seeing the incredible lobby, we were both pretty curious what our room would look like. Check-in was a breeze, and I'd be lying if we both didn't expect something to be wrong with our room. Nothing is ever that easy, right?
It turns out we were both wrong, and pleasantly surprised. The rooms at Crowne Plaza Memphis Downtown are beautiful and feel extremely clean and pristine, without feeling sterile or uncomfortable. We had only one problem with our room, and it was a flashing bulb in the lamp between the two beds (a la Stranger Things, if any of y'all are fans), so we let the front desk know. Immediately the bulb was replaced, and the staff was extremely gracious and apologetic for the inconvenience. Inconvenience? Are you kidding me? If anything, this was the perfect test of their guest services, and they were on point. We were so impressed.

Crowne Plaza Memphis Downtown not only has beautiful rooms, but check out this bar:

The entirely new lobby was the perfect place for us to grab a drink, sit, and decide on our plans for the evening. We were comfortable as though we were at home, but our houses aren't nearly this cool and beautiful. Also, the staff were so attentive and accommodating when we had questions about the complimentary shuttle service and onsite dining. We wish our home lives were this great!
The perfect location.
Mary and I settled on taking the shuttle over to Beale Street, and it dropped us in front of the Hard Rock Cafe. It was the perfect location, because we took our other contributor's advice from her girls' night out post and decided to eat at The Majestic Grille, which was a very short walk from the shuttle stop.
We managed to have an incredible dinner at The Majestic (shout out to our waiter, Joseph, who was perfection!), and followed it with a few stops on Beale. Our night ended with some pulled pork cheese fries at Blues City Cafe (and lots of water), and we caught an Uber back to Crowne Plaza Memphis Downtown. It was a short Uber ride, and totally reasonable. The location of this hotel cannot be beat for a night out!
Refueling the next day...
Understandably, the next morning Mary and I were feeling our age a bit. We both rolled out of our beds and made our way to the lobby half-awake. We had been told there was a breakfast buffet, and again, we completely expected to find the hotel had done the bare minimum. Boy, were we surprised.

There were eggs. There were pastries. There was oatmeal and bacon and cereal and more options than I could ever expect. There was even an omelette bar, where a very kind man was preparing omelettes for guests. The hot meal and coffee were the perfect cure for the residual effects of our night of... research.
The results of our... research... are undeniable.
This night away spent unwinding, laughing, and not worrying about anyone but ourselves taught us a lot. We learned that although it may be difficult to leave our precious snowflakes with their fathers (or in Mary's case, their grandparents), the results are definitely worth it. Coming home refreshed, revived, and with a renewed sense of self is one of the best feelings in the world. Mary and I both agreed that we should do nights like this more often, and even include our husbands from time to time. A night at Crowne Plaza Memphis Downtown is the perfect way to get away, without getting too far away. The care and service they provide their guests are top notch, and make this the perfect way to enjoy a night sans kids.